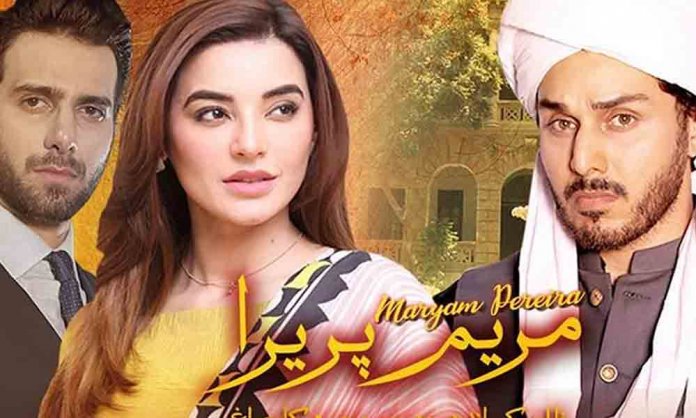 TV One gets on board with a new venture, Maryam Pereira, that not just has a captivating plot but also star some amazing names from our entertainment industry. It is a story of love, hatred, and lust for power, with so many turns and twists.
Maryam Pereira will highlight the misuse of power by feudal lords in our rural areas and the problems faced by minorities.
The Plot of Maryam Pereira
Maryam Pereira (Sadia Khan) is a Christian girl, who teaches at a local college and is the bread earner of her family. Maryam is a confident girl of principles and stands up for her community against the land mafia, headed by Sadiq Khan (Ayub Khosa).
Emmad Irfani as Sufyan is the brother of Maryam's best friend, who truly loves her, but Maryam doesn't accept his proposal, prioritizing her family's responsibility and this makes Sufiyan leave the country.
Ali Khan (Ahsan Khan) joins Maryam's college as a professor and is instantly impressed by her personality. Ali Khan's father Hakim Khan (Rasheed Naz) is a feudal lord and supports Sadiq Khan, who not just only wants the land but also desires to possess Maryam Pereira.
Will Ali go against his father to stand up with Maryam and support her community? Watch Maryam Pereira every Wednesday at 8:00 p.m. on TV One.
Cast
Ahsan Khan
Sadia Khan
Emmad Irfani
Rasheed Naz
Ayub Khosa
Simi Raheal
Farhin Iqbal
Laila Zuberi
Director
Iqbal Hussain
Concept by
Seema Taher Khan
 Writer
Riffat Siraj
Khalilullah Farooqui (Script Supervisor)
Executive Producer
Seema Taher Khan
Timings
Every Wednesday (Started from 10th October), 8:00 p.m.
Promo
Promo #1
Promo #2
OST
Maria Meer and Naveed Nashad share the vocals in this melodious OST of Maryam Pereira, written by Mubbashir Hassan.
Stay tuned to Brandsynario for more updates and news!