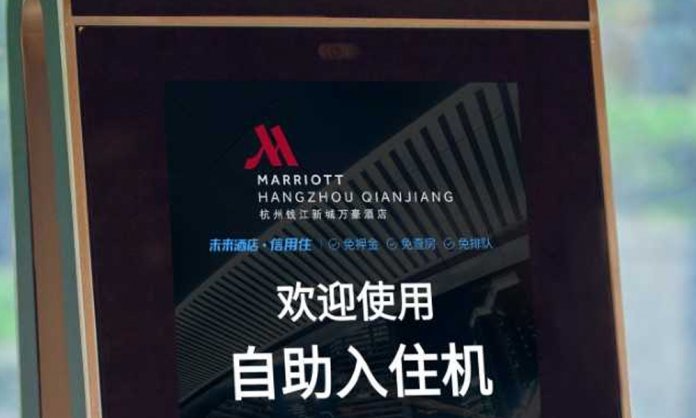 Marriott International has announced plans to roll out facial recognition technology at its properties around the world, starting with two hotels in China as part of a joint venture with the Chinese e-commerce site Alibaba Group.
Guests checking into the Hangzhou Marriott Hotel Qianjiang and Sanya Marriott Hotel Dadonghai Bay are now able to bypass the front desk and head to kiosks that dispense room key cards after guest identities and bookings have been confirmed.
To use, guests scan their IDs into the self-help machines, get their photos taken by the machine, and input contact details.
The new technology was developed by Fliggy, Alibaba's travel service platform, and is said to cut the traditional hotel check-in process from three minutes — more when there are long lines — to less than a minute.
Marriott is piloting the program in China where more than 60 percent of travelers in an Ipsos poll expressed interest in facial recognition technology.
The goal is to roll out the service to properties worldwide.
Marriott is the latest player in the travel industry to introduce biometric technology. In May, Orlando International Airport became the first US airport to process all international flyers using facial recognition technology. The biometric entry-exit system takes about two seconds and has a 99 percent matching rate.
Last year, British Airways introduced biometric-enabled self-boarding gates at Terminal 5, and expanded the technology for flights departing Orlando, Los Angeles, Miami and New York this year.