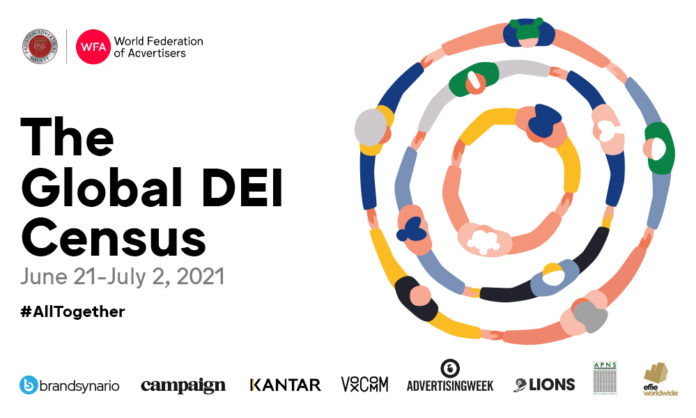 June 22: The first-ever global census of the marketing and advertising industry has now gone live, designed to assess the scale of the diversity challenge facing the profession.
Members of the industry have two weeks (until July 2, 2021) to participate and provide socio-demographic data about themselves and their perceptions of their workplace. People from across the marketing industry, including brands, agencies, media, tech, consultancies and marketing services providers in 27 countries are being asked to take 15 minutes to fill in the survey on diversity and inclusion. Pakistan Advertisers Society is leading from Pakistan with the firm belief of inclusive leadership in a diverse workplace in conjunction with APNS and Brandsynario.
The survey will assess where the global advertising and marketing industry is in relation to diversity, equity and inclusion by investigating workforce composition across the industry as well as people's perception of diversity and inclusion in the workplace, including uniquely their sense of belonging and their perception of progress.
The findings will be presented at leading global industry events in October this year and a follow up survey will be completed in 18 months' time to measure progress.
Afsheen Rizavi, General Manager of Pakistan Advertisers Society 'We are excited to be part of this historic effort, where Pakistan will be contributing its share in the global data and we feel we will be a part in suggesting that being inclusive is the sense of belonging regardless of where you belong to."
The census is supported by WFA, Campaign, Kantar, GWI, Cannes Lions, Advertising Week, The Effies, the European Association of Communications Agencies (EACA) and the new global agencies association VoxComm, as well as national advertiser associations and their agency counterparts. Other global and European advertising associations supportive of the initiative include the association of European television and radio sales houses (egta), the European Publishers Council (EPC), the European Advertising Standards Alliance (EASA), IAB Europe and the International Council for Advertising Self-Regulation (ICAS). The goal is to generate the largest and most representative sample possible.
The initiative builds on work already carried out in the UK as part of the highly acclaimed All In Census with the aim of establishing a tangible baseline for the global industry, which will help inform an action plan for improvement.