Mariyam Nafees has found her partner and the internet can not stop gushing over the two!
Dua-e-Khair of The Actress
Nowadays there is a complete ban on weddings be it indoors or outdoors. As a result, many are opting for these smaller, intimate events such as "Dua-e-Khair" in which only the couple is blessed and two families present. They are basically engagements but smaller and more wholesome.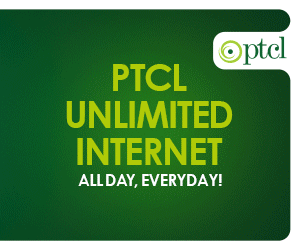 View this post on Instagram
Mariyam Nafees made her love known to the public through this event's coverage too! Her beau named Amaan Ahmed and her, made their union public and the pictures are beyond sweet.
The Couple Looks Stunning
The intimacy of the event and its nature can also be judged through the couple. Amaan Ahmed is dressed in a plain white shalwar kameez— the classic. Mariyam Nafees chose to go for a beautiful peach-hued peshwas with izaar and a draped dupatta. 
View this post on Instagram
We love how contemporary her outfit is but so traditional at the same time! The Diyar-e-Dil actress kept her makeup minimal also which takes her look to the next level. Plus, who can overlook that gorgeous flower jewellery? 
View this post on Instagram
 We love how Mariyam Nafees sticks to all the regular traditions of what a bride wears yet makes them her own.
When In Love…
The captions of the two are also adding to why many fans can not get enough. The two are seen happily laughing and teasing each other in their pictures together. More importantly, the guy's message was the sweetest!
He said, "the adventures of the hero (Nafees) and the sidekick (himself) begin now". 
Netizens' Reaction
Netizens are rarely emotional and rarely gush at a couple. However, when it rains, it pours. They can not get enough of Mariyam Nafees and her partner and have been wishing them the best via comments. Have a look: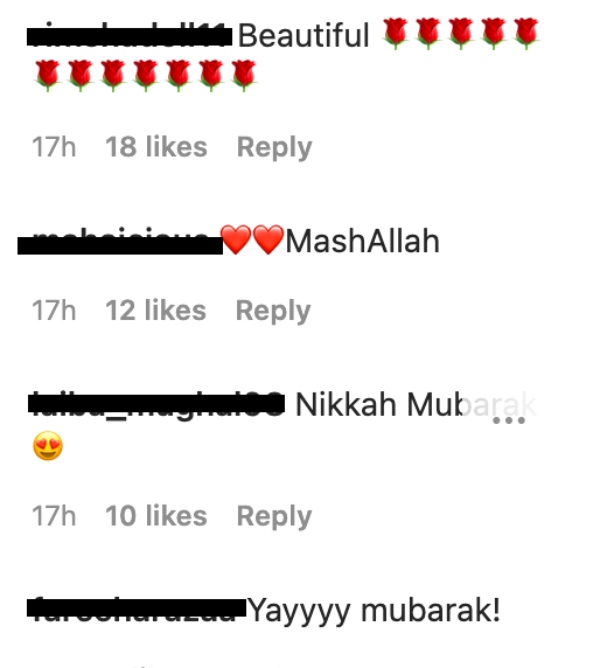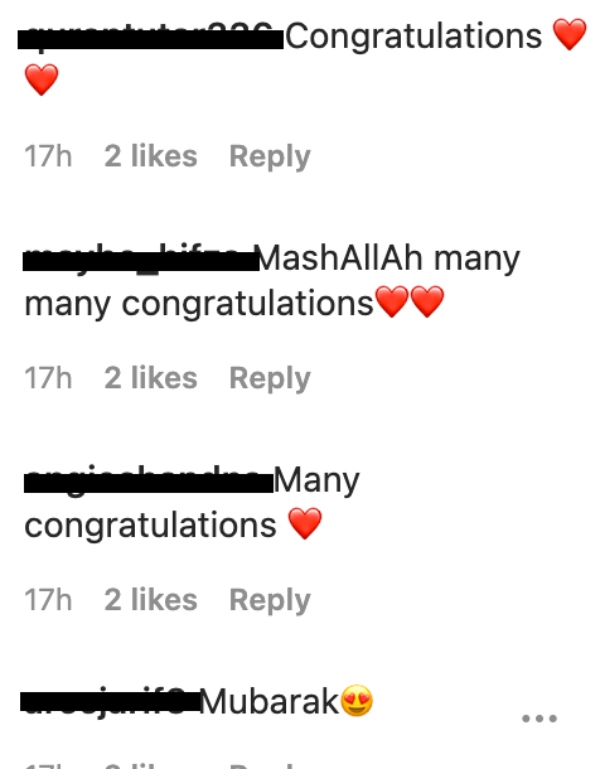 The Details
It appears the Dua was held yesterday or maybe a few days before. But the important thing is that many upcoming brides and fans of Mariyam Nafees must be looking for details! 
Mariyam Nafees got her make-up done from Faiza's Salon in Islamabad. They have also covered the actress' look and it is a killer one.
View this post on Instagram
 Her clothes are from Maha Wajahat who can be found and reviewed at @mahawajahatofficial on Instagram.
View this post on Instagram
The peshwas is a classic, versatile outfit that can be utilised in multiple ways besides a wedding event too. Have a look at their page, it is their specialty.
Stay tuned to Brandsynario for the latest news and updates.