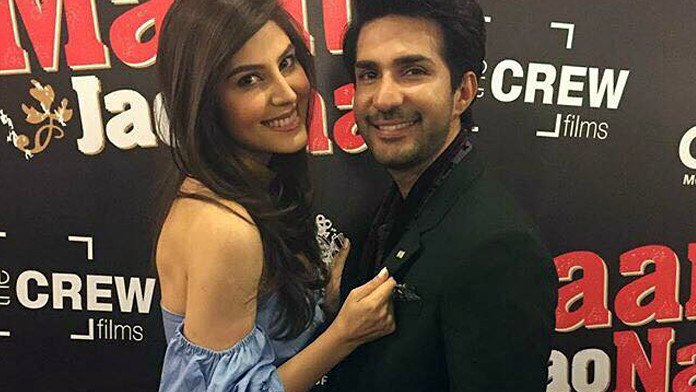 Just as you can't judge a book by its cover, you can't judge Maan Jao Naa by its trailer. The film may come across as an amateur attempt at filmmaking but it is much better than many recent released film.
However, it could have been better had the makers worked a little harder on the story and overall presentation. It looks like you are watching an old Pakistani or Bollywood film with new actors because whatever happens on screen, used to happen in the 80s when things were simpler.
Synopsis
 Rania (Naaz Norouzi) and Faris (Adeel Chaudhry) are best friends who love their single status, hoping to stay that way forever.
After Ghujji (Naeem Haque) proposes to Rania through her parents, she runs away with Faris who confesses his love to her. What happens next changes their lives forever and involves their friends Asim and Sara (played by Ayaz Samoo and Hajra Yamin) as well as elders (Asif Raza Mir, Asma Abbas, and Sabahat Bukhari).
Analysis
Naaz Norouzi is the star of the film as she walks into the hearts of all with her overall persona; she can dance, act and look beautiful at the same time which gives her the edge over many actresses in Pakistan.
Her leading man Adeel Chaudhry finally makes his film debut as an actor after spending many years as a vocalist and improves as the film progresses. Ayaz Samoo provides the much-needed comedy boost while romancing with Hajra Yamin.
As the father of the 'bride', Asif Raza Mir is perfect and he should act more in films as we are short on actors who can play heroine's father and look good.
The problem is with the script and direction – while the framing is amazingly done, the fight sequence post interval looks like a scene from the 1950s due to bad Visual Effects.
The script is quite predictable and is suited for a TV serial more than a film; the songs are the highlight of the movie yet two of the remade songs are abruptly cut from the movie because of copyright issues.
Then there was some really bad acting from Asma Abbas who tried to copy sister Bushra for no reason (she is quite talented herself) whereas Naeem Haque's cameo didn't look threatening despite he being the antagonist.
Verdict 2.5/5
 Maan Jao Naa might do well at the box office because of a fresh cast but a film needs to have a good story and execution to be a box office success.
Sadly it fails to impress when it comes to storytelling as whatever happens on the screen used to happen decades ago. People don't bump into each other and fall in love anymore; you can't ruin someone else's wedding by doing a naatak or you can't tell your son that you were a cool dude when your body language paints you as a lethargic and lazy individual.
Yes, there are back stories to all characters but what about the 'front' stories, the ones for which the audience have paid.
The post first appeared on Veryfilmi.com