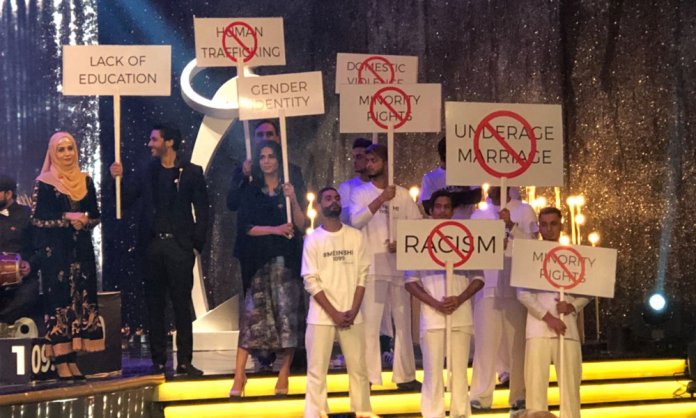 This year the Lux Style Awards were not just a night to celebrate the big wigs of Lollywood but the company behind the awards, Unilever has decided to highlight some important issues that have been affecting the Pakistani society for decades.
Frieha Altaf is a name associated with the Lux Style Awards, however this year she showed the audience the bigger picture by kicking off the #meinbhi movement on the show. Inspired by the #MeToo campaign in Hollywood, the #MeinBhi movement will cover not only sexual harassment issues but also, child abuse, rape and other atrocities that prevail in our society.
While accepting the Fashion Lifetime Achievement Award, Frieha Spoke about the 'Mein bhi' movement in her speech, honoring Mukhtar Mai and Maheen Khan. 
This beautiful performance by Ahsan Khan and Amna Ilyas was dedicated to the future of the nation, the children of Pakistan.
The segment was organized and choreographed by Frieha Altaf.
Another grand extravaganza was planned for the closing of the show that included 76 musicians coming together and performing on Shehzad Roy's, 'Uth bandh kamar kya darta hai phir dekh khuda kya karta hai.' 
The segment was performed in order to extend the 'Main Bhi' movement support. Some of the singers and musicians included, Shehzad Roy, Mohsin Abbas Haider, Zoe and Rachel Viccaji, Aima Big, Amanat Ali, Abu Fareed Qawwal and Farhan Saeed amongst others.
Celebrities and others from the entertainment and fashion industry showed their support for the #meinbhi movement by holding placards highlighting the issues to be covered by the movement at the closing performance of the event alongside the 76 musicians.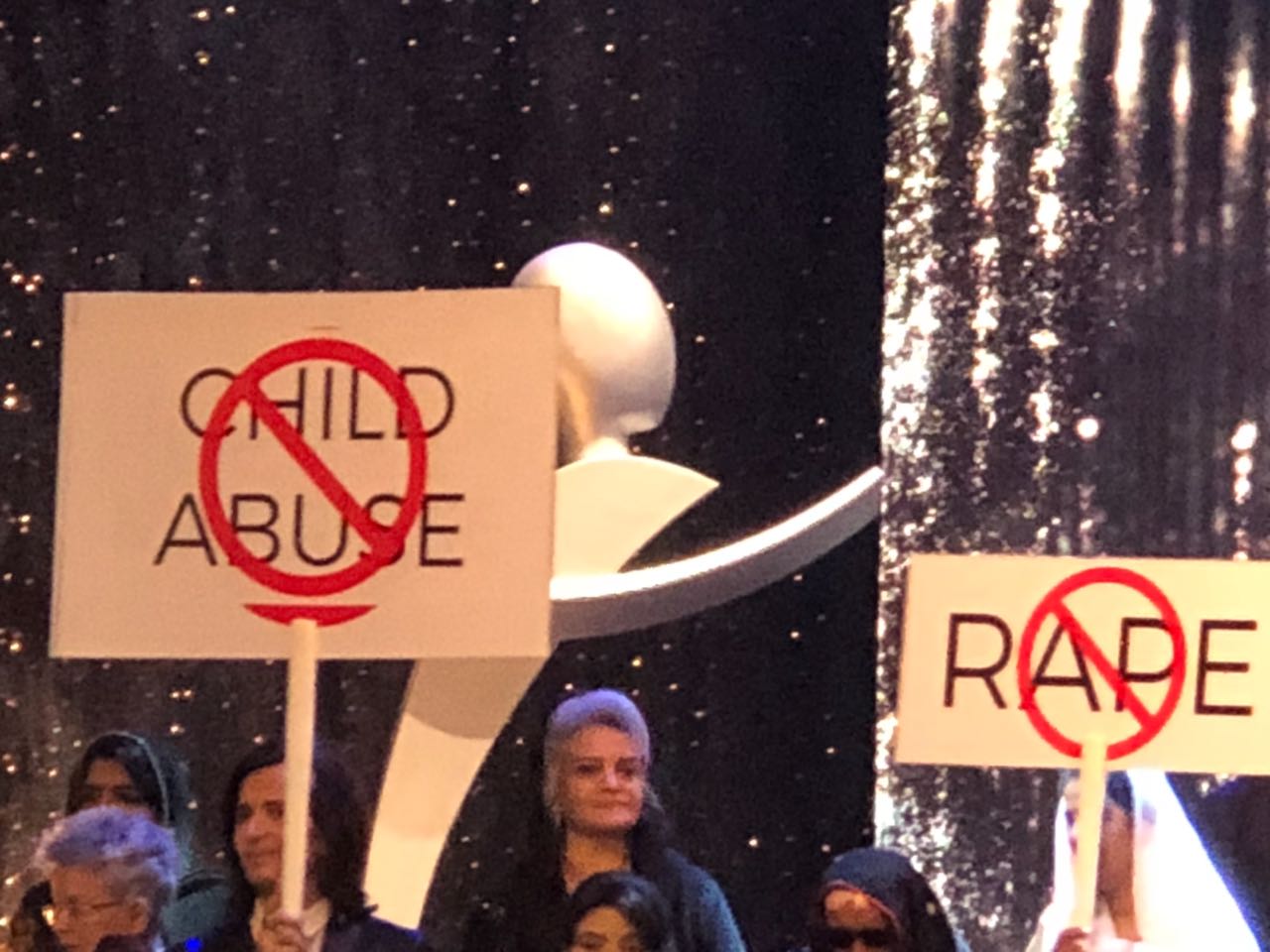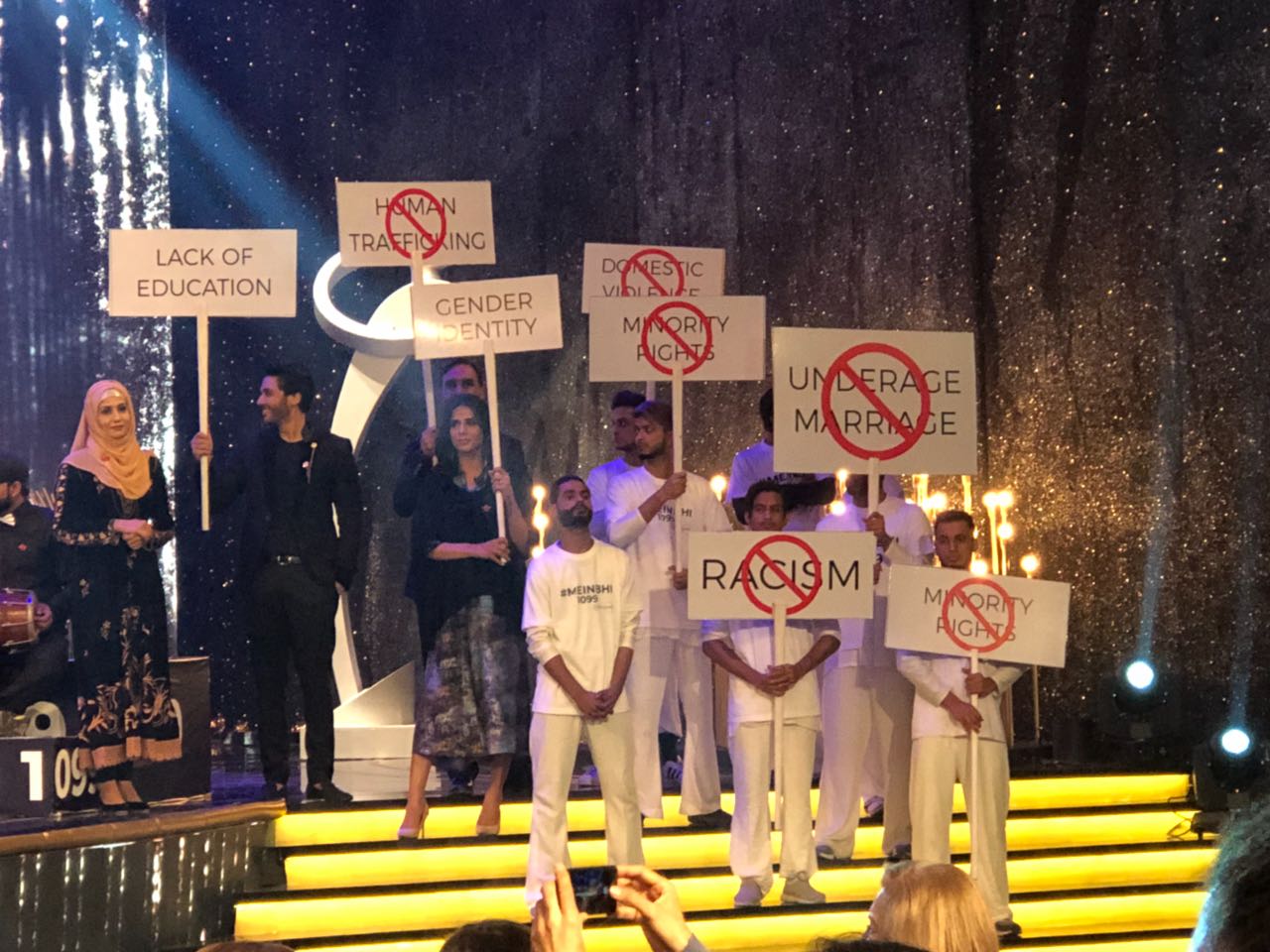 Soon after the 'mein bhi' movement was announced by Frieha Altaf, celebrities took to social media to share and support the child abuse and sexual harassment awareness campaign. 
Never afraid to voice his opinions – Hamza Ali Abassi speaks about the deep rooted corruption in our society and how it affects basic human rights! Join @iamhamzaabbbasi in supporting the #MeinBhi🌺 movement and don't be afraid to speak up!
Credit: @FriehaAltaf pic.twitter.com/wzzBDAeDxL

— Hamza Ali Abbasi_FC (@HAAbeez_FC) February 20, 2018
Zoe Viccaji takes to the recording studio to get involved with the #MeinBhi🌺 movement! #CatwalkCares #MindMapComms pic.twitter.com/ZksAPLFQy7

— FK (@faisalkapadia) February 18, 2018
Rapper Mikki Murshed joins the #MeinBhi🌺 movement and voices his opinions on transgender rights, women's rights and children's rights! – #mindmapcomms pic.twitter.com/2aXLGMDb4F

— Zain Awan (@zainwain) February 18, 2018
I, #JuggunKazim, stand against child abuse, sexual harassment, domestic violence & any other social injustice that any human being has to face. Waqt aagaya hai kuch karney ka, kuch bolne ka, tu dariyay math #meinbhi aap ke saath hoon! I stand with you!#CatwalkCares' #JuggunCares pic.twitter.com/YgcLGd9No1

— Juggun Kazim (@JuggunKazim) February 15, 2018
So guys here he is..Sharing his views❤…Repost from #IG|divamagazinapakistan The charming #AhadRazaMir highlights the alarming issue of men suppressing their emotions and the negative impact it has on those around them!@ahadheartthrob @fancyeyed @SarahChoudary @Maham_MAHI2O pic.twitter.com/YbOyvTIOqD

— Ahad Raza Mir👑❤ (@Yi_2529) February 20, 2018