A day after opening its first and flagship location in Phase 6 of DHA on Friday, the renowned Canadian coffee company Tim Hortons in Lahore recently saw huge lines of customers. When Tim Hortons launched amid complaints about rising inflation, the long lineups of customers caused some eyebrows to be raised. After this, people wondered if Pakistan was actually going broke or not.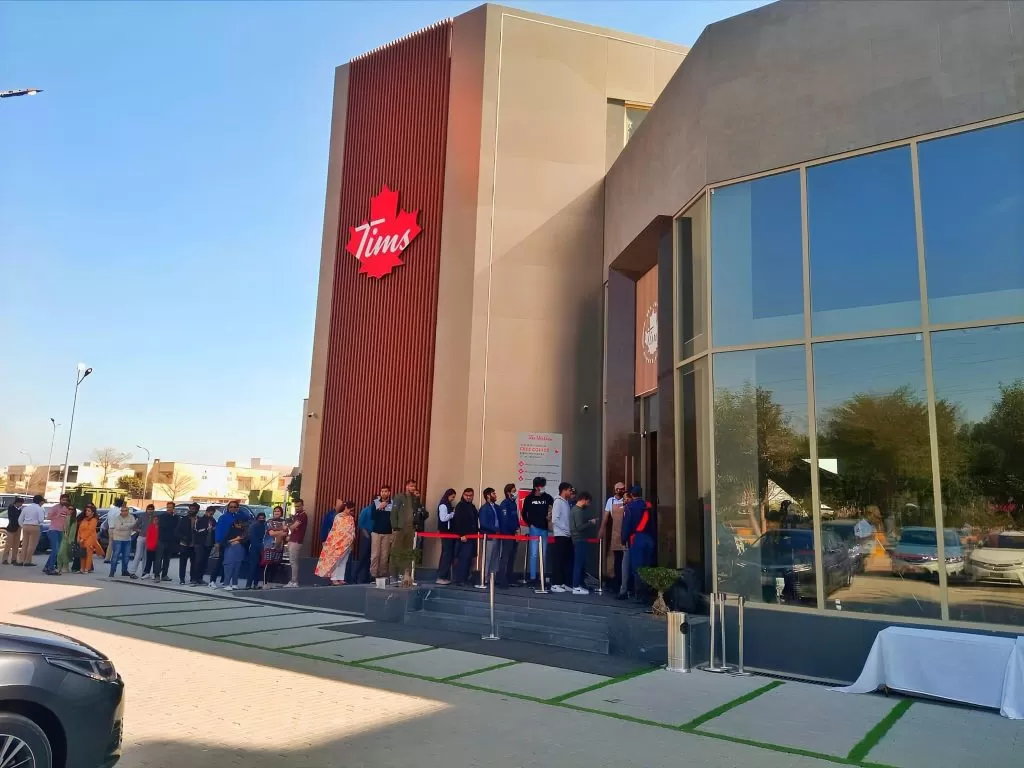 Tim Hortons' launch happened a few days after a man died in a stampede while in line to buy flour for his family. Some individuals shared videos of long lines at Tim Hortons and at grain stores to emphasize the dire economic situation in the nation, which they attribute to the Pakistani elite's love of Western coffee brands. However, the condition caused an uproar on the internet. People were comparing the current economic downturn and questioning the government's claims of increased inflation. Here are some of those reactions.
Clearly only the Pakistani state is going bankrupt, not the class that caused it. Tim Hortons queue upon it's opening in Lahore https://t.co/JXiUlE9jjm

— Hassan (@desertfox_87) February 12, 2023
The only question i have is how did Tim Hortons get them to queue up for hours with no brawls and on top of that they had to spend money at the end of it but the FIA struggles to keep the immigration queues at lahore airport as orderly.

— Norbert Almeida "bruh" (@norbalm) February 12, 2023
Long queues, packed hall, no space in parking, almost chaotic. Tim Hortons at 9:00 AM in Lahore on its first day.
Kithy aey Mahngae? pic.twitter.com/NoLK3HMVoe

— Tehseen Bajwa (@TBajwa7) February 11, 2023
Lines at Tim Horton doesn't prove Pakistan is thriving, inflation is exaggerated and Pakistanis have money; it means the income disparity in Pakistan is insane. The elite keep getting richer while the masses suffer.

Most struggle to afford food as 80 lakh civics are sold out.

— Shehzad Ghias Shaikh (@Shehzad89) February 12, 2023
Famous actor and singer, Farhan Saeed, also tweeted about the crisis and his tweet has been going viral. People agree with him and say that he's speaking facts.
There are 2 #Pakistan (s), one that are in queue of utility stores for aata & ghee, & the other is at #TimHortons.
It scares me , that there is nothing in the middle scares me . #PakistanEconomicCrisis

— Farhan Saeed (@farhan_saeed) February 12, 2023
Other than reacting to the surprising economic conditions of Pakistan, people were also tweeting about how overrated Tim Hortons is. Critics said that Lahoris will go crazy about anything and everything. Here have a look!
Delhi got to know last year how bad Tim Hortons is, now it's Lahore's turn.

— PratPanc (@PratPanc) February 11, 2023
lahoris are so embarrassing man….like why are u doing all this for an overpriced coffee pic.twitter.com/hOz0z7PX5n

— South Noonya Index (@_robpatt) February 12, 2023
My Canadian Friend on the Tim Hortons opening lines in Lahore:

"They have to be the stupidest rich people on earth to queue for so long for Timmis, and who dresses up to go to Tim Hortons?"

— Ali Moeen Nawazish (@am_nawazish) February 12, 2023
This Lahore Tim Hortons saga says alot about our society. Even those mindless zombies are outraged, who can be seen standing in lines on election day for a plate of third class biryani. Bcz it's easier to go after tone deaf elite on social media than to actually disempower them.

— Asfandyar (@BhittaniKhannnn) February 12, 2023
Tim Hortons Lahore waley on their first day: pic.twitter.com/KYFCg3NLny

— Nomi Ansari (@nkansari92) February 12, 2023
On the other end of the spectrum, some people on Twitter are supporting Lahoris saying that everyone should let the city enjoy a coffee shop opening if they want to.
While some Tim Hortons jokes are on a lighter note, I noticed a weird self-hating phenomena amongst Pakistanis who can't get over people trying to enjoy. A city like Lahore doesn't have much entertainment to offer and these things matter to locals. Nothing 'elitist' about it!

— Hassan Khan (@mhassankhan06) February 12, 2023
Self loathing is endemic.
It's a new place, people are curious.

— Segmentata (@segmentata) February 12, 2023
I don't know about Karachi but lahoris queue for food . Tim Hortons is in a posh area. This is old Lahore and ppl have been queuing to buy fish here, every day for 50 years https://t.co/regwX0e24h pic.twitter.com/WIWuIzqYNW

— sherry (@CherieDamour_) February 12, 2023
What do you think about this? Let us know in the comments below.
Stay tuned to Brandsynario for more news and updates.