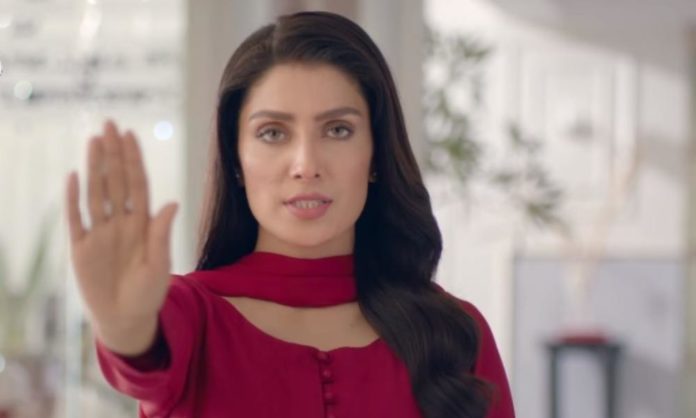 The global rise of COVID-19 in the last few months has been alarming and within Pakistan too, its effects during the latest wave, have become visibly more lethal. There have been countless cases across the nation and many have unfortunately lost their lives due to the continuous upward climb of the Coronavirus. Now, more than ever, the country needs to come together as Lifebuoy Soap appeals to fellow citizens to keep the fight going – be stronger than ever before.
Starting with an appeal of continuing the SOPs set in Pakistan to combat COVID-19, we saw Lifebuoy Brand Ambassador Ayeza Khan in a Lifebuoy Soap TV commercial shine a ray of hope by asking everyone to keep washing their hands with soap – any soap – to maintain a social distance with others, wear a mask properly by covering both mouth and nose, and of course to get vaccinated if the option is available and accessible.
The appeal struck a chord with pop idol and educationist Shehzad Roy, who continued the message on digital spaces in Pakistan by encouraging not just the public but also urging celebrities of the industry to come forward in continuing the good safety habits we had learned during the last year and a half. The message has remained simple – not to forget the four important SOPs (wash, mask, distance and vaccinate) when we need them the most in our battle against the virus.
Understanding the seriousness of the appeal put forward by Shehzad Roy and Ayeza Khan, celebrities and important figures of the entertainment industry such as Sanam Saeed, Sanam Jung, Rabia Anum, Ali Safina and Sana Javed also spoke about the importance of rigorously maintaining the SOPs set by the government to ensure everyone stays protected.
"The COVID-19 situation in Pakistan is worsening because many have stopped maintaining the protocols. We cannot afford to do that right now," Sanam Jung wrote in her post. "I am appealing to all my fans to please keep doing the best they can. Please continue to wear a mask, wash hands with soap, maintain a distance and get vaccinated so that we can stop the contagious spread!"
Seeing this, the internet picked up on just how widespread COVID-19 has turned out to be in Pakistan and some of the biggest influencers of the country, such as Ali Gul Pir, Abdullah Khatak, Junaid Akram, Mansoor Qureshi, Ali Arif, Mubeen Ul Haq, Ali Zar, Hunaina Rasool, Daniyal Sheikh, Kashan from The Idiotz, Ghazenfer Jaffery of Bekaar Films, Humna Ayub, Ayla Adnan, Nayab Ijazz, Ali Hassan Rana, Sami Rehman, Bilal Munir, Ekra Ali, Azlan Shah. Rida Mirza, and Fariha Asghar took notice and posted their own images and videos with the signature appeal gesture to continue following SOPs.
"Amidst the third wave of COVID-19, we've started to neglect the SOPs provided by the Government of Pakistan," comedian and influencer Junaid Akram wrote. "The virus has mutated into multiple variants and the only way we can get through is by adhering to SOPs. We have to do this to make it through kyun kay Pakistan ki safety ab hum sab kay haathon mai hai!"
The campaign not only managed to make people aware of the SOPs in place, but also narrated tales of a wide range of loss – both of people and livelihoods. Stories from various walks of life painted a picture of distress and just how important following SOPs at this point is. In particular, members from the health community such as front-line workers, along with others from different careers opened up about how COVID-19 has affected them.
A person, who used to run the canteen, spoke out about how due to the rising cases, schools have been closed down, and that had a massive impact on his ability to earn a living. The only way he knew to earn for his family has been finished, rendering him unemployed.
Other real-life stories of loss and deprivation from those who have been on the front line and from those whose livelihood Covid has impacted, like restaurant waiters have resonated with the Pakistani public, as distressed narratives bring out just how important it is to maintain healthy safety habits at this point to ensure not only a country that will go back to normal conditions again but also ensure more people don't lose out on jobs and fear for their lives.
Truly, changing Pakistan is in your hands.