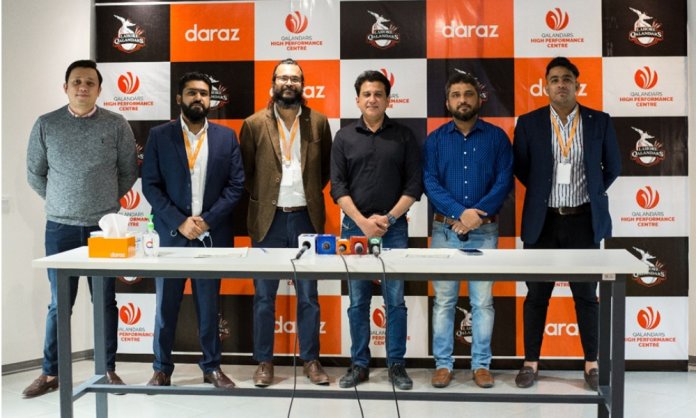 Lahore: Pakistan's leading eCommerce platform announces its partnership with the HBL PSL 2020's runners-up Lahore Qalander as their official merchandise partner. This exclusive partnership between Daraz and Lahore Qalandars will help establish both sides to target different segmented audiences. The platform aims to bring a unique shoppertainment experience for users with the support of tech innovation and gamification for cricket enthusiasts in Pakistan.
The eCommerce platform will be selling the exclusive merchandise of the team for HBL PSL season 6. The consumers and fans of the franchise and the eCommerce platform will be able to buy the team's merchandise at an exclusive price aided by discounts and deals offered during the tournament.
Daraz stands at the forefront of bringing a one-of-a-kind experience to millions of users by getting a chance to win official merchandise through live videos, competitions and the exclusive One Rupee Game that are scheduled to be announced shortly.
Ammar Hassan, Chief Marketing Officer, Daraz Pakistan said, "Daraz being the pioneer in the eCommerce sector aims to uplift the industry of sports merchandising. To achieve this, we have partnered with the most talked-about team of HBL PSL."
"We are thrilled to welcome Daraz as our sponsor partner. This is an exciting partnership that will help us achieve the segmented audience. We hope that both the organisations will maintain a healthy professional relationship." said Atif Rana, Owner of Lahore Qalanders.
With this partnership in order, Daraz will be using the platform to target the audience for Qalander's High-Performance Centres. This initiative will help in identifying the talent with the passion for the said sport. The eCommerce platform will also have exclusive deals and discounts for Qalander's fan base ordering the official merchandise of the Daraz's app.
As the nation gears up for the biggest cricketing tournament Pakistan has to offer, Daraz with this partnership will make the customer experience better with all the exciting games and deals they have to offer for the upcoming cricket fever.