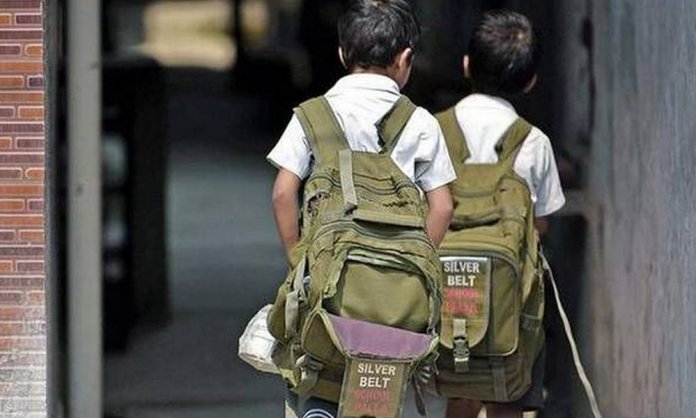 In a country where the literacy rate is already lower than it should be, nobody focuses on the size of the school-going children's bags because just the fact that they're lucky enough to go to a school is enough.
Therefore, it is a common sight to see little schoolchildren with schoolbags larger than their own bodies.
Thankfully, somebody took notice: The Khyber Pakhtunkhwa (KP) has drafted the 'Khyber Pakhtunkhwa School Bag Act 2019' with the aim to relieve school-going students from carrying heavy schoolbags.
Expected to be presented in the provincial assembly soon, a fine worth Rs 500,000 alongside other punishments will be applied upon non-complying educational institutions who refuse to adhere to it.
Below are the factors that will be used to keep a check on the act's compliance:
The quality of the bags and the material they're made of.
The weight of the bags (shouldn't exceed 10% of the schoolchild's body weight)
Wooden slates would be mandatory for all students of up to Class 8
The observation of the act will also mean that educational institutions must provide lockers or desks with drawers to their schoolchildren, so study materials can be safely stored in the school instead of adding up as extra weight on their shoulders.
The act sounds like a good idea because heavy school bags can cause fatigue, muscle strain, back pain, distortion of the spine's natural curves, rounding of the shoulders, poor body posture, and short attention spans.
Heavy school bags are also known causes of cervical and lumbar pains. Convincing claims also point out that reduction and shortening of the lumbar spine in proportion to the weight of the school bag will result in overloading and degenerative changes in the spine.
Such changes are known causes of back pain in later years. It has also been reported that growth points in the bones from which bones grow will be damaged by carrying excessively heavy school bags, resulting in abnormal or stunted growth.
What are your thoughts? Let us know in the comments.
Stay tuned to Brandsynario for more news and updates.