Kitkat announced a significant partnership with an Australian suicide prevention charity R U OK? The charity aims to inspire people into helping those around them who are struggling. The meaning behind this partnership is to encourage people towards using their break to initiate meaningful conversations with others.
To show its support regarding the issue, Kitkat will roll out limited edition wrappers that will have the label R U OK? It will serve as a reminder to the Aussies that they need to be present for their friends, family, and colleagues.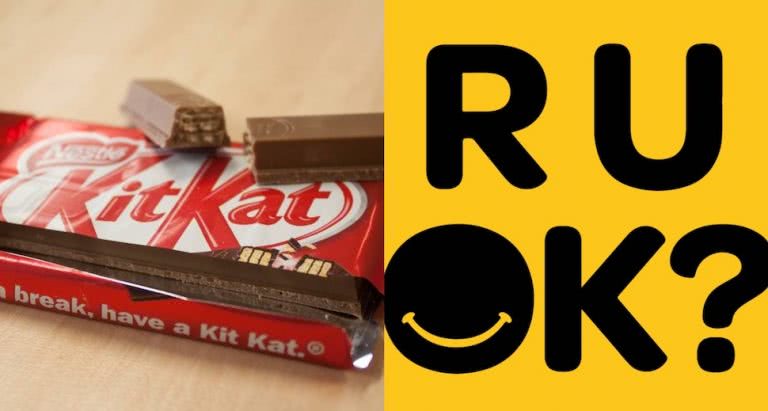 Statements by Companies: Nestle and R U OK? 
Nestlé's head of marketing confectionery Joyce Tan says, "As a brand, KitKat is synonymous with taking a break; whether it's at work or home, long or short, it's important to take some time out. How that time is spent is also important, which is why we're proud to partner with R U OK? And encourage people to use this time to have a meaningful chit-chat that could make a difference. We've long seen people use KitKat bars as a catalyst to have a break, so we hope by joining forces with R U OK? we can encourage people to use these breaks to drive genuine conversations between people."
We know our favourite way… 🍫 pic.twitter.com/bibcA8JMHW

— KITKAT (@KITKAT) July 22, 2020
CEO 'R U OK?' Katherine Newton welcomed KitKat as its Chit-Chat Partner. She said, "Making time for the people in your world can make a real difference, and sharing a break is a great opportunity to pause, consider others, and start a meaningful conversation. We hope, as our 'Chit-Chat Partner,' KitKat will be the catalyst for many vital chats."
#RUOKDay is Thursday 10 September and this year's message is 'There's more to say after R U OK?'. Learn what to say next at https://t.co/AIxUjhpWLN so you can have a conversation that could change, or even save, a life. #theresmoretosay #RUOK pic.twitter.com/W3qXde8HYT

— R U OK? (@ruokday) July 16, 2020
Taking Up Suicide Prevention
The brand is highlighting one more essential thing. It is telling people that it acknowledged we do ask our friends if they are OK, it is not that we don't. The problem is we don't know how to tackle the conversation if they don't say they are OK. Kitkat's focus during the campaign will be, 'there's more to say after R U OK?' So it helps out in teaching one how to respond when someone says they are not OK!
So the four-finger KitKat will be available for a limited time duration till the end of August in leading grocery stores. After that, September 10 will witness another new form of chocolate, the collab R U OK? KitKat. Safe to say, Kitkat is on a roll!
Who else is hoping for a break next month? #2020challenge pic.twitter.com/vZGkY50qyV

— KITKAT (@KITKAT) August 7, 2020
Meanwhile, if you want to know how to break the ice with your colleagues or with friends and family, you fought with, then log on to the website www.ruok.org.au because there is no embarrassment in taking care of the loved ones.
Stay tuned to Brandsynario for more news and updates!