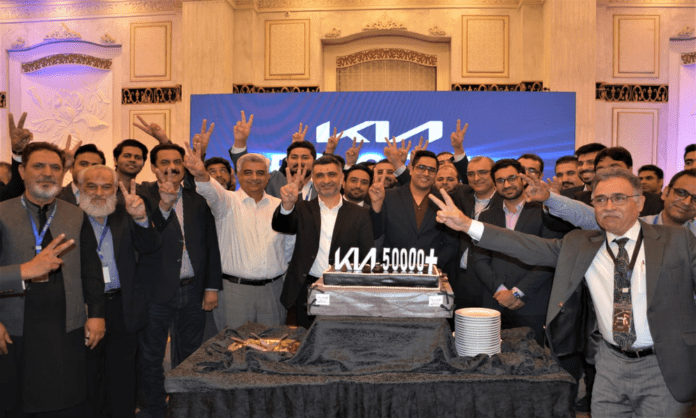 Leading South Korean automobile manufacturing company, KIA, that is in a local partnership with the Lucky Group is offering a limited-time offer on the Sorento, to celebrate 50,000 bookings milestone since its entry in Pakistan.
Since its relaunch in 2017, KIA has become one of the leading choices of Pakistanis when it comes to SUVs. Thanks to its innovative and sleek designs, excellent mileage, and efficient performance, KIA has sold over 50,000 cars in three years, a milestone that is considered a major achievement in the industry.
What makes KIA cars reliable is that they're built using state-of-the-art technology, offering better performance and mileage than its competitors. Moreover, they come with a four-year warranty at reasonable prices.

To highlight their milestone of achieving 50,000 bookings, KIA Lucky Motors, has launched a limited time offer on two variants of the Sorento- the 3.5l and 2.4l AWD. The midsize SUV comes in 3 variants, with 3.5 liters V6 engine, 2.4 liters engine with two drivetrain options- Front Wheel Drive and All Wheel Drive. The Sorento was launched in the local market in 2021, attracting car enthusiasts with a preference for performance in an SUV.
Ever since its entry in the local market, KIA has brought in an extensive choice of vehicles ranging from hatchbacks to SUVs and a multi-purpose vehicle. The Picanto being an ideal 1000cc hatchback for a single user or a small family, which can be easily maneuvered in tight spots without compromising any comfort inside. The Sportage has been a game changer for the local automotive industry making people shift to the SUV over sedans. The Sorento was launched last year where car enthusiasts were eager to try it, mainly because of its powerful V6 engine which no other SUV is offering currently in Pakistan. With Carnival's entry in Pakistan, KIA is the only automotive maker to locally provide an exotic multi-purpose vehicle. KIA has also recently launched the Stonic in Pakistan, with a 1.4l MPI engine which has gained limelight physically and on social media platforms. The C-SUV comes with key features including LED powered headlights, sunroof, cruise control, infotainment system and push start. 
KIA has dominated the SUV category by firstly launching the Sportage followed by the Sorento and Stonic. The company achieved all of this in a short span of time–approximately four years. Between August 2019 and August 2021, the company sold more than 25,000 units of the Sportage. The manner in which KIA has dominated the local automotive market by bringing in a plethora of models is highly commendable. All the vehicles cater perfectly to a user's commuting needs, be it intercity or intracity with no compromise on comfort. With such remarkable moves ever since its entry in Pakistan, let's see what KIA has to offer us in the year 2022.