A lot of automotive brands have had success in recent years. If we take a look at Pakistan, the last year and this one have been quite well in terms of automotive. KIA made a robust revival and start releasing one car after another. If one visits the industrial areas, one can see the KIA production plant at work. Their vehicles are impressive and they offer a lot in terms of features.
Today, we take a look at a piece of interesting news. Not only is it interesting, but it is also highly brilliant too. KIA has done what some tech companies do. While they had been quiet for a while now, they have just made themselves known yet again. The company has stepped out of the shadows, yet again, to dazzle and astonish. It seems that KIA has launched a new campaign and their ground zero is Times Square!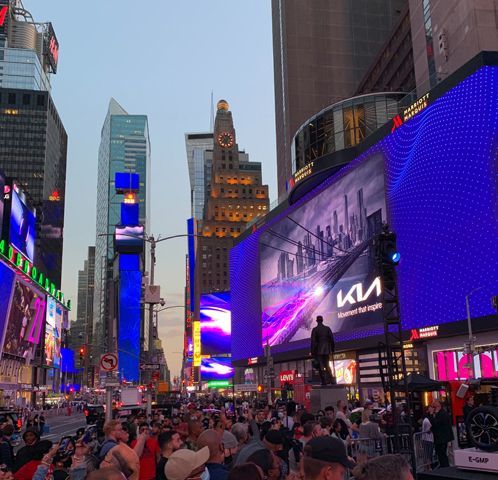 The KIA Campaign
It came as quite a sudden news to see KIA launch this campaign. The event took place quite swiftly and people were barely able to say anything. Right in the middle of times square, KIA unveiled its new campaign. Now, that location is quite famous and is often filled with people.
Even in times of a pandemic, the place had quite a crowd to view the campaign. This can be considered as a takeover campaign because they basically took over every screen in times square. However, this is not negative in any way. We are sure that the owners of the screens already knew what was about to happen. KIA was allowed to present its new campaign in an extremely public and widespread manner.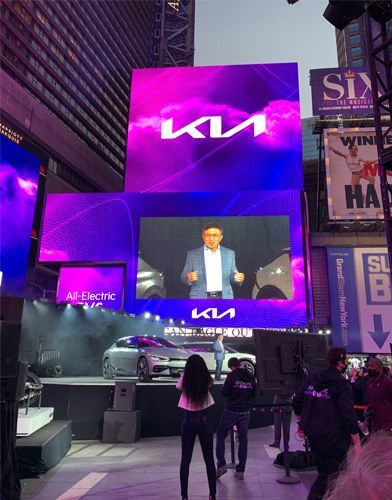 Advertising The Vehicle
The campaign drew quite a lot of attention to the people. Additionally, the colour themes were just so aesthetic and pleasant to the eye. KIA used a combination of blue and purple, showcasing ads in this theme. The main purpose of the campaign was to advertise electric vehicles. KIA is stepping into the electric domain now too and it makes sense to spread the word.
The electric series of KIA is sure to attract a major audience due to the popularity of such vehicles. The world is moving towards a cleaner future and everyone wants to be a part of it. Not everyone can afford a Tesla electric vehicle but maybe the KIA ones are more affordable. After all, everyone is looking forward to how KIA intends to proceed now.
We hope that KIA does well in its campaign and managed to gather a huge crowd. We want to see KIA rise high above the clouds and make itself known even more.

Stay tuned for more from Brandsynario!