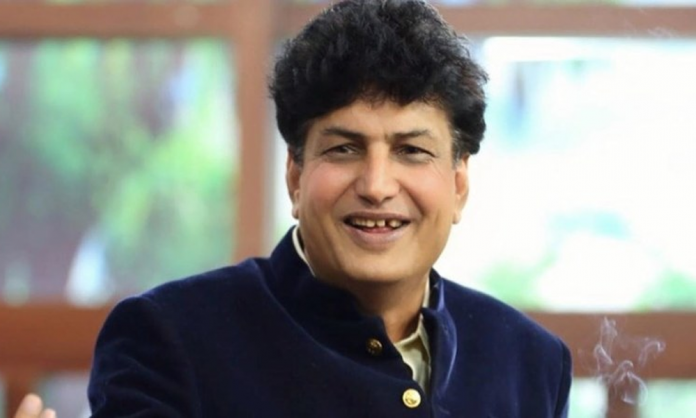 The last few days have been part of a heated debate between Pakistani drama Meray Pass Tum Ho writer, Khalil Ur Rehman and activist Marvi Sirmed. After Rehman used indecent, abusive language for Marvi Sirmed on national television, things have surely grown dire for the writer.
In the latest development, Geo Entertainment and 7th Sky Entertainment announced that they have suspended their contract with Khalil-ur-Rehman Qamar after he used abusive language on live television against Marvi Sirmed.
The announcement mentioned Geo Entertainment suspending four drama serials and one movie script contract until Qamar apologizes for his crass behavior. The channel has further clarified that this was a non-exclusive agreement with the writer, the same as the ones he has with other channels.
Geo's official statement further mentions,
"Geo believes in exchange of ideas and promoting the culture of Live and Let live (Geo our Jeenay do) we believe that everyone has the right to express their opinions and the culture of healthy debate should be encouraged. However, such debates should be held within the norms of decency and entail respect for one another"
Geo Entertainment Releases Statement of Suspension For Khalil-ur-Rehman Qamar.
Announcement 📢 pic.twitter.com/B5xbIX99uT

— HarPal Geo (@HarPalGeoTv) March 5, 2020
Qamar is currently working with other TV channels as well and is knows to be involved in a movie that features two renowned actors, Mehwish Hayat and Human Saeed.
Upon receiving the suspension announcement, writer Khalil-ur-Rehman has responded to the entertainment channel. His statement mentions that he would not work with Geo and is canceling the contract himself.
Khalil-ur-Rehman's Reply to Geo Entertainment Television!
Note down people And @HarPalGeoTv pic.twitter.com/oiHYJ0ci6h

— Khalil Ur Rehman Qamar (@KrqOfficial) March 5, 2020
Pakistani twitteratis and celebrities like Mahira Khan, Sarmad Khoosat and Shireen Mazari have lauded the stance taken by Geo and have taken to twitter to appreciate this feat!
Here's what they have to say:
Someone, at least SOMEONE had the courage! Thank you Geo for setting the right precedence. https://t.co/0E33qlcDwi

— Sarmad Khoosat (@KhoosatSarmad) March 5, 2020
— Osman Khalid Butt (@aClockworkObi) March 5, 2020
Good on you🙌🏼 @HarPalGeoTv https://t.co/7cTELpVtXy

— Mahira Khan (@TheMahiraKhan) March 5, 2020
Excellent step by Geo. Truly appreciable 👍🏼👍🏼👏🏼👏🏼 pic.twitter.com/VjXFg5WfaP

— Gharidah Farooqi (@GFarooqi) March 5, 2020
This is great! Well done Geo! https://t.co/1jn1ZjunXt

— Imaan Zainab Mazari-Hazir (@ImaanZHazir) March 5, 2020
Geo Entertainment has suspended the contract of Khalil ur Rehman Qamar. https://t.co/006SS38vgo

— Benazir Shah (@Benazir_Shah) March 5, 2020
Good action by Geo. No matter who the woman is, no one has the right to abuse and use filthy language against her especially on TV. It should never be acceptable & never be tolerated. https://t.co/QTrJizyXXG

— Shireen Mazari (@ShireenMazari1) March 5, 2020
Proud of our media partners for @MaulaJattMovie to take this stand and be on the right side of history !! 👏🏻👏🏻👏🏻#Geo
#khalilurrehmanqamar #KhalilUrRahmanQamar https://t.co/49PrzV8YLx

— Ammara Hikmat (@AmmaraHikmat) March 5, 2020
Fellow writer Asma shares a befitting reply to KRQ!

What are your thoughts on the decision made by Geo Entertainment? Let us know in the comments below.
Stay tuned to Brandsynario for the latest news and updates.