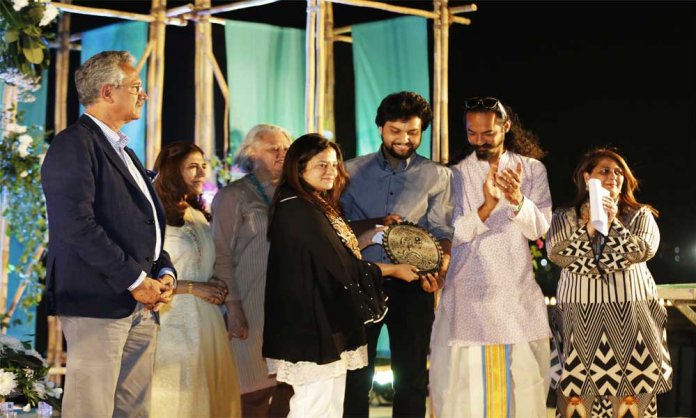 KB19, the 2nd Karachi Biennale, which is showcasing eighty-nine projects by ninety-eight artists at seven historic and iconic venues across the city of Karachi until 12 November 2019 has released details of its first three prize winners.
The theme of this year's biennale is Ecology and KB19 invited artists to unpack the cultural dimension of the contemporary crisis of unsustainability, as well as its cultural roots and the origins of this narrative.
Three prizes were awarded at the opening ceremony: the KB19 Peek Freans Emerging Artist Prize, the KB19 Mahvash and Jahangir Siddiqui Foundation Juried Art Prize and the KB19 HM Habib Lifetime Achievement Award.
The final two prizes, the KB19 Langdon-Malik Foundation Performance Art Prize and the KB19 Shahneela and Farhan Faruqui Popular Choice Prize Art Prize
will be given at the closing ceremony on 12 November.
KB19 Peek Freans Emerging Artist Prize
This prize was created to recognize a young interdisciplinary artist under 30 with extraordinary ability to envision the KB19 theme, Ecology. This prize aims to encourage and introduce a new generation of exceptional Pakistani artistic talent. The Prize has generated tremendous interested and been incredibly inclusive.
Applications were received from across the country, including Malakand, Peshawar, Lahore, Hyderabad and Karachi. The jurors were Adeel uz Zafar, Waheeda Bano and Muhammad Zeeshan. The KB19 Peek Freans Emerging Artist Prize was awarded to Arsalan Nasir, for his work In Karachi Live Birds Who Fly From Trees, 2019. In keeping with the KB19 biennale theme, internationally known Iranian/British artist and academic researcher Mohsen Keiany using recycled materials created an exclusive sculptural medallion for this prize.
Arsalan Nasir's work focuses on the rise of urbanization. As cities like Karachi grow larger, this brings an increase in the interaction between wildlife and urban ecosystems. The horizon of Karachi testifies the change it has faced in the past two decades as it is interrupted by high rise buildings, tangles of wires, mobile towers. With tangible and intangible dangers, our need for communication has become an invisible enemy for wildlife, specifically for birds.
What began as a jungle of hanging wires rapidly transformed into large urban areas being comprised of high rising mobile towers that pose a number of threats to birds: death by collision, exposure to harmful radiation, lack of natural nesting places, and interference of mobile towers with the Earth's natural magnetic field for navigation that birds use.
Using the ring toss game, his aim is to engage the audience in an immersive experience so that the activity of playing can be transformed into an activity of realizing and learning. The close, handheld interaction brings to realization the idea of how close at hand this disturbance in nature is occurring.
KB19 Mahvash and Jahangir Siddiqui Foundation Juried Art Prize
For the second consecutive biennale, (KB17 and KB19) the Juried Art Prize is sponsored by Mahvash and Jahangir Siddiqui Foundation. This prize was created to recognise one national or international participating artist of KB19.
This award revolves around identification of exceptional talent and work based on originality of creativity, interpretation of the theme, innovative use of material and imagination of depiction.
The jurors were Amna Naqvi (Art Collector and owner of the AAN Ghandhara Art Space), Ingo Arend (Art Critic and Cultural Journalist) and Stephen Welsh (Art Curator, Manchester Museum). The KB19 Mahvash and Jahangir Siddiqui Foundation Juried Art Prize was awarded to Rashid Rana for his installation, Beauty Lies, 2019. Artist, Assad Hussain, was commissioned to create the bespoke trophy.
Rashid Rana's installation unfolds in two parts: a video projection and a photo montage. In the performative video, Rashid Rana evokes references to the iconic painting Wanderer above the Sea of Fog by Caspar David Friedrich, as Rana stands amidst one of the largest garbage dumping sites. The structure of the work is reminiscent of a painting from the past but it also relates to one's own reality: of being exposed to waste, especially in the port city of Karachi.
The situation of being exposed to trash at close hand, the experience of the single artist/the maker is repeated and experienced by the viewer/visitor as he/she stands in front of the second part of the installation.
The photo montage, and the flatness and vastness of the seascape reveals images of trash and waste plastic bags in great numbers giving the illusion of sea waves with pictures of sailing ships inserted within. These are three chapters of the same story which refers to colonialism and then consumerism that produces affluence (as well as 'refuse') far beyond its need or control.
KB19 HM Habib Lifetime Achievement Award
The KB19 Lifetime Achievement Award is an initiative to celebrate and acknowledge a senior artist, artisan, art practitioner, art educationist or art critic for significant contributions to art and culture in Pakistan, for a vibrant career spanning at least 40 years. Supported by Zahida Habib in the name of her father, this award commemorates the life and contribution of HM Habib, and serves to prolong his legacy.
This Award is the art community's highest honour, given in recognition of an individual who has been influential in creating new and innovative ideas and practices in the field of art in Pakistan, while also dealing with several social and cultural concerns. A group of esteemed nominators comprising of artists, art educationists selected and nominated individuals in the first phase for this prize from different regions of Pakistan. The jurors were Nada Raza, Art Critic Aasim Aktar and Niilofur Farrukh.
The KB19 HM Habib Lifetime Achievement Award winner was Akram Dost Baloch. Artist, Amin Gulgee, was commissioned to create the bespoke trophy.
Akram Dost Baloch was born in Nushki, a border town in the south-west of Balochistan province of Pakistan in 1958, and received his school education there. He graduated with his BFA from National College of Arts, Lahore, and is among the founding faculty of The Department of Fine Arts, University of Balochistan.
He paints and sculpts and the themes of his work are wide ranging, with a heavy focus on human rights. The dominant aesthetics of his work are inspired by the traditional motifs of Balochistan, an area to which he has contributed much himself; Baloch wrote his PhD dissertation on the traditional patterns of Baloch embroidery and handicrafts, and has contributed invaluable items to the collection on Balochistan at the Mohatta Palace Museum in Karachi.
Baloch has received wide acclaim, both at home and abroad, and is also the recipient of Pakistan's President's Pride of Performance award (2004). He is currently based in Quetta where he runs his studio and chairs The Institute of Fine Arts at University of Balochistan.
Karachi Biennale Trust would like to thank the Chair of the Prize Committee, Bushra Hussain, its prize juror members and its prize sponsors, English Biscuit Manufacturers PVT; Mavash and Jahangir Siddiqui Foundation and Zahida Habib for all their support.