In the past few days, Karachi has seen quite some tragedies due to the torrential rains. While some are stranded because they cannot get to their homes due to the fast-flowing water on streets, some have lost their houses to landslide or flooding. But here is where Karachiites restore our faith in humanity.
Upon seeing the fellow citizens suffer from no food and drinkable water in their flooded houses, the Karachiites are coming to their rescue. They are opening up places for shelter and providing food where possible, be it to someone confined to their offices for more than 24 hours or someone looking helpless on the street.
Not only are we acknowledging their effort but also conveying this information to anyone who needs their help.
Shelter and food at Imambargahs
There is one post circulating on the internet regarding imambargahs. Shi'i sect has opened its Imambargahs for the public regardless of sectarian associations. These posts mention various specific Imambargahs to seek shelter at.
Please retweet & spread the word

If you're stuck somewhere & you're far from your home with no chance of reaching out any sooner so please please use google maps and try to reach out to ur nearest Imambargah

Here is a list of few Imambargahs where you can find shelter & food pic.twitter.com/1ShHPFU8Jn

— Fara Qureshi (@FaraQureshi) August 27, 2020
Food for people on the streets
Moreover, another event surfaced where a group of Karachiites was stranded in front of Millennium Mall. Due to a lot of water, they could not go in any direction. By 8 pm, they were hungry and helpless. And just then, a fellow Karachiite gave them free burgers.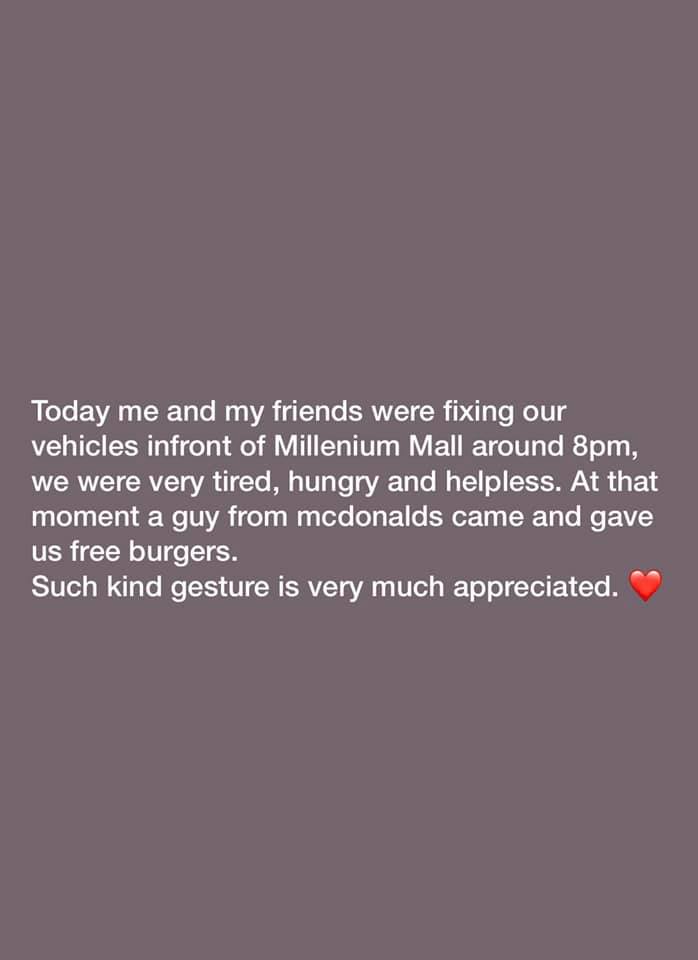 Helping the helpers
Furthermore, Karachiites also proved that if even police need help, they won't shy away. Because it is not just the police who have to rescue us if they need us, we will be there for them. And thus, as the police van was right in the middle of the flooded street with fast-flowing water, the public at the footpath ensured the safety of the present policemen. Have a look:
Police rescued by public from rain flood at Main Shahra-e-Faisal.#Karachi #KarachiRain #KarachiSinksNoOneThinks #KarachiSinks #KarachiNeedsAttention #KarachiFlooded pic.twitter.com/ewT8vxDLmg

— Muhammad Umar Farooq (@umarf940) August 27, 2020
Construction help
There were also instances where either the basements or the ground floors flooded with a foot deep water. It is a hazardous situation because, in the presence of electrical appliances, there was a possibility of electrocution as well. And at places, wall, fell making their houses unsafe. In these scary times, people were readily available to help out strangers for water pumping or re-construction.
Humanity still exists
Hum apni madad ap par hi hein #KarachiSinksNoOneThinks pic.twitter.com/RMP2FZ5keN

— SADIMA SHAKEEL👩🏻‍⚕️ (@SadimaShakeel) August 27, 2020
A twitter user with the handle @nisshhoo shared her own experience of driving in Karachi streets. According to her, she returned home by 3 in the morning. But she was grateful for Karachiites making her feel safe and rescuing her wherever she needed. The thread she shared on Twitter indeed made one belief in humanity once again.
I'm not gonna lie I was very scared and started crying on so many points because never have I ever drove in so much water but Karachi and it's people somehow made me feel better and won my heart all over again. ❤️
Stay Safe Karachi. #KarachiRains #KarachiSinks #Karachi

— JazbaatiAurat (@nisshhoo) August 28, 2020
There are indeed many more instances where Karachiites have risen to the occasion, but helping in these torrential rains indeed deserves an applaud.
Stay tuned to Brandsynario for more news and updates!