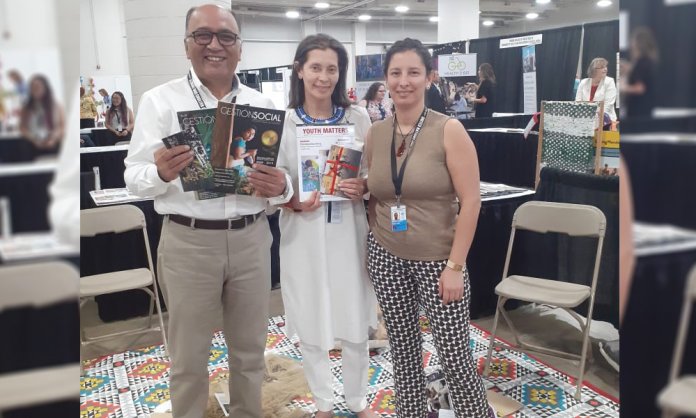 The School of Writing, a Karachi-based social enterprise has been invited to curate an exhibit of the work produced by the youth of Karachi from different underrepresented communities.
The exhibit, entitled '25 Million Stories' is live at the 68th United Nations Civil Society Conference in Salt Lake City, Utah from August 26-28, 2019.
About 25 Million Stories:
'25 Million Stories' are stories of the 25 million citizens of Karachi, stories of significant landmarks and of its rich cultural fabric. 25 Million Stories are accounts of resilience, of hard work and of struggle that come as part and parcel of living in the third-largest city of the world and the largest city of Pakistan.
The exhibition aims to provide a peep into how we live and what we Karachiites go through every day. The people of Karachi are survivors and despite being engaged in a constant struggle for survival, live life to the fullest.
25 Million Stories are a collection of multimedia stories represented in film, photography or written form. These stories are the work of youth of Karachi from under-represented areas of Karachi and have been collected over the years on different programs of TSW like Yeh Hai Karachi, BadalDo!, Civic Action through Journalism, Youth Matters.
The works represented here are the viewpoint of the youth of all ages like high-school children, universities, and youth that are not privileged enough to pursue higher education.
The School of Writing has been working in the literacy and arts space since its inception and has actively engaged with communities in various areas of Karachi. They have worked in Baldia Town, Pehlwan Goth, Ibrahim Hydari, Mauripur, Lyari, Sakhi Hasan, Paposh Nagar, Hijrat Colony, Orangi Town, Machhar Colony, Gulzar-e-Hijri, etc. through various programs – Travelogues, Yeh Hai Karachi, Look at the City from Here, Arts without Boundaries, etc.
The idea behind such interventions has been to create informed, engaged, and empowered youth with media and communications literacy skills that will not only enhance their understanding of civic issues around them but also empower them with 21st-century skills to survive in the ever-competing global arena.
About the 68th United Nations Civil Society Conference:
The conference is built on SDG11, including various sustainability and development goals for the planet, with a vision for an inclusive, peaceful, and a sustainable world by 2030. The following are central themes of the conference:
Inclusive Communities – Leaving No One Behind
Climate Change – Communities in Action
3. Peaceful Societies – Recovering from Conflict and Nurturing Peace
4. Youth-led Session – Creating Opportunities and Economic Success for Youth
5. Infrastructure and Natural Resource Use
6. Emerging Technologies and Innovation
The conference aims to put innovators, thinkers, peacemakers, activists, environmentalists, and socio-preneurs from all around the world in a hall to hold dialogues around the SDG's, engage in multicultural activities, and brainstorm on and synergize towards building a better world.