As Karachi woke up to the horrifying news of mysterious gas leak on Monday morning, the people have been As per media reports, the gas leak has claimed the lives of 14 people and has affected hundreds of people in two days.
However, there were some sources that claimed the toxic gas could be caused by the over exposure of soybean dust which is known to have affected hundreds of people previously in Spain. Sources have claimed that Aeroallergen from soybean dust was found in blood samples that was collected from people who died of this gas leak. It is said that the soybean shipment was unloaded at Karachi Port.
Here's what Senator Murtaza Wahab had tweeted:
Preliminary report has been submitted by experts at Khi Uni which suggests that Keamari incident happened due to over exposure of soybean dust which is known to have also caused similar incidents in other parts of the world. This soybean is in a shipment docked at Khi Port

— SenatorMurtaza Wahab (@murtazawahab1) February 18, 2020
An extensive report by Global Environmental Lab Pvt. Ltd. suggested otherwise
Furthermore, an extensive report was released by Global Environmental Lab Pvt. Ltd. (GEL PVT) regarding the hazardous gas leak. GEL Pvt. Ltd., they voluntarily conducted the activity of monitoring the quality of air on number of locations on the request of Sindh Environmental Protection Agency (SEPA).
Their main objective was to assess the presence of toxic gases and their levels in the area. This required them to assess the levels of CO, NO, H2S, SO2, VOCs, O3, PM10 and PM2.5 in the air. After the assessment, following results were recorded during: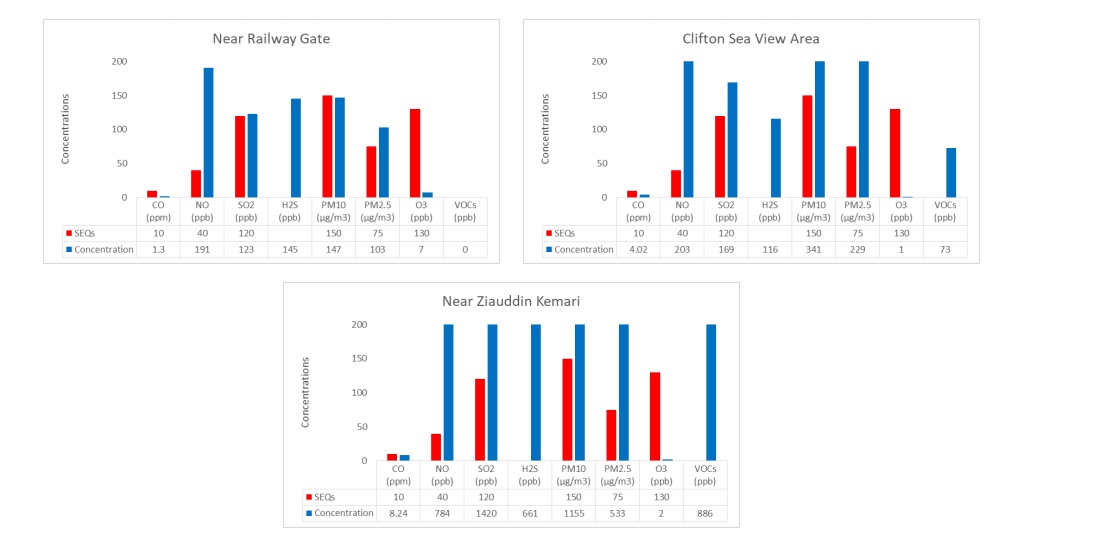 The mysterious smell of gas increases near midnight
The reports suggested that the levels of all pollutants exceeded the allowable limits when they were monitored around midnight near Ziauddin hospital, Keamari. According to Express Tribune, a local teacher Asif Shah claimed that the foul smell reduces during the day time and increases at night. However, the main source of gas leak is yet to be confirmed.
A Twitter user also shared the same report saying that it's the SO2 due to the burning of eWaste & Medical Waste
This is no Gas Leak in Keamari, Karachi. Its the SO2 (Sulphur Dioxide) that is behind all of these incidents main due to burning of eWaste & Medical Waste in near by areas like Shersha and Lyari as smokes can be seen particularly in evening from express way travelling towards pic.twitter.com/bgoxrI7PJu

— 𝖀𝖒𝖆𝖎𝖗 𝕬𝖇𝖉𝖚𝖑𝖑𝖆𝖍 (@UmairByTheWay) February 18, 2020
Furthermore, more schools in the affected areas have announced to remain closed for the time being to ensure children's safety and avoid any health risk.
This is a developing story.
For more news and updates, stay tuned to Brandsynario.