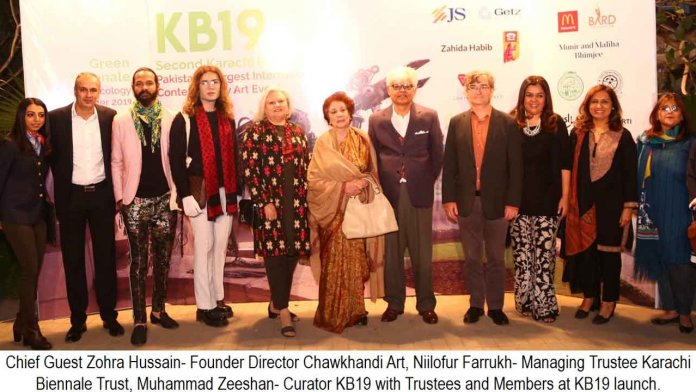 The footprint we're leaving on the environment is extremely toxic for us and the generations to come.
It is imperative that we understand the impact of our jobs, the events we attend, the festivals we go to in order to save the planet we live in, as events yield a lot of waste and leave a large carbon footprint.
According to meetgreen.com the typical conference waste attendee produces 1.89KG of waste per day, 1.16KG of that will go directly to a landfill. When you calculate that number for 1000 attendees over 3 days you get 5670KG of waste, the equivalent of 4 compact cars. 
Karachi Biennale Trust invites Swiss architect, Nele Dechmann, to lead a session titled Altering Logical Systems – A Spatial Exploration through Architectural and Curatorial Practices followed by a panel on Cases in Spatial Sustainable Design by Karachi based architects Shahid Khan, Khadija-tul Kubra and Ahmed Mian on July 28th from 3:15 pm to 6:15pm at the NJV School auditorium.
The keynote speaker session is part of the tripartite project on sustainable design led by Nele Dechmann.
This consisted of a roundtable discussion with eminent Karachi based architects, artists, and scholars.
A two-day workshop with students and young professionals from the field of architecture who will develop a toolbox for sustainable exhibition design to reduce waste and the carbon footprint created by large public events.
This is an eco-friendly initiative of KB19, the green Biennale, in which one hundred artists will focus on ecology. Karachi Biennale Trust is working in multiple fields to promote awareness and practical ideas regarding sustainability.
This project is in collaboration with Swiss Arts Council Prohelvetia to make this workshop a yearly phenomenon so that sustainability and eco-friendliness are inculcated into the practices of event design at large and exhibition design in particular. NJV School has generously lent its space for this project.
Ahmed Mian is one of the few LEED® accredited practitioners in Pakistan, Khadija tul Kubra is Principal Architect at Design Options
Shahid Khan is the CEO and founder of the poverty alleviation NGO Indus Earth Trust Pakistan
The Karachi Biennale Trust (KBT) that was founded in 2016 by a group of visual art professionals and educators as a dynamic platform to promote creativity, innovation and criticality in the visual arts.
The Karachi Biennale is the flagship project of KBT. Its vision is to create a public audience for art and its projects offer a chance to revisit Karachi's past, recognize its contemporary challenges and contribute to an optimistic reimagining of its future.
Each iteration of Karachi Biennale has a theme that is relevant to the host city. Flight Interrupted the theme of KB19, the second Karachi Biennale is centered around the impact of urbanization on ecology.