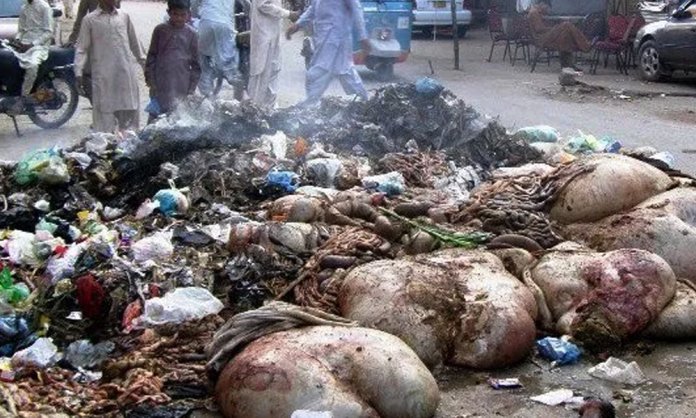 Following the thunderstorm and heavy rainfall that poured down on the city of Karachi, it is evident that Pakistan's metropolis is not equipped to handle such heavy downpours. Majority of the streets were flooded with water and trash wreaking havoc for the citizens.
#KarachiRain has just begun and this car becomes a casualty already.
Stay safe people. #Karachi #weather pic.twitter.com/MywxIEcGf3

— Hina Safdar (@hinasafi) August 29, 2017
Situation of Nadeem arcade shadman town north krachi right now.. #karachirain pic.twitter.com/LTIaXQKfRJ

— #StopKillingBurma (@KhanSathi1) August 31, 2017
On top of that, the preparations for Eid-al-Adha were severely affected, so much so that even sacrificial animals were part of the casualty count.
Cow died at Shaheed-e-Millat Road, Karachi #KarachiRain pic.twitter.com/Z7TlfLBXyd

— Arnold ShalwarNikker (@DaPakiGuy) August 31, 2017
According to SAMAA TV, five sacrificial animals were killed after an electrical wire fell down and electrocuted the cattle.
Thankfully, the day of Eid saw clear skies, easing peoples apprehensions. However, the aftermath of the downpour remained to be a problem in most of the areas of Karachi.
#Karachi: State of #Nazimabad no 4 on #Eid day near Masjid Darul Salat.#KHIAlerts #KarachiRain #UrbanFlooding #KarachiSinks pic.twitter.com/f4gHBsZuR1

— SherY – (@SheryS_Official) September 2, 2017
How will they do #Eid God help them #Floods #Karachi pic.twitter.com/sRNXU8TgrF

— mediaFRIENDS (@mediaFRIENDSS) September 1, 2017
And for a city in an Islamic country where the sacrificial ritual is an annual practice, it's appalling how unprepared the authorities were for the waste disposal that followed. Karachi is submerged in a putrid stench from the rotting of offal, that are heaped on the roadsides.
Despite the Sindh Solid Waste Management Board (SWMB), being awarded a budget of Rs2.95 billion, the output is barely visible. According to a statement by Raza Garzedi, director of Shehri-Citizens for a Better Environment in The Express Tribune, the government has failed to activate the city-wise municipal system. He blamed the chaos of management on the power struggle between the MQM and PPP, due to which the citizens are suffering.

Video Courtesy: Dawn.com
Moreover, the stagnant rainwater mixed with the remains of the animals, serves as a serious health hazard for citizens, with the chances of gastrointestinal, diarrhea and typhoid being spread.
---
Contributed By: Abeer Anwaar