The phrase "when the going gets tough, the tough get going" reminds me of how determined Pakistanis, particularly those in Karachi, when it comes to survival.
No matter how hard it may be, we always find a way to get by, including setting up bachat or car bazaars.
These bachat and car bazaars help the common man save money, find essentials, and make life a bit easier for those who can't afford shopping at malls.
Unfortunately, due to the rise in COVID-19 cases, these bazaars have been banned. While there are some cons to this news, there are a few pros as well.
However, it is also vital as the large crowds and masses of people with limited to no social-distancing is how COVID-19 cases can spread among thousands.
The sudden rise in cases needs to be controlled for the country as well as the healthcare system to be able to care for those in need. Micro-levels lockdowns have also been imposed in selective areas in Karachi.
If needed, the government will consider another city-wide and nation-wide smart lockdown to bring the number of cases down like before.
Bachat, Car Bazaars Banned in Central District Karachi
An official notification was also issued in regards to the situation.
"In exercise of the powers conferred under Section 3 of the Sindh Epidemic Act 2014, to prevent the general public from the spread of Covid 19.
"All the permissions/NOCs issued from time to time to hold Bachat bazaars, car bazaars, and any other permission for congregations within the jurisdiction of District Central Karachi, are hereby canceled/withdrawn forthwith," the notification states.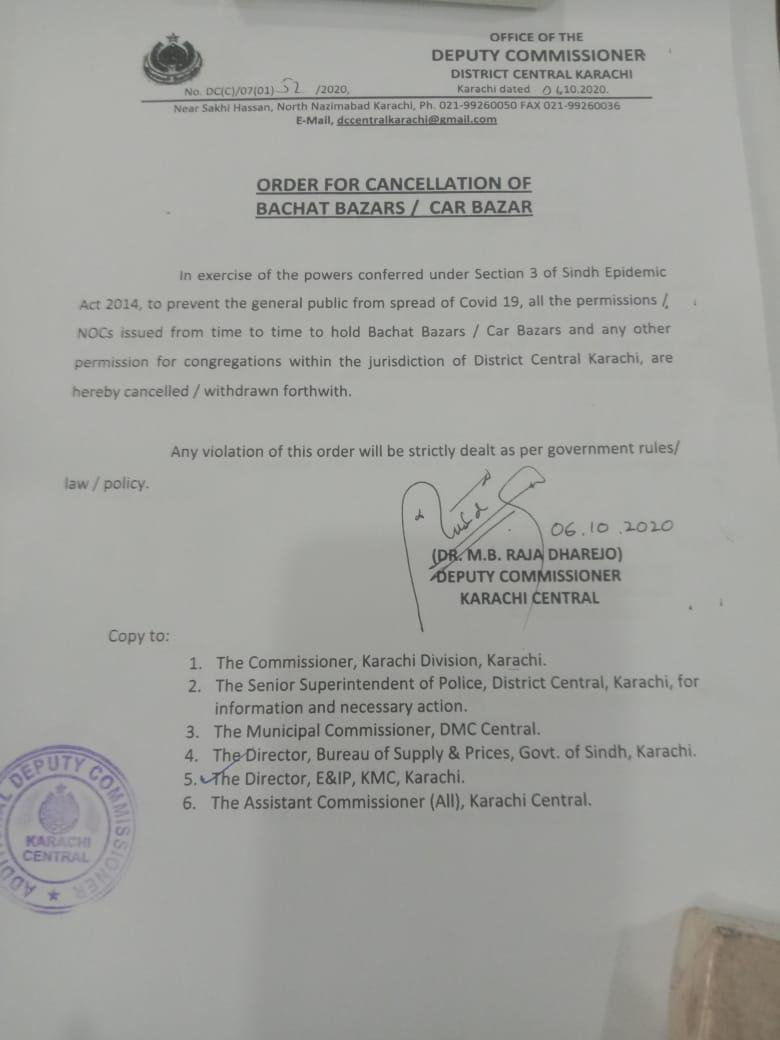 Moreover, those who try to violate the ban will be dealt with strictly. Violators will be punished as well accordingly, Deputy Commissioner Central Muhammad Bakh directed.
"We overall performed 8,448 COVID-19 tests in the province during the past 24 hours," said Chief Minister Sindh Syed Murad Ali Shah on Tuesday.
The death toll from the virus during the period stood at six in the province whereas 222 new cases came forward.
While on Monday, Sindh Chief Minister Syed Murad Ali Shah had announced that COVID-19 cases in Karachi had risen by 4% in just 5 days.
He reached out to the citizens of the metropolis, asking them to cooperate with the authorities.
Meanwhile, we urge our readers to wear their facemasks in all public spaces, wash your hands constantly, and maintain social-distancing. Be sure to sanitize your items that have been exposed to public surfaces i.e phones.
Stay safe and stay tuned to Brandsynario.