If there is anything consistent we have seen about the Akmal Brothers other than their performance, it is their potential to get viral without trying. They have the potential to get into the news for doing ordinary things, and this time is no different.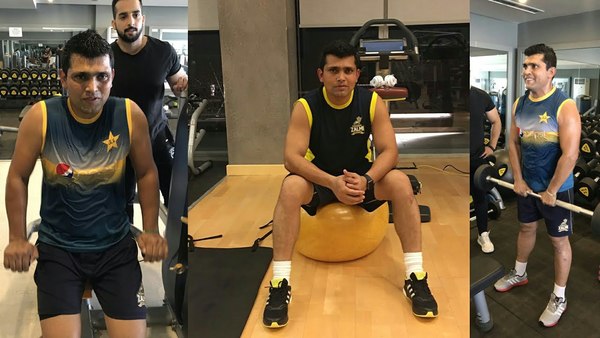 What Is It About The Workout Video That Has Made Everyone Concerned?
Recently, the well-known wicket-keeper and batsman Kamran Akmal took to Twitter and posted a video of him training, which got a lot of reaction.
training hard with trainer Zeeshan #tuesdayvibe #FitnessMotivation pic.twitter.com/kcMVLb5OsY

— Kamran Akmal (@KamiAkmal23) January 12, 2021
After he posted the video, many Pakistanis expressed their opinion on how he was being trained. Many asked if the gym ran out of weighting equipment and whether lifting the trainer up was necessary? Many people also expressed how unsafe it could be for his health, and it is not the best way to workout.
Is this really healthy for your spine?

— Razia Desai (@raziiia) January 12, 2021
The gym ran out of weight plates?? https://t.co/5FNG8mMfJk

— Zulfiqar Shah (@albela_raahii) January 12, 2021
Kami Bhai literally thought that ke sab impress hojainge https://t.co/vCb5ddYMhV

— Hussain Munaf (@Jackass96619088) January 12, 2021
This is not how fitness works.. 👀😂 https://t.co/B2CZAu6Dv1

— Aouney|| (@GhostOfDiaby) January 12, 2021
What was meant to be posted as a fitness motivation turned out to be a point of criticism for Kamran Akmal, making his list of getting into the news for stuff that is not cricket even longer?
This is not the first time we have seen the video of the cricketer being posted online. There are numerous videos of him working out online.
A few years back, Kamran Akmal went viral after the famous actor and a fellow public figure who is likely to run into controversies every once in a while, Yasir Hussain made fun of Kamran Akmal.
Kamran Akmal And His Career With The Pakistan Cricket Team:
Despite all the criticism, Kamran Akmal is one of the most well-known cricketers of Pakistan and holds records worthy of praise. On his birthday, many fans posted his memorable innings and performance stats that really make you wonder if he is one of the cricketers who did not receive the praise that they actually deserved.
Highest PSL Run Scorer 💥
Most Dismissals 🧤
Most PSL Centuries 🏏

Join us in wishing Wicket Keeper Batsman Kamran Akmal happy birthday 🎉
He turns 39 today! #Zalmi #YellowStorm pic.twitter.com/keuvVACUvx

— PeshawarZalmi (@PeshawarZalmi) January 13, 2021
Happy Birthday to the best Available Wicket keeper Batsman @KamiAkmal23 Kamran Akmal. The aggressive batsman who could hit boundaries and win matches whenever pakistan needed regardless any Batting order, Enjoy this vintage innings. pic.twitter.com/eRngo3p2zA

— Anns Zaffar Khan 🏏 (@ANNSZaffarKhan) January 12, 2021
Leading Run scorer of PSL
Most Centuries in PSL
Most Dismissals as A Wicket keeper
2009 T20 world Cup Winner
2017 PSL winner
The One And Only
My FAVORITE KAMRAN AKMAL@KamiAkmal23 @Kamranism23 pic.twitter.com/j6QCxREgcv

— Muhammad Atif (@thereal_atif) January 12, 2021
✅ 11 💯s and over 6000 runs in international cricket 🏏
✅ 454 dismissals 🙌
✅ T20 World Cup winner 🏆

A happy birthday to @KamiAkmal23 🎂 #OnThisDay

— ESPNcricinfo (@ESPNcricinfo) January 13, 2021
Despite all the praise, the cricketer took to Twitter a few days back and expressed his grievances about how the Pakistan Cricket Board has treated him. He expressed that he has been mistreated and rests his case to Allah. He also expressed that he was shocked and disappointed with the treatment he has been receiving as a senior player.
Shocked & disappointed As a senior & season Player i have not been treated well.I request @TheRealPCB @NadeemKhanCC to look into the matter. Cricket is my passion and i want to play it BUT….I rest my case to My Allah.

— Kamran Akmal (@KamiAkmal23) January 7, 2021
What do you think about Kamran Akmal's grievances and the way he has been treated? Do you think he has been mistreated? Are his grievances with the Pakistani Cricket Board valid?
Let us know under the comments.
Follow Brandsynario for more news and updates.