It finally happened!
It was indeed heartbreaking to see Pakistan's loneliest elephant, Kaavan, entertaining hundreds of visitors at the zoo, that too in a barren patch of land in Islamabad. Kaavan was not treated with the utmost care in Pakistan as animals in zoos abroad usually are taken care of.
Moreover, the visitors would never have enough of him as he would amaze them with his adorable salutes and tricks while his handlers used to poke him with nailed bullhooks to earn a few bucks.
For years, it seemed that no one truly cared about Kaavan and his fate in the Pakistani zoo, which was heartbreaking. The poor elephant had wounds that became infected, and the chains around his legs left permanent scars. Due to all this, Kaavan slowly drifted into psychosis and obesity.
Cher to the rescue!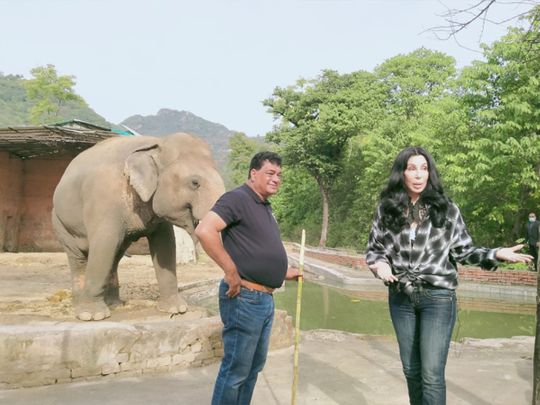 There's always light at the end of the tunnel! Kaavan, after years of suffering in Pakistan, arrived safely in Cambodia by cargo plane on Monday. It was not an ordinary transfer! A special ceremony was held to welcome the 35-year-old elephant upon his arrival at the airport of Cambodia's second-biggest city Siem Reap. To make it even more special, American pop star Cher, who visited Islamabad earlier to see the animal off, was also there to welcome him!
Here's another amazing fact! For the first time ever, an animal weighing 4.8 tonnes from Pakistan was taken abroad for health recovery. Initially, a 10-acre area would be given to the Kaavan in a sanctuary in Cambodia to see other elephants. How cute!
This has to be the most heart-warming news of today!
#FreeKaavan 🐘: Kaavan arrived! ✈️
Last night the loneliest elephant in the world was loaded on an airplane in Islamabad. Together with the team on-site, Dr. Frank Goeritz and Dr. Amir Khalil were right by his side throughout the whole trip. pic.twitter.com/b1745OQFsi

— FOUR PAWS (@fourpawsint) November 30, 2020
Kaavan received an adorable, warm welcome!
Great to see #Kaavan land safely in #Cambodia pic.twitter.com/FZ2uKblyfJ

— Malik Amin Aslam (@aminattock) November 30, 2020
Not only this, but the animal rescue organization Four Paws said that after touch down, Kaavan had another 90-minute drive ahead, and he would arrive at the sanctuary after nightfall.  So he would be released in daylight on Tuesday.
"Kaavan was eating, was not stressed; he was even a little bit sleeping, standing leaning at the crate wall. He behaves like a Frequent Flyer," said Amir Khalil, a Four Paws vet.
"The flight was uneventful, which is all you can ask for when you transfer an elephant."
It's incredible to see how Kaavan was rescued at the right time! It's about time humans should start treating animals fairly and with utmost care and respect! We wish Kaavan a healthy, new life ahead!
Stay tuned to Brandsynario for the latest news and updates!