Zoobia Meer and her mother are the latest victims of domestic violence. The country stands with them, celebrities have reached out, and citizens are making her trend on Twitter. All this attention is also compelling the Police to take the matter seriously. But what happened?
Zoobia Meer's Case
Her mother and Zoobia Meer were beaten up by her brother. The brother, Arslan, was blinded by matters of property and money and took his anger out in the worst of ways. He proceeded to beat his mother and sister while his wife stood and watched.
Zoobia says that the brother also stole her valuables like cash and jewelry. He also took the papers regarding the property and ran away. She went to the relevant police station to lodge a First Information Report. However, the Police were initially not wanting to help or accepting the FIR.
The sister, Zoobia, has put up a video on youtube, had an interview with Waqar Zaka, and released a statement. Here's all you need to watch:
This is her statement:
Statement of Zoobia Meer whose brother beat her mother over property and cash! See previous video… Punjab Police refusing to register FIR!!!

Shame on them! Shame on the brother! Qyammat is near!#ZoobiaMeer @OfficialDPRPP @PunjabPoliceCPO pic.twitter.com/sbosIdOO49

— Sherry Khan (@SherryKhanPK) July 21, 2020
Her interview with Waqar Zaka; there are three parts of it.
The counter-statement Zoobia Meer's sister in law has put online.
The other side of story, Arsalan's wife latest statement.#zoobiameer pic.twitter.com/UiPpyf7vHr

— Humza Awanwala (@hmzspeaks) July 21, 2020
How Are The People Responding
Zoobia has also made an Instagram account through which she's updating all her followers. Celebrities are taking up the story, getting to know the hashtag, and helping spread the word around. Netizens have made #JusticeForZoobiaMeer trend on twitter for the girl's case to get recognized. As of this moment, it's her and her mother against a physically abusive brother.
If anyone has any information about this couple please go to relevant authorities.
To their relatives, just look at the video and boycot this piece of shit.
For property, he beat his real mother, abused her, cursed her.
Ya Allah is shaks ko barbad kar.#zoobiameer pic.twitter.com/yy9DgGxQav

— Hanzi (@Hanzi82) July 21, 2020
Celebrities like Naimal Khawar Khan and Zara Noor Abbas are publicly condemning the brother.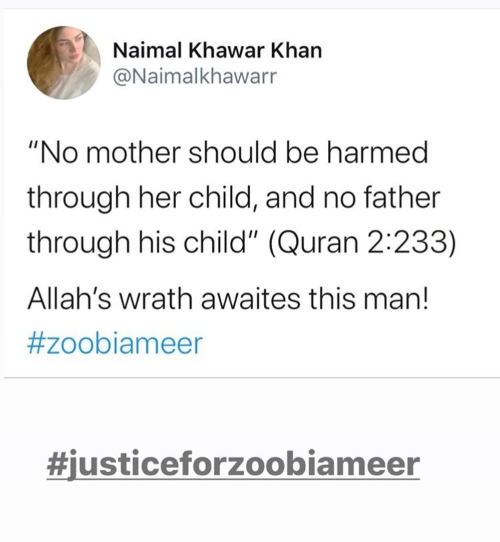 A Developing Story
This is currently a developing story. However, as you can see in the video, whatever the perpetrator is doing is uncomfortable to listen to yet alone watch. The wife of Arsalan Qureshi (the guy beating his mother and sister) has come forth with a video of her own. 
In the video, the woman claims that the mother was misbehaving with her son. The son, who was later beating his mother, had asthma and suffered an attack. When he gained consciousness, he saw that his pregnant wife and 2-years-old daughter were being beaten. As a result, he attacked the mother that way.
We want to ask: is it still justified to hit your mother like that? All while hurling the worst of abuses towards her? The sister, Zoobia, in her report, also mentioned that she was beaten with a wiper. 
Domestic violence is heavily prevalent in Pakistan. Each day there are several reported cases, and there are hundreds that are not published. Just a few days ago, when a woman spoke up about being domestically abused, she was murdered by her husband. We're hoping Zoobia and her mother get justice, and their brother is put behind bars.
Stay tuned to Brandsynario for the latest news and updates.