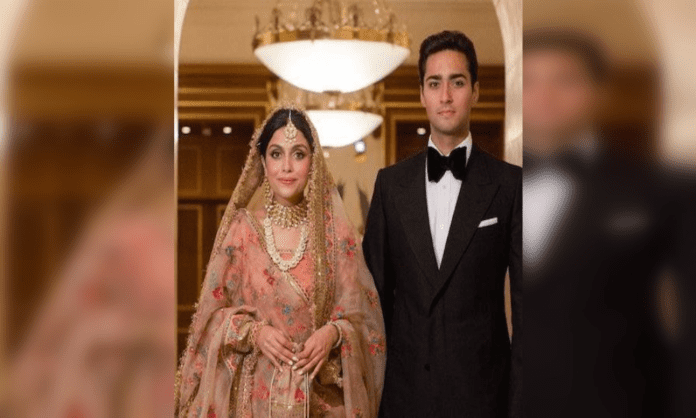 Junaid Safdar, grandson of former prime minister and Pakistan Muslim League-Nawaz (PML-N) Nawaz Shareef, has confirmed the news of divorce from Ayesha Saif.
"News about my divorce is true," Safdar said in an Instagram story.
"I hope with this decision we find our peace In Shaa Allah. I will speak no further on this matter. I wish her well," Junaid added.
Junaid removed all his pictures with his former spouse shortly after the announcement.
The news comes more than two years after Junaid Safdar exchanged vows with Ayesha Saif, the daughter of Saif ur Rehman Khan, the former head of the National Accountability Bureau (NAB) and a multi-millionaire businessman based in Qatar with business interests in Pakistan, Qatar, and Middle Eastern countries.
The couple tied the knot in August 2021, with their wedding ceremonies held in London and Pakistan, since PML-N supremo Nawaz Sharif was in the British capital in self-exile.
The couple stayed away from the media spotlight during their time together.
The announcement of Junaid Safdar's divorce coincides with Nawaz Sharif's departure from London for Saudi Arabia, where he will be performing Umrah. The pilgrimage will be followed by a return to Pakistan next week on October 21. Nawaz will be returning to Pakistan after spending four years in self-exile.
A little more about Junaid Safdar's former spouse:
Ayesha Saif, born and raised in Qatar, received her primary and secondary education at British schools, passing O and A levels with distinction. She moved to London where she enrolled at the renowned University College London (UCL) and graduated with a BEng in Civil Engineering.
She was a Director at Redco International, a prominent industrial and contracting group that has been operating in Qatar since 1981, with 20,000 employees and engineers onboard.
How it all happened:
The couple's nikkah took place at Lanesborough Hotel, situated on Hyde Park Corner in Knightsbridge. The ceremony was attended by Junaid Safdar's grandfather, with other notable attendees, including his uncle Hussain Nawaz, PML-N party member and former finance minister Ishaq Dar, among others.
The groom's parents, Maryam Nawaz and Muhammad Safdar, were unable to attend the wedding ceremony due to their names being on the Exit Control List (ECL). Maryam Nawaz had previously informed about her absence through a tweet earlier that month. However, they were present during the ceremony through a video call, and Maryam Nawaz shared pictures of the event on her Twitter account, extending her blessings to the couple.
Furthermore, in December of the same year, an extravagant wedding reception lasting nearly a week was held in Islamabad, marking another celebration of Junaid and Ayesha's union.
Stay tuned to Brandsynario for latest news and updates.