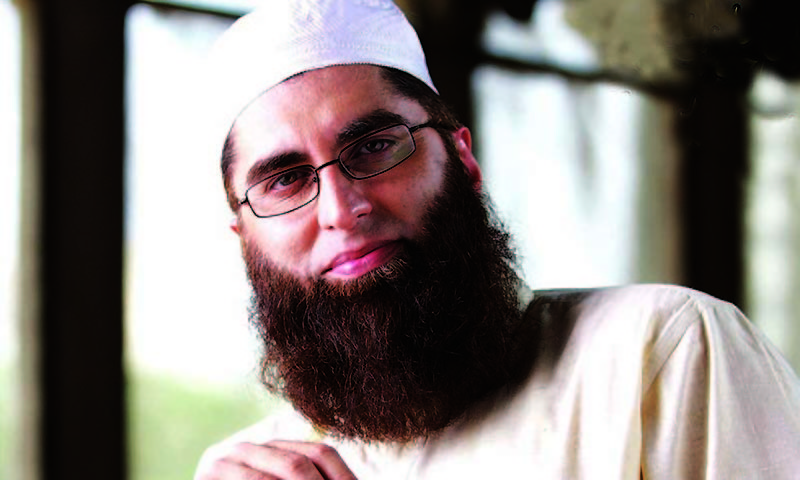 Pakistan's religious leader, Junaid Jamshed and his wife have reportedly died in PIA PK-661 plane crash.The aircraft, flying from Chitral to Islamabad carrying 47 passengers, crashed today, Wednesday, near Havelian.
PIA spokesperson, while talking to Express Tribune stated, that flight PK-661 disappeared from the radar once it took off. News reveals that all passengers are feared to be dead cause of the unfortunate crash.
It is reported that the singer- turned- scholar- turned television host was in Chitral and was traveling for  preaching purposes.
According to sources, his dead body has been discovered from the site of the plane crash.
Today is yet another dark day in the history of our country. The news of the untimely demise of the famous scholar has  shocked the entire nation to its core.
Politicians, journalists, celebrities and of course fans of J.J are mourning the loss of the religious leader.
Here's what his grieving friends and fans had to say about the revered scholar!
Devastated hearing the news of the plane crash. May Allah have mercy on all affected. Thoughts and prayers going out to all #PK116 #Chitral

— Shahid Afridi (@SAfridiOfficial) December 7, 2016
Saddened beyond words! Rest in peace #JunaidJamshed & all the people who were on board! Inna Lillahi Wa Inna Ilaihi Rajiun!

— URWA HOCANE (@VJURWA) December 7, 2016
You will be missed Junaid bhai. #JunaidJamshed pic.twitter.com/X7uk4mCHtF

— Hamza Ali Abbasi (@iamhamzaabbasi) December 7, 2016
I am saddened by news of the death of #JunaidJamshed and his wife in a #PIA plane crash. May the Almigjty grant ease to all in the tragedy.

— Mufti Ismail Menk (@muftimenk) December 7, 2016
Heart is bleeding for the lives lost, condolences to the family. We lose another icon.. this is just so so sad. #PK661 #JunaidJamshed

— Mahira Khan (@TheMahiraKhan) December 7, 2016
Devastated! @JunaidJamshedPK 💔Prayers for all affected families Inna lillah wa inna eleyhe Rajioon #PIAcrash #JunaidJamshed Ya Allah Rehem🙏🏻

— MAWRA HOCANE (@MawraHocane) December 7, 2016
You think you'd be desensitised by now – but with every death comes fresh heartbreak.
Inna lillahi wa inna ilayhi raji'un.#PK116

— Osman Khalid Butt (@aClockworkObi) December 7, 2016
PK 661 crashed in a mountain area far away from Abbottabad may Allah help survivors and families of all the passengers

— Hamid Mir (@HamidMirPAK) December 7, 2016
Such a huge loss, absolutely in shock #PK661 #JunaidJamshed

— HUMAIMA MALICK (@HumaimaMalick) December 7, 2016
Very upset to hear about the crash of #PK661 Allah give Maghfirat to all those who lost their lives including Junaid Jamshed & his wife.

— Aamir Liaquat Husain (@AamirLiaquat) December 7, 2016
Junaid Jamshed has left us in the most devastating way. Shocked and heartbroken. #PIAcrash

— Quratulain Balouch (@Quratulainb) December 7, 2016
It is confirmed that my friend & neighbour Junaid Jamshed was indeed on the unfortunate flight. Allah have mercy. #PIA

— Fakhr-e-Alam (@falamb3) December 7, 2016
Request to TV channels- Pl don't show Junaid Jamshed's music life that he had left many years ago. Remember him as a preacher of Islam.

— Ansar Abbasi (@AnsarAAbbasi) December 7, 2016
My heart is drowning in sadness to learn about the air crash of Pia.. news feared my friends Junaid Jamshed and alay Akram was in it 2..

— Shoaib Akhtar (@shoaib100mph) December 7, 2016
Close friends of Junaid Jamshed saying he along with his wife was also traveling on PIA plane crashed coming from Chitral to Islamabad

— Hamid Mir (@HamidMirPAK) December 7, 2016
My love and prayers go out to Junaids family,friends & devoted fans. We will miss you buddy but your memory will live on #DilDilPakistan

— Wasim Akram (@wasimakramlive) December 8, 2016
Deeply saddened to hear about the plane crash. Prayers for the deceased. Rest in peace Junaid Jamshed, a great human being

— Humayun Saeed (@iamhumayunsaeed) December 7, 2016
Thoughts & prayers go out for Junaid Jamshed's family & loved ones. His voice and good deeds will resonate with us for ever! RIP my friend.

— Ramiz Raja (@iramizraja) December 7, 2016
My heart goes out to the families whose loved ones were lost. May Allah make it easy. Let's say Fatiha for all & sp Junaid Jamshed bhai RIP

— Shoaib Malik (@realshoaibmalik) December 7, 2016
Very sad to hear that Junaid Jamshed was also there with his wife in the ATR Plane which crashed nnear Havelian.

— Mirza Iqbal Baig (@mirzaiqbal80) December 7, 2016
RIP. My Condolences to the bereaved families of the PIA Flight crash. We lost an artist in Junaid Jamshed. May God Bless all! Ameen pic.twitter.com/1KkZgujiyk

— Rishi Kapoor (@chintskap) December 7, 2016
Moment of silence for what we are feeling right now. Really brings things back to reality for… https://t.co/OEbMwN178a

— Feroze Khan (@ferozekhaan) December 7, 2016
Our thoughts and prayers go out to Junaid Jamshed, his family and all the passengers on flight PK-661! 
Junaid Jamshed's Last Pictures & Kalaam Are Going Viral on Social Media!
Stay tuned to Brandsynario for more updates!