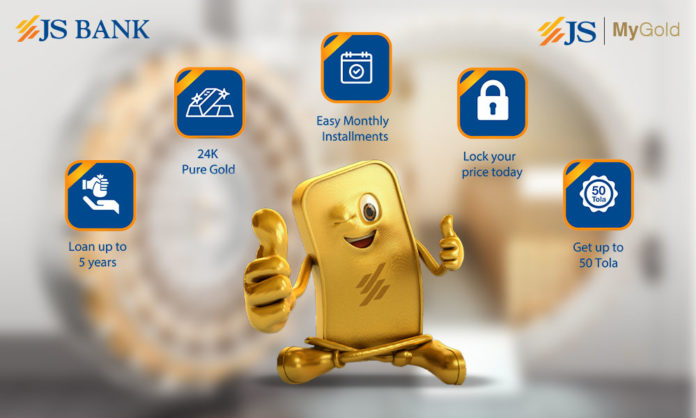 The social media accounts of JS Bank showed unusual activity over the weekend. Different posts featuring famous dialogues from the super hit Pakistani movies and dramas were shared over their social media platforms. The unusual activity led to an influx of people leaving comments on social media posts as to what the company meant by them.
The 'now-deleted' posts made rounds on social media leaving everyone confused. The public couldn't figure out if this was deliberate or an honest mistake. While no one can find the original posts anymore – netizens have still found a way to keep the conversation going with proof in the form of screenshots. Once it's on the internet, it stays there forever. Netizens took to the comments sections on several Facebook pages and shared their views regarding the social media strategy of JS Bank.
If the posts were shared in an attempt to seek the public's attention –  the brand has done so fluently.
Take a look at some of the iconic dialogues which were posted by JS Bank on their social media platforms.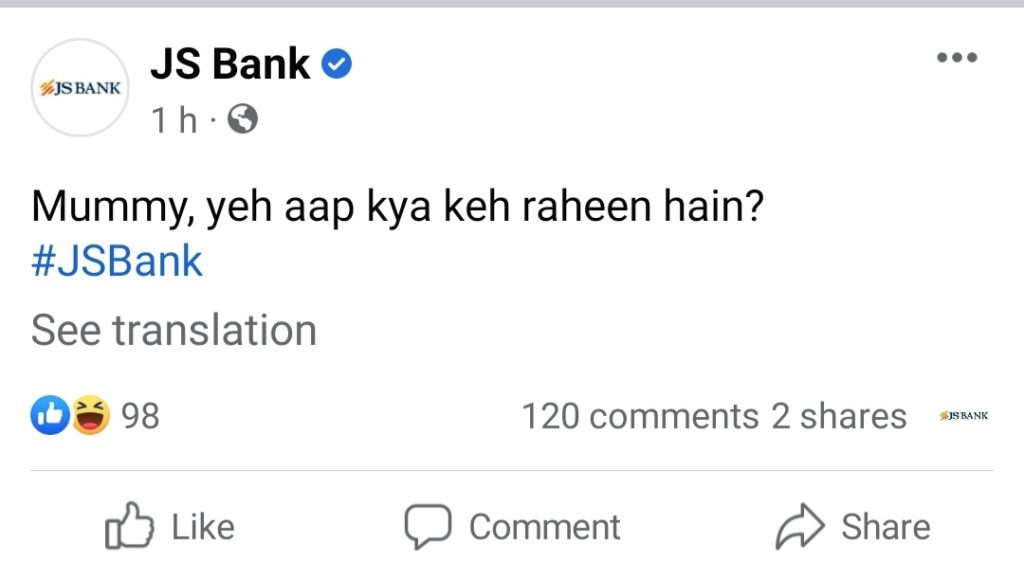 Read More: Find My Doctor Launches Pakistan's First Digital Hospital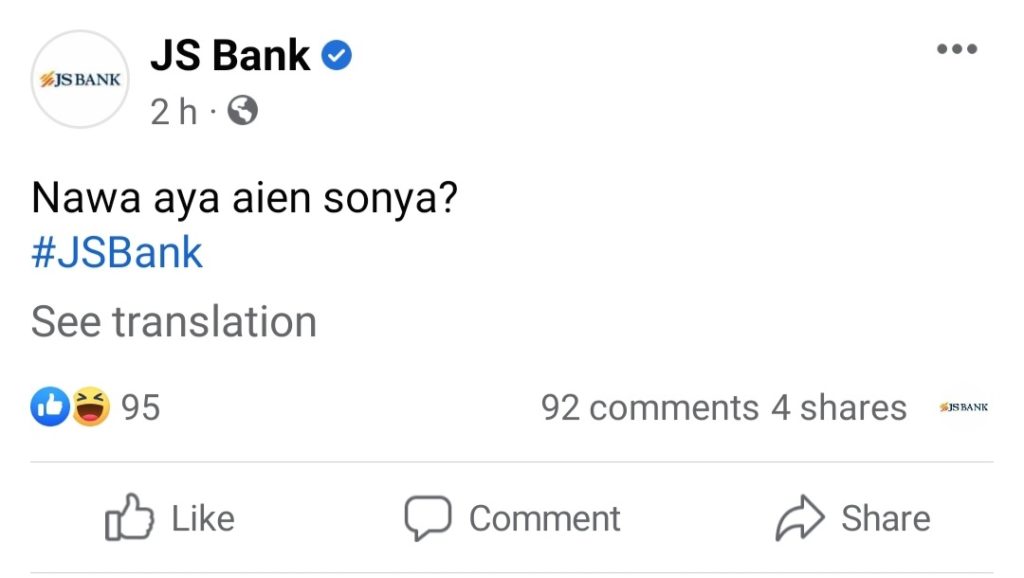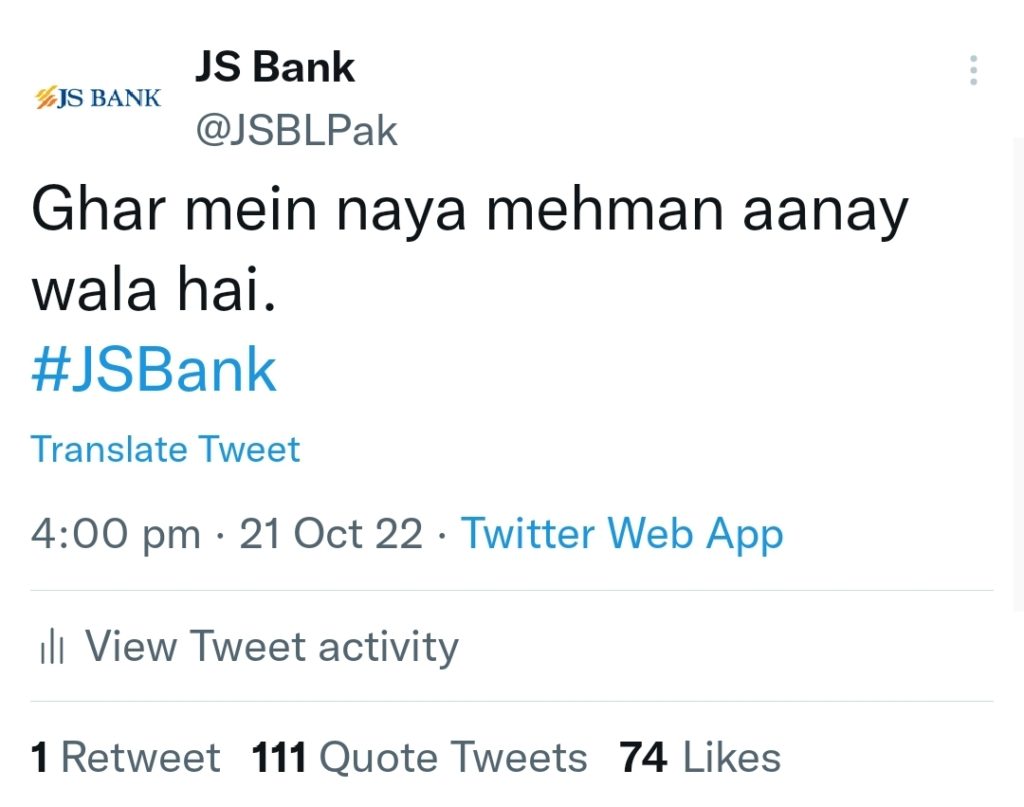 The posts were enough to create a buzz and multiple publications have been talking about this ever since. Meanwhile, the sources also shared their views regarding the social media uproar.
The Internet NEVER Sleeps
As soon as these posts went viral, netizens started tweeting and taking screenshots of the entire scenario and questioning JS Bank and the person responsible for the postings. Well, you don't get to witness things like these every day.
Here's what they had to say: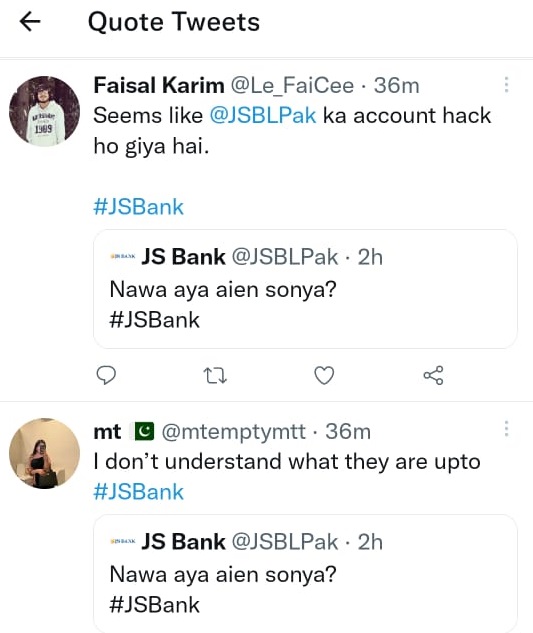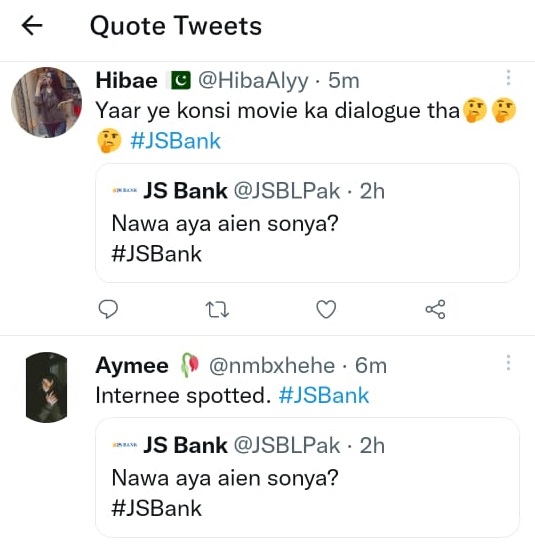 The JS Bank Mystery Finally Cracked
If you are still curious as to what actually happened, well, JS bank has now come forward while clearing the air on the particular matter. According to JS Bank, they have looked into the netizens' response. They have now decided to include those dialogues as part of their campaign for the upcoming product 'MyGold'. The enthusiasm shown by netizens has led the bank to consider people's sentiments along with their financial matters and has won their hearts with this campaign.
Here's what JS Bank finally had to say!
We are exhilarated to see the response we got from the social media community on the famous dialogues that were uploaded from our Facebook and Twitter handles!
Keeping those in mind, we planned a surprise just for you!

Ab hum btaengay kya nawa aya hai, sonya😉#SonaQistonPar pic.twitter.com/TovlZ6VKxL

— JS Bank (@JSBLPak) October 24, 2022
JS Bank Launches 'MyGold'
JS MyGold offers you easy purchase of gold biscuits & bullions on minimum markup rates and easy monthly installments from JS Bank. Lock your gold price today and let your cash grow in value.
Here's what it offers:
Getting Up To 50 Tola
Locking your price today
Easy Monthly Installments
24K Pure Gold
Loan up to 5 years
Isn't this amazing? Let us know in the comments below!
Stay tuned to Brandsynario for the latest news and updates.