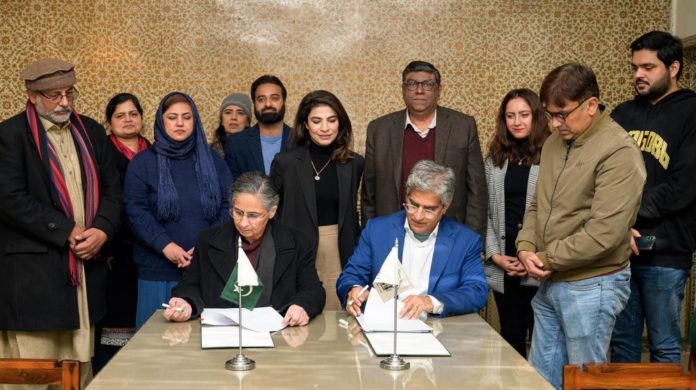 The students at Fatima Jinnah Women University (FJWU), the nation's first public women's university, are now eligible for the Digital Pakistan Fellowship Program through Jazz, Pakistan's top digital operator and a member of the VEON Group. The Fellowship aims to involve young people in an insightful discussion about tech-based innovation. Participants will gain technical knowledge from it, enabling them to play a key role in developing the creative economy based on the story of the Digital Pakistan.
The same goal drove Jazz to establish this fellowship programme at the National University of Sciences and Technology (NUST).
A ceremony and Memorandum of Understanding (MoU) between Jazz and FJWU were held at the university to celebrate this development. Jazz's dedication to promoting innovation-led sustainable growth in Pakistan is reiterated through this industry-academia relationship. Additionally, the fellowship programme will expose participating students to the complexities of tech journalism.
Speaking at the signing ceremony, Jazz CEO, Aamir Ibrahim, said, "Positively impacting the lives and livelihoods of women is at the heart of everything we do at Jazz. We are always creating new avenues of growth for women and through this partnership, we hope to encourage more women to participate in the tech-based discourse in the country."
Jazz's partnership with FJWU is evidence of the telco's dedication to promoting digital inclusion and advancing national growth. Jazz contributes to the following Sustainable Development Goals (SDGs) of the United Nations through this fellowship programme: SDGs 5 and 10 deal with reduced inequality, industry, innovation, and infrastructure, respectively.