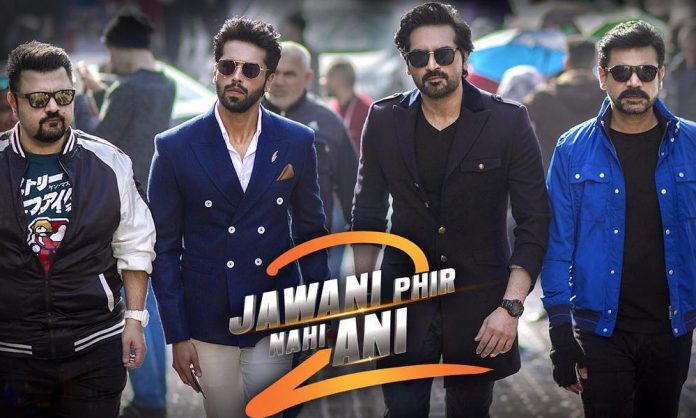 Jawani Phir Nahi Ani 2 was always going to be the first-choice film for the audience this Eid because of many factors – the first being an ensemble cast, the second being Vasay Chaudhry's script and the third being Nadeem Baig's direction.
However, the audience gets stunned with the way things turn out here as Humayun Saeed and his team does wonders on the story front, in the cinematography department and above all, in making the audience laugh out loud, at some points like crazy.
Synopsis
Sherry (Humayun Saeed) has no contact with his friends Pepe and Sheikh (Ahmad Ali Butt and Vasay Chaudhry) after he decides to move abroad with his wife Marina (Mehwish Hayat in a cameo appearance).
An incident renders him mad but then enters Selina (Kubra Khan) and Sherry is back in the game.
However, Pepe's brother in law Rahat (Fahad Mustafa) also has plans to get married to Zoe (Mawra Hocane) whose father Balani (Sohail Ahmed) is a world-famous fashion designer, and a widower too.
Add an Indian Ambassador who hates Pakistanis, a Loan Shark with a Gun, a Wedding Planner with the oomph factor and a prospective bridegroom who loves to chill out in the Gymnasium and you get a perfect rollercoaster ride this Eid.
 Analysis
The script is the king in case of JPNA 2 as Vasay Chaudhry knows what will make the audience laugh; there are many similarities between the first part and this film but that's to make you guess the outcome, which you will not be able to.
The roles played by Sohail Ahmed, Ahmad Ali Butt, Fawad Khan (oh yes!), Omer Shahzad and Kanwaljit Singh are the ones you didn't expect from any of them but they shine out with memorable performances.
Humayun Saeed and Fahad Mustafa as the main leads and Kubra Khan and Mawra Hocane as their love interests were superb in their roles. Humayun looked fresh, Fahad energetic, Kubra beautiful and Mawra cute while staying in their characters.
Kubra played the daughter of an Indian Ambassador who loves to travel and is an adventure-seeking junkie who meets Humayun's character while rock climbing – she going up and he on his way down.
Mawra gets to play a 'lawyer' in the movie which is a pun intended to make you smile.
Fahad Mustafa who is part of two Eid releases this year was outstanding as the investment banker who made some bad 'investments' but wants to hide it from his family. His relationship with his brother in law Pepe is shown to be hilarious as whenever they meet, they fight and the audience laughs.
Sarwat Gillani and Uzma Khan have minor roles but they take the hotness factor to the top in their limited appearance.
The Verdict 3.5/5
Sequels in Pakistan usually don't have the same impact as the first film but Jawani Phir Nahi Ani 2 breaks the jinx by being different, brilliant and above all, geographically conscious at the same time.
The soundtrack is the weakest link but the background score compensates for that. The film is all set to become the frontrunner among all Eid releases this year and come out as a winner because of its amazing cast, the plot and the ability to make you laugh due to situations that can only happen on the screen.
It will also give Humayun Saeed and Co. the third consecutive hit and, considering their last two films are Pakistan's most successful ones, one shouldn't be surprised if this one makes it to the list.