[June 7th, 2021]: Jannat Mirza scandal has gotten too much of a hype given her huge following on TikTok. Meanwhile, Bushra Ansari is a veteran actor who has been in the entertainment industry for quite some time. Both are important celebrities. And the ugly verbal fight that ensued was not a pretty sight.
However, Bushra Ansari showing that she is indeed the bigger person has come to apologize for making remarks against Jannat Mirza. She said that she was not aware of who the person was and neither did she know Jannat had already apologized. After that, however, she does mention that if your elders school you, instead of reacting harshly, you should respect them.
---
---
[June 7th, 2021]: After Jannat Mirza, her fiance Umer Butt has also jumped into the Busra Ansari-Jannat Mirza controversy. He chose to share his two cents on the matter.
Taking it to his stories which many Insta blogs covered, he decided to share his argument from the bed without showing the courtesy of getting up from his pillow. As he rubbed his eyes to get the sleep out, he said that Bushra Ansari should not have used bad language for Jannat Mirza. He then moves on to make the same argument Jannat did. Umer says that Bushra Ansari should not be making claims when it comes to Islam because she is not qualified for it.
But let's approach it one step at a time. 
In this day and age, it is not possible to not know the Christianity symbol. So Jannat was wrong in this part. Considering we come from a country where when you make blasphemy allegations with respect to Islam, no one gives you your rightful trial, Jannat should be held accountable for blasphemy against Christianity.
Bushra Ansari started using bad language and cursing Jannat Mirza. Let's assume Jannat really did not know the importance of the symbol. As a senior entertainer, Bushra Ansari should have definitely schooled Jannat but in a better language. There was no need to curse.
Jannat responded and made fun of Bushra Ansari. She said that her Islamic claims hold no value because she is involved in activities like dancing. Her words made it seem like dancing was un-Islamic.
And then Umer Butt came into the matter as well. With no regard to the gravity of how much Jannat had messed up, he said that Jannat had already apologized so Bushra Ansari should too. The way you called her 'jaahil', sir, in that case, you should also apologize because no matter what, no matter how much you want to school an elder, they are at the end of the day, older than you. Our culture demands respect for the elder.
People must have taken to his social media saying the same about respect for the senior. This is why, once again, he took to his social media giving his stance. He said that senior or not, he would call the people out exactly the same way if they curse him or the people around him. He also said that because she was a woman, he was this respectful, had it been a man, he would have held no barriers.
Does he really mean calling a senior actress Bushra Ansari, jaahil was him respectful?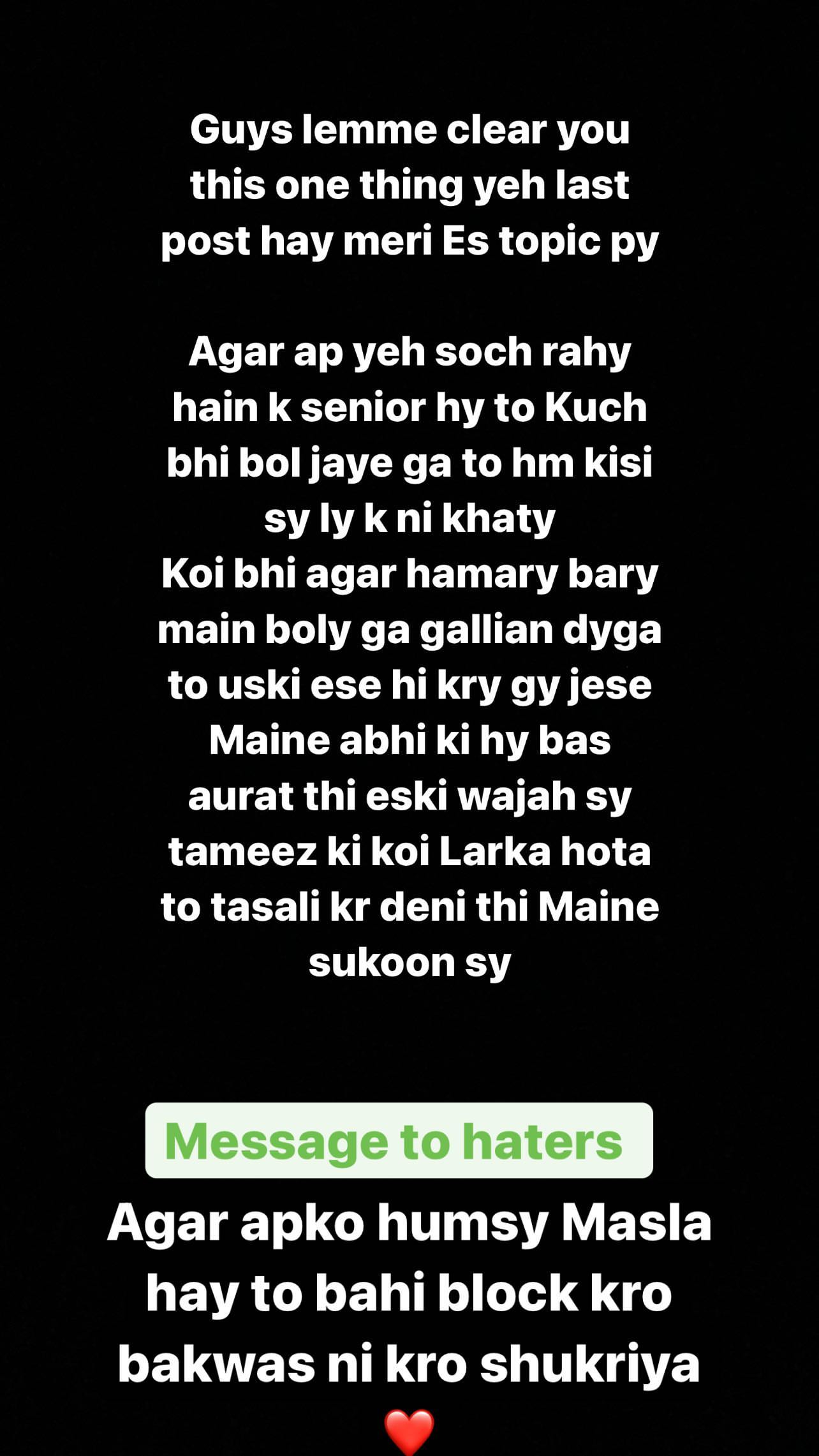 ---
---
[June 6th, 2021]: The first TikToker to cross 15 million followers on the app, Jannat Mirza, has been slammed with a Blasphemy case by the Christian community. Bushra Ansari also called out Jannat Mirza and Mirza returned the favor.
What Happened?
Jannat Mirza's lack of awareness of religious symbols may just cost her her entire career. She was sent a chain belt that had the Christian cross dangling from it like a charm. Jannat Mirza wore that belt and also posted videos on it.
🔴 Lahore's Christian community has approached Cyber Wing of Federal Investigation Agency against TikToker #JannatMirza, seeking an FIR for 'disrespecting' the holy cross. ✝️ pic.twitter.com/eYVAQdt6xz

— Showbiz & News (@ShowbizAndNewz) May 29, 2021
This invited the ire of her Christian followers and the entire Christian community. They feel that their Holy Cross has been desecrated and it is unacceptable. Jannat Mirza immediately started receiving backlash after which she deleted all videos and apologised. All the apology videos are on her Instagram stories.
View this post on Instagram
Bushra Ansari Steps In
A veteran of the Pakistani entertainment industry, Bushra Ansari did not stay behind. She commented under a post of Jannat Mirza's call out with her own harsh message. Here's what she said:

Mirza also responded back rudely. Behind all the heart emojis is the constant taunt of age (is Jannat Mirza being ageist?) and of Bushra Ansari's own career.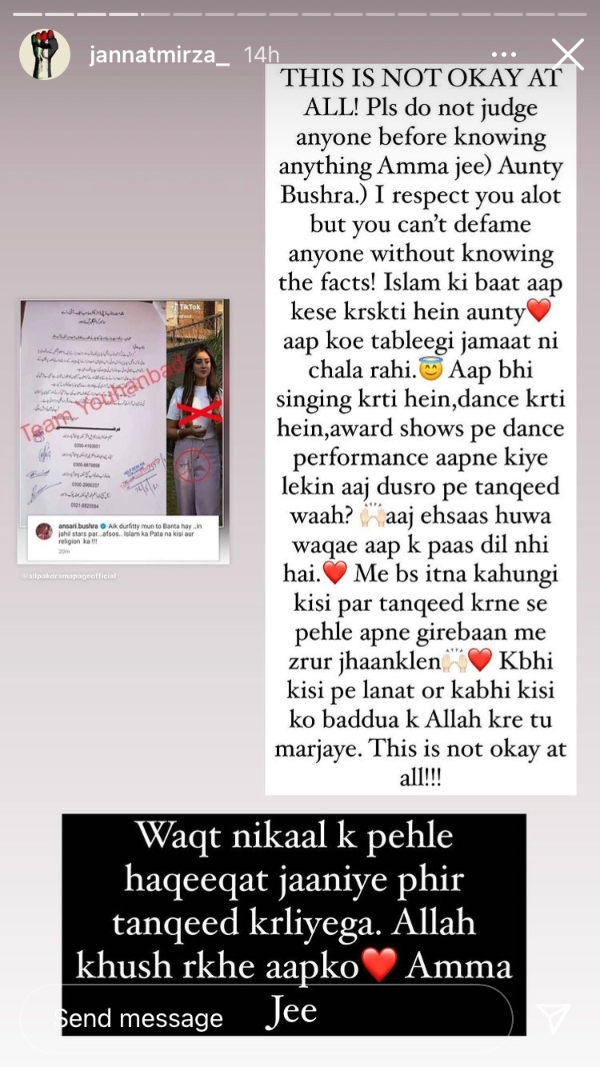 Perhaps Jannat Mirza took all her anger out on Bushra Ansari since she could not on the Christian community which she has already hurt.
Blasphemy Proceedings
The issue has not yet settled as Christian activists in Lahore have filed a complaint with the Federal Investigation Agency (FIA). They are accusing Pakistan's most popular TikToker of insulting the Christian cross. Leading this movement is Catholic philanthropist Raja Walter and three other activists. All of them are pursuing a blasphemy case against her.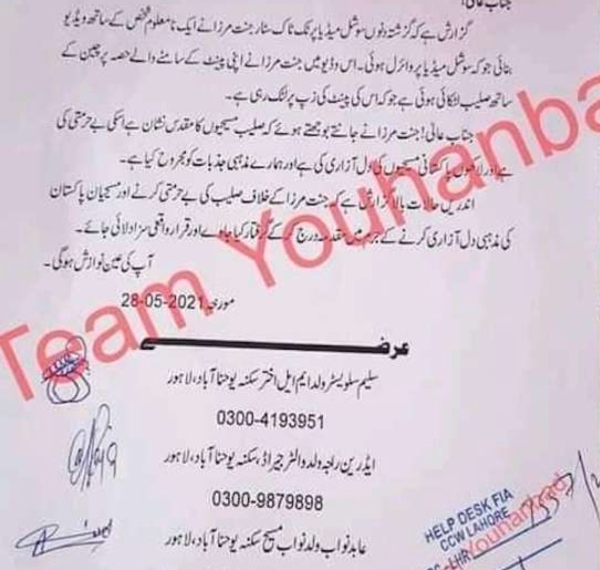 Stated in the complaint is: "Mirza has intentionally desecrated the cross, the holy sign of Christians. She has hurt the religious feelings of millions of Pakistani Christians. She should be punished and arrested".
Getting Justice
Walter also added that deleting the videos does not make a difference. Jannat Mirza has a habit of doing this as last year she wore pants which had the face of Jesus and Mary on it. The FIA took no action because the video was shot in Switzerland. 
Moreover, they assert that if a Christian had done this with any Muslim symbol, they would already have been burnt. Why should Christians not get justice when their religious sentiments are hurt?
Stay tuned to Brandsynario for the latest news and updates.