Sarah Khan and Falak Shabbir are dropping hints right, left, and center about expecting a child. Shall we take the bait or not?
Falak Shabbir's Story
Falak Shabbir shared a story on his Instagram featuring a graphical illustration of a relationship. The picture shows a woman carrying a fetus with her husband behind her, implicative of his support, also thinking about the child! He titled the story "the beauty of a relationship, SubhanAllah".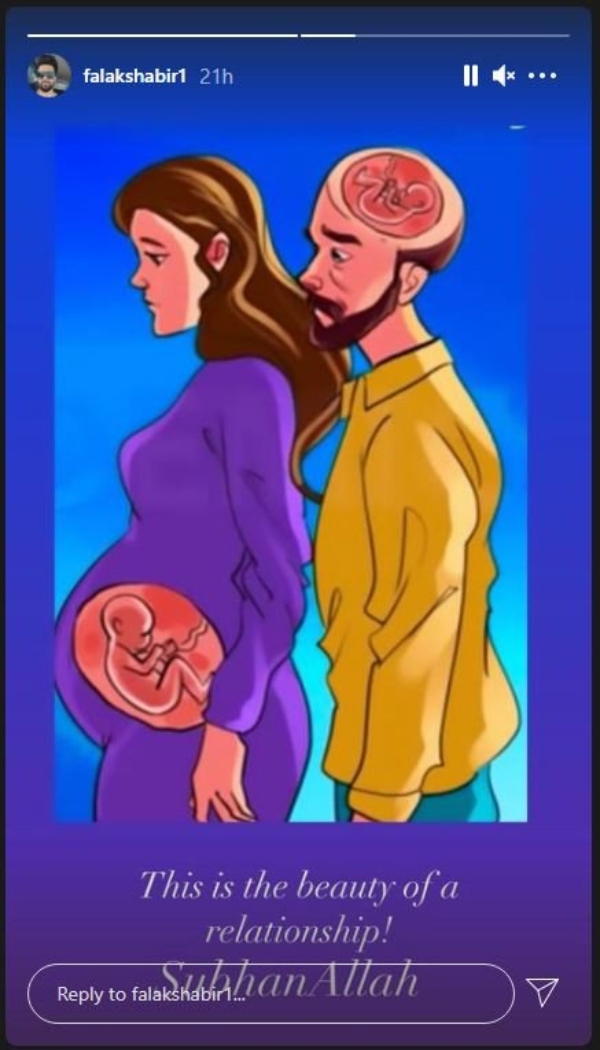 It is unclear whether he was simply appreciating a relationship and the creation of life or whether this was a sign! It can very well be said that he came to appreciate this by only experiencing it himself. 
Shabbir does not shy away from public displays of affection with his wife, Sarah Khan. The couple has gained many fans since their union because they are always bubbling with happiness. Recently, Falak Shabbir shared unfortunate news about his wife by sharing a picture of her hospitalized. 
Sarah Khan's Hints
Sarah Khan has been reported to have returned home. She is steadily recovering from her Typhoid fit at home now. However, even Sarah Khan has dropped a hint relating to conceiving a child.
She shared a picture on Instagram with a flower in her hand which both of them are holding. Captioning the picture is a verse from the Quran speaking about the conception of a child. How life is created is indeed one of the most beautiful experiences and Sarah Khan agrees completely. 
View this post on Instagram
Should This Be A Secret?
Onto what it means: many comments are already interpreting this as a sign that they are expecting their first child. Are those comments in vain or are they grasping the bait? I guess we will have to know until she shares it fully.
Many celebrities decide not to reveal until much later when they are expecting a child which is completely their choice! It is a personal decision after all. However, Sarah Khan always has an eye over her so it might be impossible for her to keep this hidden for long.
Netizens Reactions
Netizens are hooked to these clues and are eager to know the truth. Here are what comments under Sarah Khan's post are saying.


Sarah Khan and Falak Shabbir
View this post on Instagram
Sarah Khan and Falak Shabbir are always enjoying something or up to some shenanigans. Their posts are always exuding the love and warmth they share for each other which people actually enjoy. 
Stay tuned to Brandsynario for the latest news and updates.