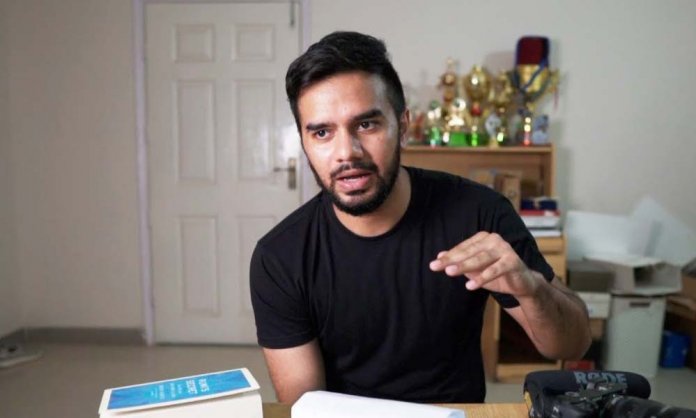 Recently the Kashmir issue and the tension it has created between India and Pakistan is all over social media.
While every Tom, Dick and Harry has an opinion to offer on the political matter, a huge number of people also urged influential personalities to speak up on and support the cause.
The same kind of hateful persuasion was directed towards one of Pakistan's most popular YouTubers, Irfan Junejo, and so began the Cancel Culture.
Extremely disappointed by these so called Pakistani Youtubers. All they care about their Indian viewers.
They have zero patriotism for the country and Kashmiris. #Irfanjunejo pic.twitter.com/0h0sUbO7zz

— Dr Jehanzaib Zafar🇵🇰 (@Jehanzaib1995) August 18, 2019
Irfan Junejo plus other actors and other UK youtubers who stayed silent on kashmir issue all deserve to be cancelled we need new media icons who are loyal to ONLY Pakistan and dgaf about India. Dhaky chuppy adnan sami hain sb

— . (@ohblimey__) August 18, 2019
Thousands of people were of the opinion that Irfan hadn't spoken up because he was afraid of losing Indian followers, while others thought that he just didn't want to get into something that did not benefit him financially.
Pakistanis should unfollow Irfan Junejo on every platform so he can rest in peace with his Indian followers. The fear of losing followers by talking on Kashmir issue must be handed over to him by losing a considerable number of Pakistani followers in one day.

— Biya Ali Zaib. (@BiyaAli9) August 17, 2019
Boy You Need to stand with dollers not Kashmiris .#Irfanjunejo pic.twitter.com/0T03UyQPap

— Rahmatullah Baloch (@Rahmatu70431566) August 18, 2019
Many also opined that Junejo had been silent out of sheer ignorance, and hence many unsubscribed his channel for the same.
You can delete your tweet all you want. But you have finally revealed your true ignorant face. Cancel #Irfanjunejo pic.twitter.com/nEeErz4e1x

— El'yaz (@IlyasKhan501) August 18, 2019
After a lot of bullying and pestering over the past week, the YouTuber finally decided to make a vlog about why he had not been speaking up on the matter in a video.
Some social media users remarked about how #IrfanJunejo had been trending on Twitter instead of #Kashmir, which only shows what is of more importance to Pakistanis, the actual issue or the matter of some people not talking about it.
Irfan Junejo is the top trend and not Kashmir

Explains a lot about Kashmir sympathizers

— Moochar (@AsliBinLaden) August 18, 2019
Moreover, many people also highlighted that out of all the people in Pakistan who have been silent on the issue, Pakistanis have chosen to criticize Irfan for staying shut.
Here is Irfan's video:
https://www.youtube.com/watch?v=XDfP8Xcf-P4
In the video, Irfan clearly elaborated on the following points:
He had made the mistake of making videos on religious and political matters and regretted it to the extent that he vowed not to do the same again.
He prefers speaking out openly on social issues instead.
If he had made a YouTube video on Kashmir, it would easily earn him 300-400 USD, and he did not want to 'commodify' on the issue.
He has been severely bullied for not speaking up on the Kashmir issue, and he is not going to let anyone bully him into speaking up on something he does not personally want to.
Just because he did not make a vlog about something, does not mean he does not care about the issue.
He deeply cares about the Kashmir issue and after being certain of his stance on it, he has been Retweeting and reposting the content he agrees with.
While there have been too many people abusing and bullying him, he has also received support from fans and followers.
#IrfanJunejo is one of the finest youtuber, & I really admire his work. I don't know why They are spreading hate for him. 200 million people in Pakistan and how many talked about Kashmir?
1.3 billion Indians and how many hate Pakistan? Definitely not all. NOT ME.
Dont spread Hate pic.twitter.com/AxcArk1ySk

— Simi Chahal (@Simichahall) August 18, 2019
This bullying of @irfanjunejo is horrendous. Ya'll have been following him for years now and the guy has never done political or religious videos and is just maintaining that on his channel. How fucking hard is it to understand that?

Bc cancel karne chale hain.

— Emad Zafar (@EmadZafar) August 18, 2019
You lot don't care about lives. You lot care about the moral high ground the Indian politics lets you climb, that your domestic politics would never. Credit to @irfanjunejo for standing his ground.

— No (@Bluemagicboxes) August 18, 2019
What is your opinion on the story?
Let us know in the comments!
Stay tuned to Brandsynario for more news and updates.