As a self-taught artist, Khalil started sketching and painting of calligraphic work and carving on chalk from an early age. Later on, he developed the skills to carve calligraphic work and then portraits in bas-relief on wood. Very soon, wood became his favorite medium.
He started his career as a junior commercial artist in an advertising agency in 1978. Beside press and magazine advertisements the ad agency published 3 calendars displaying his sketches and calligraphic wood carvings for its clients. At that time he was just a teenager.
Over the decades, he received art commissions to produce relief portraits of well-to-do friends and patrons. He also wanted his artworks to become affordable. Therefore, he ventured into producing reproductions of his portraits in metal finish. Each one of these portraits are personally hand finished and inspected by him at every step till
dispatch.
In the following slides, we are presenting his selected work for your view. Hope you like what you see.
The production process of the portraits
He hand carves his Medallion portraits on wood, which happens to be his favorite medium. Each one of his medium-size portraits takes about 2 months to finish.
From his original portraits, he produces medallion portrait patterns in fiber resin. Such patterns can be readily used to produce molds for stroking coins and medals.
Recently, he has started hand-painting his portraits of Quaid-e-Azam and head of states of different countries. These hand-painted 3D portraits are finished by him. The
color portraits produced by him are appreciated for the quality of production. These portraits are unique in nature that add artistic and nationalistic appeal to the offices of high-ranking Government officials.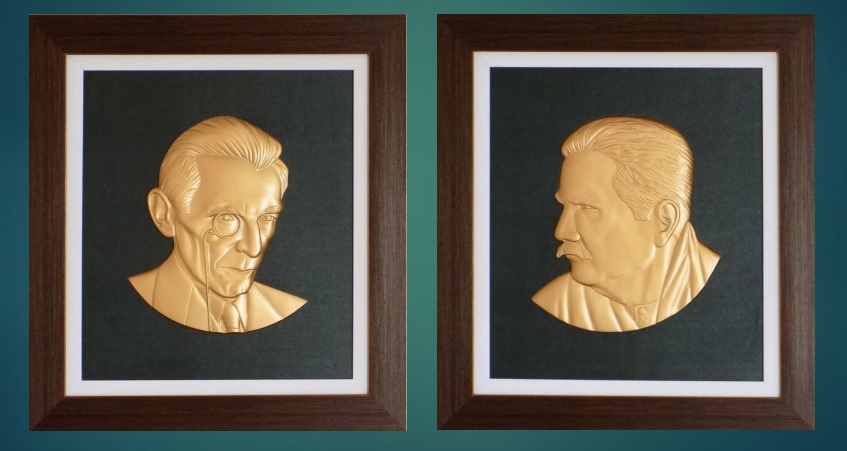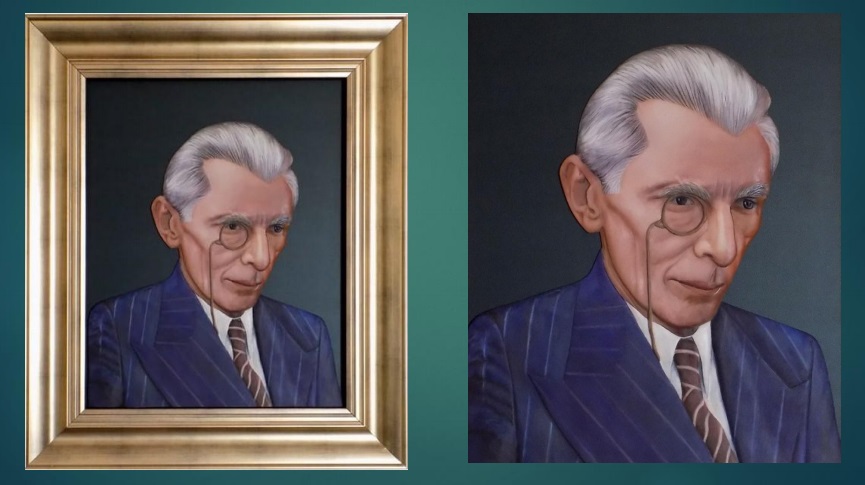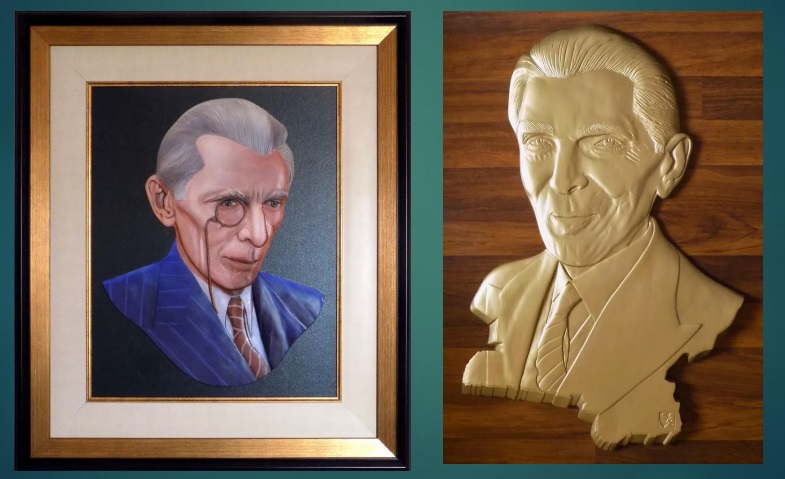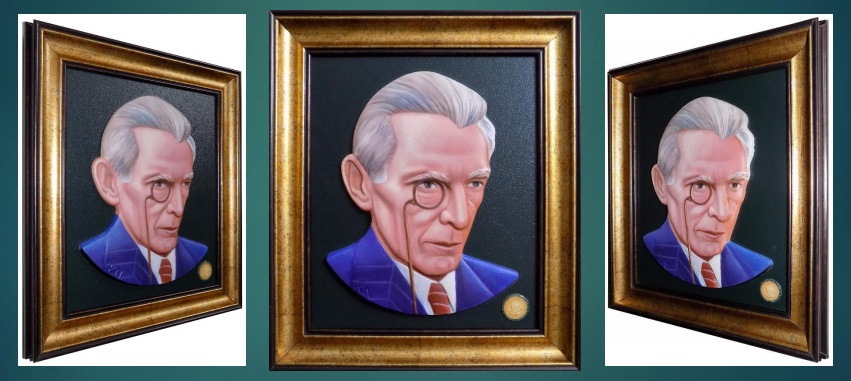 Coin sets for the projection of a country's image and to promote trade
In the pre-email era, Postage stamps were used to promote national image, festivals, flora and fauna, business and trade throughout the world.
In the age of emails, postage stamps have lost their relevance to serve image-building needs.
In this regard, we believe that specially designed Coin sets can serve image of a nation and serve the business and trade promotion needs of a country. Such sets of Coins can depict Natural resources, Major Crops and Main Exports today.
Ministry of Foreign Affairs can giveaway these coins as souvenir to Finance and Trade officials, potential investors in the host countries and fellow Trade Commissioners at other Embassies in the countries they are serving. Such coin sets can also be sold through the Diplomatic Missions of MOFA to overseas citizens and Numismatists.
Medallion portraits designed since 2013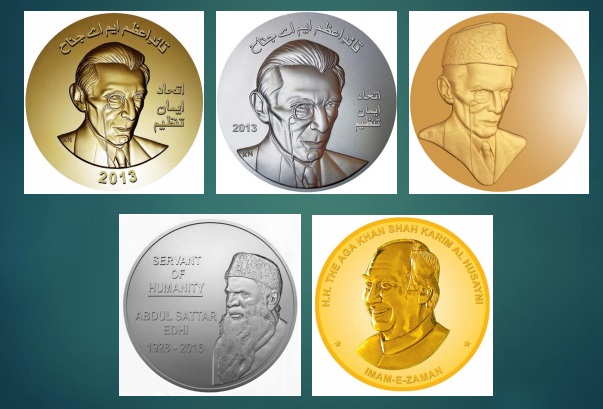 Medal produced from my portrait on the occasion of Diamond Jubilee of Imamat of His Highness The Aga Khan Shah Karim Al Hussaini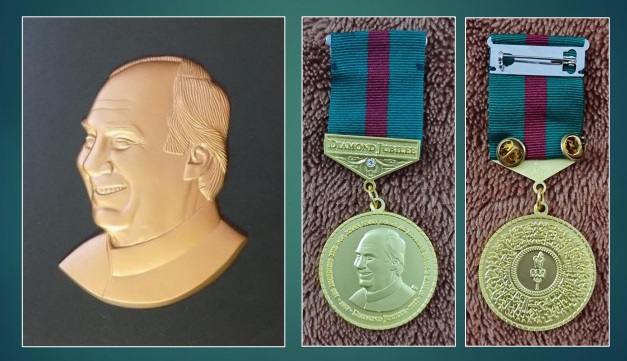 Portraits of Saudi leadership – 3 years labor of love and respect
The revered leadership of the Kingdom of Saudi Arabia has held deep love and respect in every Pakistani heart. To display his respect for the Saudi leadership, Mr. Khalil Najmi hand-carved his first set of a set of 3 portraits on wood.
The set includes the following portraits:
Custodian of the Two Holy Mosques, His Majesty King Salman Bin Abdulaziz
Crown Prince His Royal Highness Prince Mohammad Bin Salman and
Late King His Majesty Abdulaziz bin Abdul Rehman.
From this set of portraits, he has developed a second set of portraits as Medallion portrait patterns. These patterns can be readily used to produce medals and coins.
His third and final set comprises of hand painted 3D portraits to add nationalistic and artistic appeal to the offices and households of esteemed Saudi royal family and high ranking officials of the Kingdom of Saudi Arabia.
It has taken him 3 years to develop three complete sets. He is waiting to
have the honor to personally present his work to His Majesty King Salman
bin Abdulaziz and His Royal Highness Prince Mohammad bin Salman.
Hand-carved and hand-painted portraits of His Majesty King Salman Bin Abdulaziz Al Saud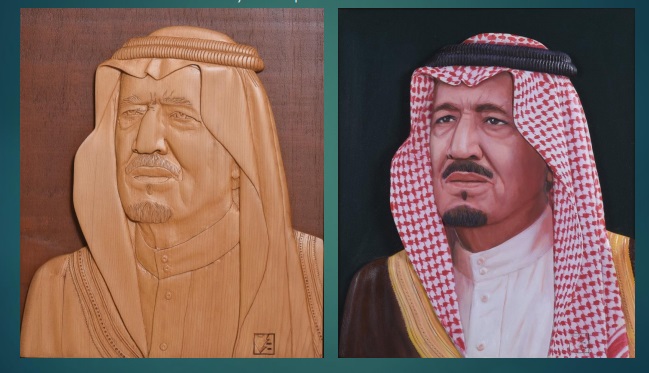 Hand-carved and hand painted portraits of His Royal Highness Mohammad Bin Salman Al Saud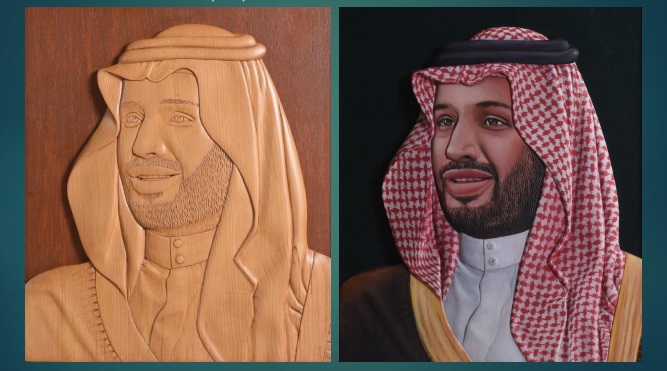 Hand-carved and hand-painted portraits of Late King Abdulaziz bin Abdul Rehman Al Saud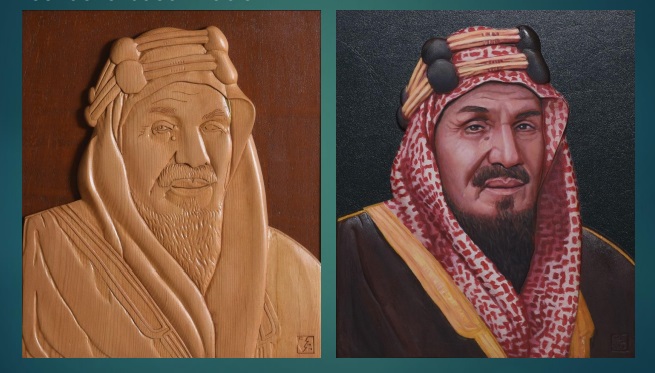 Other portraits hand-carved by the artist in these last three years
He has also hand carved portraits of President of UAE, His Majesty Sheikh Khalifa Bin Zayed Al Nahyan.
Prime Minister of UAE, His Majesty Sheikh Mohammad bin Rashid.
Prime Minister of UAE His Majesty Shaikh Mohammed bin Rashid Al Maktoum (Presently, he is working to hand carve portrait of Sheikh Mohammad bin Zayed to complete his set).
His Majesty King of Bahrain, Hammad Bin Isa Al Khalifa.
Late Sultan of the Sultanate of Oman, His Majesty Sultan Qaboos Bin Said. We now intend to present these portraits to the Royal households.
Original hand-carved portraits of His Majesty Sheikh Khalifa bin Zayed Bin Sultan Al Nahyan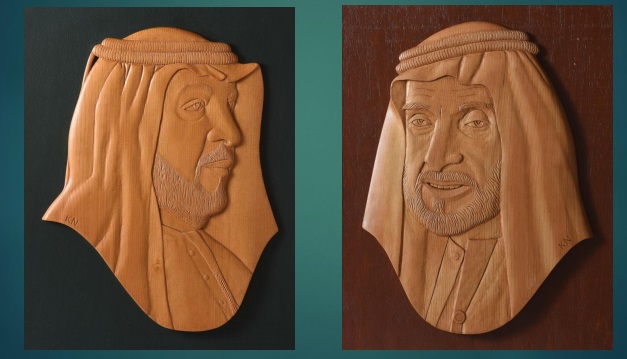 Medallion portrait pattern of His Majesty Sheikh Mohammad bin Rashid Al Maktoum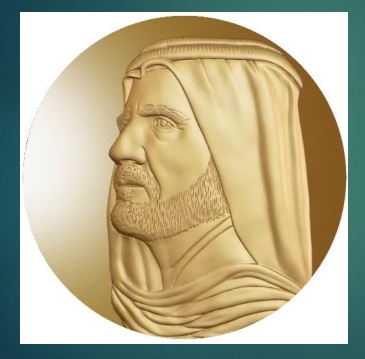 Original Hand-Carved Portrait of His Majesty Hammad Bin Isa Al Khalifa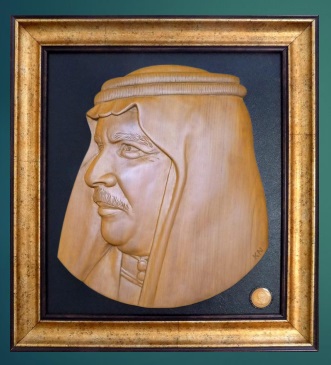 Table standing/wall hanging portrait of His Majesty Hammad Bin Isa Al Khalifa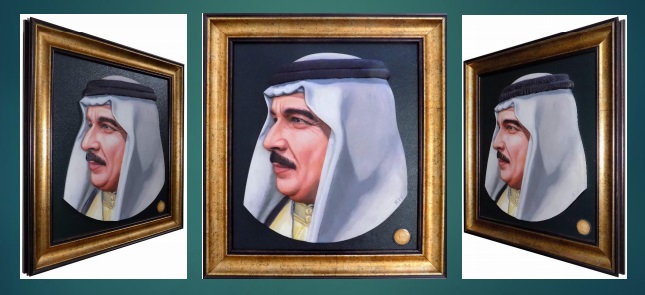 Hand-carved Medallion portrait of late His Majesty Sultan Qaboos bin Said Al Said of Oman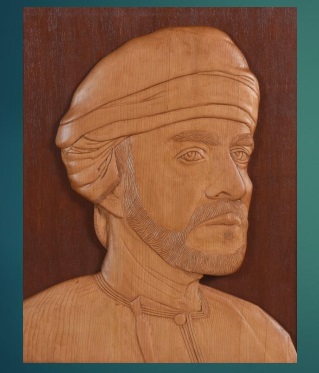 His most recent portrait of His Highness The Aga Khan Shah Karim Al Hussaini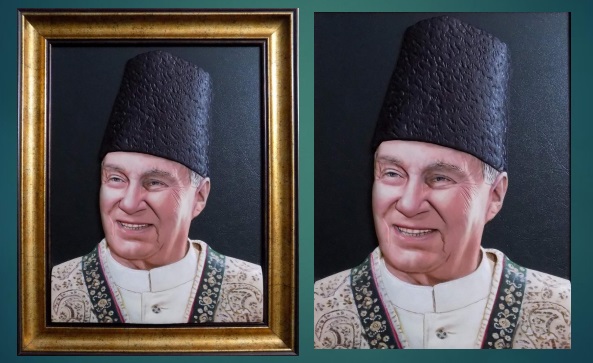 Views to highlight the 3D aspect of the portrait