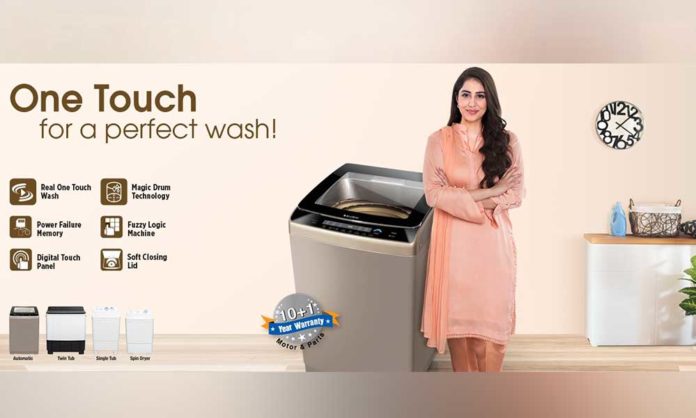 EcoStar presents an all new & amazing range of EcoStar Washing machines, consisting of fully automatic, twin tub, spinner and washer that offers you effective washing performance.
The fully automatic washing machine range features deluxe and Crown series, each of which comes with the capacities of 9.5 KG and 12 KG and has a warranty of 10+1 years (motors and parts).
Its advanced Real one touch operation & digital touch panel lets you operate your machine with just a single touch so you can relax while machine does all the cleaning for you!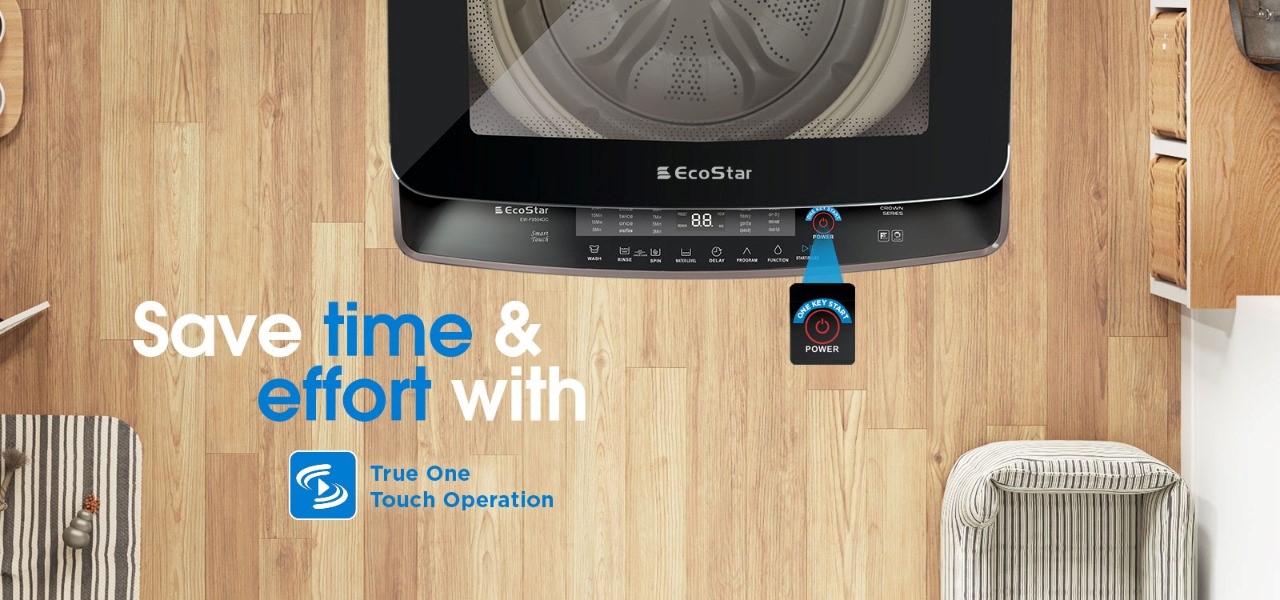 Its sleek and elegant design with durable metal body and stainless-steel inner-tub not just elevates in beauty of your laundry room but also ensure longer life of the washing machine as well as your clothes.
Magic Drum Technology
EcoStar automatic washing is equipped with Magic Drum Technology that washes clothes with care & minimize wear and tear, to keep them safe and in great condition even after multiple washes.
Multiple Pre-installed Programs
Its pre-installed washing programs give you more control over your wash cycles and gives you convenience like no other. All you have to do is load the machine with dirty clothes and choose from multiple programs as per your needs. These programs include
| | | | |
| --- | --- | --- | --- |
| Normal: For normal (cotton + Washing wear) clothes | Heavy: For dirtier clothes | Quick: For clothes requiring shorter cycle of washing | Wash: to wash the clothes |
| Rinse: to drain out the dirt and soap from clothes | Gentle: For less dirtier clothes | Soak: For tough stains | Fine washing: To wash sports clothes |
| Children cloth: for kids clothes | Clean tub: to clean inner and outer side of the tub | Air–dry: to dry the clothes | Remain water: to reuse the water after last rinse |
Fuzzy logic feature
Not just this, EcoStar washing machines come with features like Fuzzy logic that enables it to automatically decide the optimal time and program required to wash the clothes efficiently, based on determining the weight of clothes.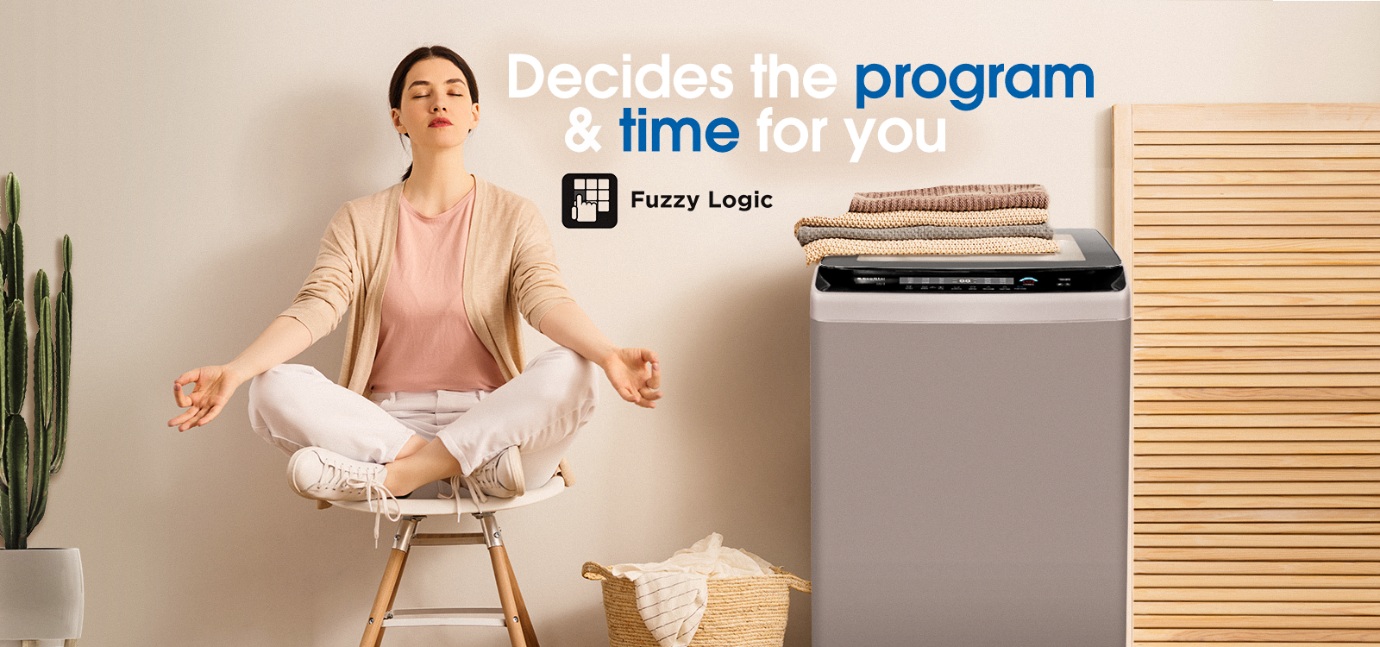 Power Failure Memory
If you are worried about extensive hours of load shedding and fed of restarting your washing machine every time it comes back, then, this will not be of worry anymore. EcoStar washing machines are designed as such to resume the wash cycle exactly from where it stopped with the help of yet another amazing feature, i.e. Power failure memory.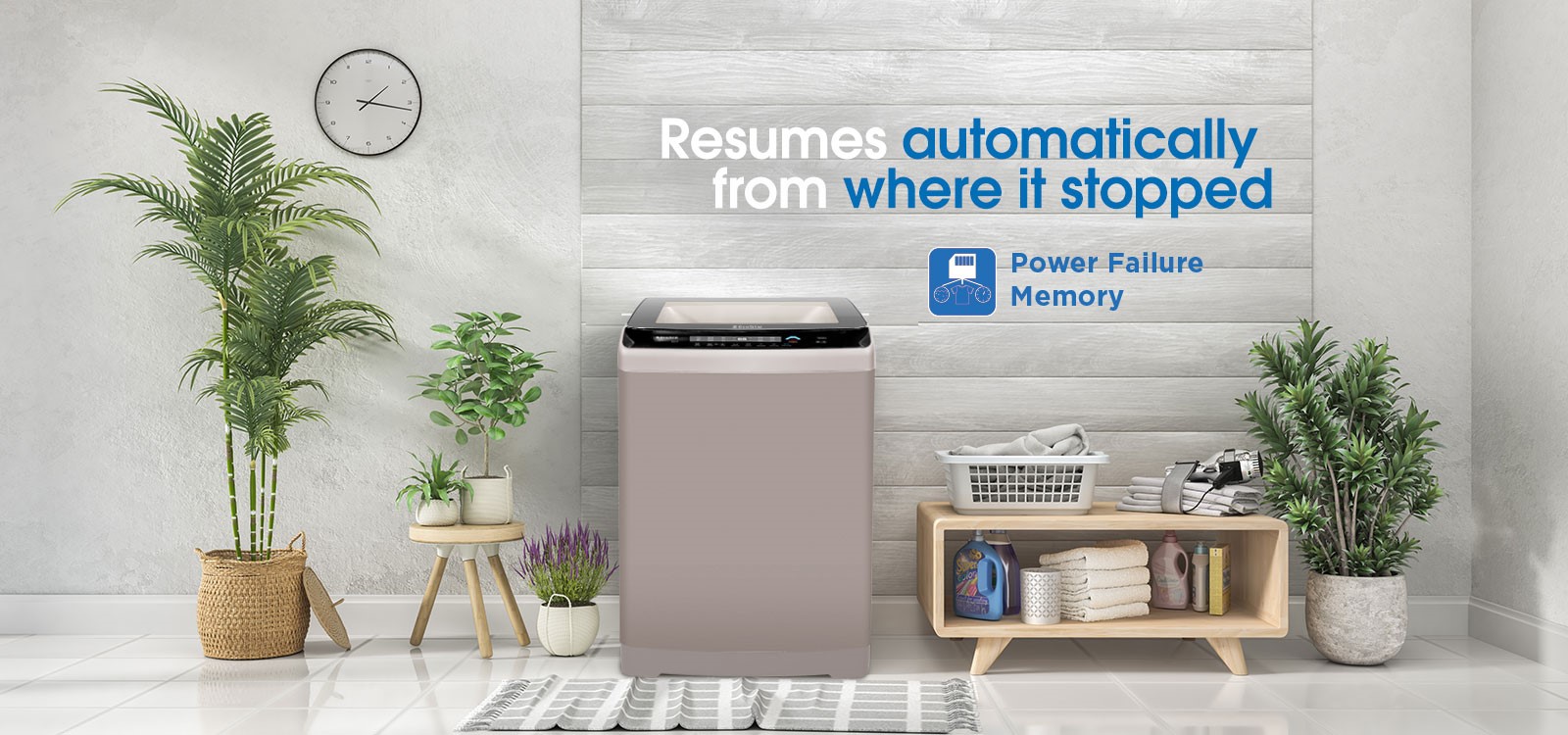 Hand wash technology
Even the hardest stains will now be gone with EcoStar automatic washing machine, which is equipped with special hand wash technology that keeps your clothes just as new with its powerful pulsator and magic drum.
Delay function
With delay function, now you can choose to finish your desired process in your desired time. If you are going out and want your machine to start the washing after 2hr, EcoStar Washing machine will be at your command. You can delay the function from 2 hrs to 24hrs.
Child lock
To keep your washing process safe from kids, you can also turn on the child lock function in this new EcoStar automatic machine.
The list doesn't stop here, EcoStar automatic washing machine comes with multiple other amazing features like error alarm, program end alarm, 10 water levels, tempered glass cover, auto power off button, auto tub balance adjustment and many more.
The full range of EcoStar washing machines consists of the following:
Fully Automatic
Twin Tub
Washer
Dryer
Crown series
Deluxe Series
Semi-Automatic
Digital Touch panel
Soft press panel
Available in two colors
Big size unit
Large load capacity
Real one touch wash
Real one touch wash
Elegant tempered glass cover
Strong and durable plastic body
Powerful motor
Elegant transparent tempered glass cover
Elegant transparent tempered glass cover
Concealed control panel for safety
Powerful wash motor
Low noise and smooth operations
8 wash programs
12 wash programs
Strong plastic body
Big pulsator
Quick and efficient drying with 1300 RPM
10 water levels
10 water levels
Powerful pulsator
Anti-shock & rust – resistant
Warranty: 3+1 years (Motor & Parts)
Magic drum Technology
Magic drum Technology
Cycle selector
Low noise operations
Power failure memory
Power failure memory
Low noise
Elegant design
Soft closing lid
Soft closing lid
Anti-rust
Warranty: 3+1 years (Motor & Parts)
Strong metal body
Strong metal body
Warranty: 3+1 years (Motor & Parts)
Hand wash technology
Hand wash technology
Fuzzy logic
Fuzzy logic
Child lock
Child lock
Delay function
Delay function
Warranty: 10+1 years (Motor & Parts)
Warranty: 10+1 years (Motor & Parts)
So get yourself the washing machine you and your family deserves as it provides the professional gentle fabric care that refreshens your clothes to a brand new look! Visit your nearest EcoStar store or order online through our website: https://dwphome.pk