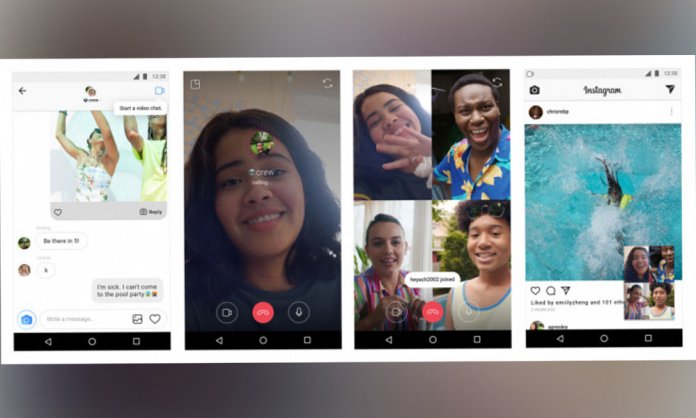 Video Chat
While this may not be the most necessary feature if you just want to video call your best friend, it will prove useful for anyone wanting to connect with new friends who haven't yet shared phone numbers. Now users can open a direct message to find a new camera icon allowing them to call with up to four friends at a time. Open an existing group conversation, and if the icon is blue there is an active call taking place and a user can tap to join in. While chatting away, there is the option to minimize the call window, allowing Instagrammers to continue scrolling, sending pictures and direct messaging.
If a user isn't into the idea of receiving a video chat from just anybody, there are parameters to set by going to 'Push Notifications' and allowing chats 'From People I Follow' or 'From Everyone.' Conveniently for influencers with 9 million fans dying to make contact, there is also an 'Off' button. Furthermore, individuals can be muted or blocked by clicking on their profile, then the three dots in the top corner.
New Explore tab
Click on the magnifying glass and a revamped 'Explore' section pops up. The most obvious improvement is the layout. The top of the screen now features a "For You" tab — a 'tailored to the user' addition similar to the approach many news aggregator apps, such as Google News and Apple News, are adopting. This will provide a mixture of posts that are believed to speak to the users' interests.
Scroll along the top menu and there will be other categorized topics, which, when selected will present a scrollable grid of posts and pictures along with suggested hashtags. Topics that aren't of particular interest can be muted and will then fall to the bottom of the list. The new Explore tab is designed to make it easier for new visitors to discover ideas or people and find inspiration.
New Camera effects
Now Instagrammers can play with new camera effects designed by Ariana Grande, Buzzfeed, Liza Koshy, Baby Ariel and NBA. The idea is for users to follow one of the accounts for the funny or glamorous effect to appear in the Instagram Camera; however non-followers can also try out the effect and then select 'add'. This is just the beginning says Instagram in its announcement of the new features, as it plans to introduce more effects from popular accounts soon.
Facebook, Google 'Manipulate' Users to Share Data Despite EU Law