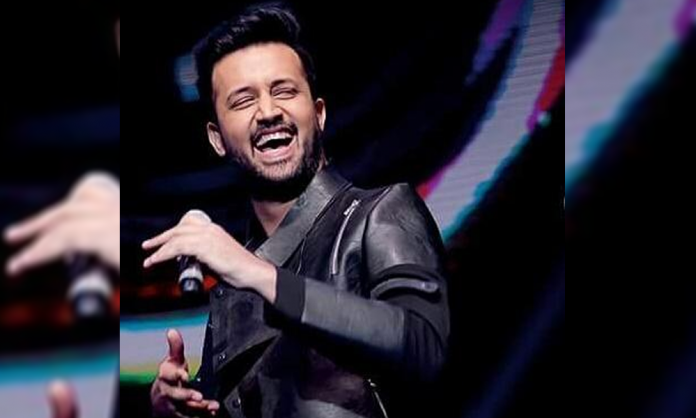 26th June 2020:
India never fails to surprise anyone, from blaming Pakistan for sending spy pigeons to floating 'suspicious' balloons across the border, the country has a wild imagination.
After shunning Pakistani artists from its industry in 2016, the country pretty much ignored cross-border talent until recently, but the people couldn't digest it.
One of the biggest music labels in India, T-Series, was forced to remove Atif Aslam's song 'Kinna Sona' from the movie Marjaavan after significant backlash on social media.
The company issued an apology stating that they have made a mistake and that the track was erroneously uploaded on their YouTube channel.
The apology reads as followed:
The said song, sung by atif aslam, was put on the youtube channel of t-series by one of our employees.

He was unaware of his actions, which led to the mistake. We deeply regret this and apologize for the same.

We assure you that the song won't be release on our platform and we won't promote it either.

We are taking down the song and we reassure you that we won't be assisting any pakistani singers.
Was Atif Aslam a Deliberate Target?
However, what makes us a bit uneasy is that this is not the first time since 2016 when Bollywood has used Pakistani talent in their movie. Was Atif Aslam targeted because of his growing fan-base in India?
Another Indian Movie titled 'Malang' is an example. The movie uses not one but two tracks with Pakistani talent. One of the track is 'Bol Hu' which went viral in Pakistan after Nescafe discovered the hidden young gem Hadiya who made her debut with the popular duo 'Soch the Band'. The second track is 'Humraah,' which was sung by none other than Asim Azhar.
This doesn't come as a shock anymore, given how intolerant the Indian Media and their politician have become over time.
We have yet to see what the future holds for Pakistan's talent and which industry our stars will work shortly.
Listen to Atif Aslam's 'Kinna Sona' Below
https://youtu.be/L5rNscYkioY
---
---
24th December 2019: In a post on his official Instagram, Atif Aslam announced the arrival of his bundle of joy.
The proud father wrote a small note with the image of the baby telling his fans and followers that both the child and the mother are fine.
Here's what Atif wrote:
"Ladies and gentlemen our NEW arrival Alhamdulilah. Both mother and baby are fine. Keep us in your prayers, and don't forget to say Mashallah."
However, an Indian publication took it in a wholly different context. It announced that Atif and wife Sara had named their second-born named 'Alhumdauillah' – which means all thanks to Allah.
The publication said in their headline, "Atif Aslam and wife welcome their second child, names him Alhamdulillah."
Atif's post: "Ladies and gentlemen our NEW arrival Alhamdulilah. Both mother and baby are fine. Keep us in your prayers and don't forget to say Mashallah"

Indian media: pic.twitter.com/Mttg3EdKdn

— Abaaay O! (@NargisiKoftaay) December 23, 2019
That's all it took for social media to knock their socks off! The tweet has since been getting hilarious responses.
And aatif aslam said: Astagfirullah

— danish (@Danish_IB) December 23, 2019
Planning a second child soon, to be named Inshallah

— Noop (@soundmeister) December 24, 2019
I read the image first and was like wtf?! The pretext makes it so much more better oh my lord

— dee loves Louis (@Tomlinstalent) December 24, 2019
Desi Martini also posted about the mishap, taking accountability and notifying that the mistake is there no more.
An error in our copy on #AtifAslam claiming the name of his child wrong has been fixed. We sincerely apologise for the error and any misunderstanding or misinterpretation it may have caused.

— Desimartini (@DMmovies) December 24, 2019
Stay tuned to Brandsynario for more news and updates.