Indian media's latest story is a prime example of when a figment of your imagination is materialized. Perhaps they were out of the news, or maybe they like Mehwish Hayat a lot, regardless, their creativity knows no bounds.
Did you know Mehwish Hayat was in a relationship with Dawood Ibrahim? We didn't either, but it's true as Indian media has alleged!
A Jog Of Memory
Dawood Ibrahim is a mob-leader and a terrorist. He also graces India's most-wanted list with a price of Rs.25 million being offered for him. Having fled from India, he has been traced irregularly to be either in Pakistan or UAE.
However, Indian media recently had a field day when they alleged that he had been living in Karachi. Moreover, he is in a relationship with Mehwish Hayat. The news mainly started circulating through Zee News. However, after further inquiry, it appeared that there was no credible source of information for this.
Mehwish Hayat's Response
I will not give credence to the unfounded accusations being made about me in some Indian media by issuing a statement. I know exactly what their plan is & why they're doing this. All I will say to them is that this kind of gutter journalism will not shut me up. I will … 1/2

— Mehwish Hayat TI (@MehwishHayat) August 26, 2020
I will continue to highlight their atrocities in Kashmir and to call out Bollywood for its hypocrisy. Oh BTW next time if you want to link my name with someone .. may I suggest @LeoDiCaprio ? 😁

— Mehwish Hayat TI (@MehwishHayat) August 26, 2020
Our Star Claps Back
Hayat has always been vocal and unapologetic about what she wants to say. She took to her Twitter account and slammed Indian media for their "gutter journalism." Yikes!
According to Hayat, this can be a malicious attempt to prevent her from speaking up further about the siege India has laid on Kashmir. She believes that they attempted to spread controversial rumors about her so that she gets distracted. But they don't know who they messed with.
Hayat has emphatically said that she won't stop calling out Bollywood for its hypocrisy.
Nothing Is Without Humour In Pakistan
The acclaimed actress also made a snide remark with a touch of sarcasm. She added that next time any media house wants to spread rumors about her dating life, she'd rather have her name attached to Leonardo Dicaprio!
If only each actress were asked who she'd like to be coupled with before media outlets began spreading rumors…
Irresponsible Journalism?
There's no doubt that journalism today is seldomly what it used to be. Now media outlets would instead cover who's dating who and who said what rather than focusing on the larger picture.
This is the college they're using!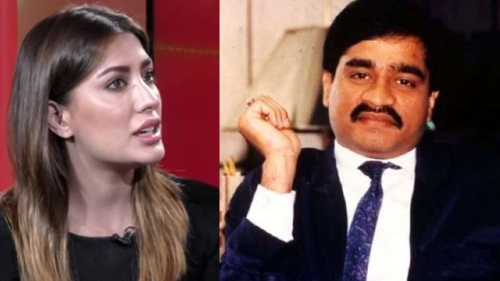 For Indian media to align Mehwish Hayat with a wanted criminal, without cross-checking the information first does seem to be borderline irresponsible. Could this not possibly pose a threat to the actress? Alas, gutter journalism, it is as she termed it!
Stay tuned to Brandsynario for the latest news and updates.