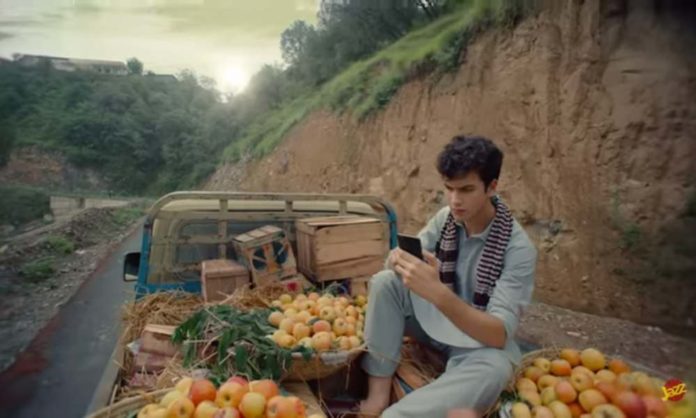 'Laga de jaan,
Iraaday kar,
Phir dekhna, apna ASAR!'
Just the kind of pick-me-up we needed this Independence Day!
August 14th, 2021 in Pakistan might not have been celebrated with as much fervor as it normally is; with the current state of the world, the wars and the pandemic dampening the overall motivation to celebrate, rise and bring a difference. We saw multiple brands, organizations, and citizens making their individual efforts to spark joy for the people of Pakistan and renew a sense of ownership for our country, our people, and ourselves.
One anthem that stood out amongst many others, was Jazz's 'Gaarh de Jhanday' that made rounds on multiple social sites around the time of the Independence Day.
Celebrating the spirit of freedom and inclusivity enhanced by technology, the Gaarh de Jhanday campaign is a creative genius – perfectly blending the inspirational lyrics, energetic music, colorful visuals, and the spirited vibe of the song to one core message: Jazz is a digital enabler for every Pakistani, using its passion for the country to connect the masses and providing convenience in everyday tasks through innovative technological solutions.
A Digital Pakistan is a progressive Pakistan
Starting off with a clear intention to communicate its Digital Pakistan vision, the anthem continues on to show various aspects of everyday lives where technology has been introduced by digital giants like Jazz, to not only bring convenience to citizens of all regions, but also to empower them to gain access to more facilities and services.
Let's see how the DVC has managed to get that message across.
'Gaarh de Jhanday!'
What we see in the DVC are multiple storylines coming together through technology: a visually-impaired man who can access technology to assist him with everyday chores, through a reliable 4G connection, a quick and simple transaction taking place between a house-wife and a vegetable vendor through QR payments at the touch of a button, a group of rural women in a far-flung area managing to telephonically receive medical help from a doctor in the city thanks to a reliable telecom network, drone technology that helps farmers with their agricultural endeavors, mobile wallets that have helped fruit sellers shift to online selling in the restrictive 'new normal', the ease of payment for rental services like EZ-bikes, and the kind of exposure and recognition technology and wide-spread network connections bring to talented individuals living in remote, inaccessible regions.
Every aspect of their lives is more enhanced, more progressive, more convenient, more evolutionary, with access to digital tools and innovative technology. This is what Pakistan strives for, and this is what binds it to the rest of the world.
The DVC has managed to pique the interest of multitudes of people, many of whom resorted to social media to show their appreciation.
Making Pakistan digitally strong. Loved this feel of independence! 🇵🇰#GaarhDeJhanday https://t.co/J2R2WcB5fO

— Ambreeeen.. (@Nostalgicc_A) August 12, 2021
Goose bumps over dose. #BanoSuper #GaarhDeJhanday #JazzSuper4G pic.twitter.com/3xXahsk6pR https://t.co/FHDmJbpoJT

— Usman Masood Noor (@UsmanMasoodNoor) August 11, 2021
Prosperity comes with a Digital Pakistan
There is no denying that a flourishing digital economy with access to technological devices and the Internet bridges the digital divide prevailing in a country and supports interconnectedness and inclusivity amongst all income and social segments.
The Covid-19 pandemic has highlighted the vulnerability that exists in a society with a wide digital gap. In the context of repeated lockdowns and restrictive measures put in place by local authorities to curb the spread of the virus, it has brought focus on the necessity of digital technologies and the role they play in sustaining and nourishing daily lives, from education and healthcare sectors, to enabling business continuity through connectivity networks.
Jazz has not only brought innovative digital services to people in the country, but has also played a significant role in fostering a digitally progressive ecosystem. Among its digital services is JazzCash, the country's most widely-used mobile wallet used to make cashless payments for online purchases, stocks, rental service payments, QR payments, and much more.
For Pakistan to truly prosper, it is imperative that other institutions, public and private, focus on revolutionizing the digital landscape by providing masses equal opportunities to connect with the world.  It is also every Pakistani's responsibility to adopt digital tools, educate themselves on it, and promote them in every aspect of their lives. Jazz as a brand stands for empowerment through connectivity and digital services, and 'Gaarh de Jhanday' successfully communicates this vision.