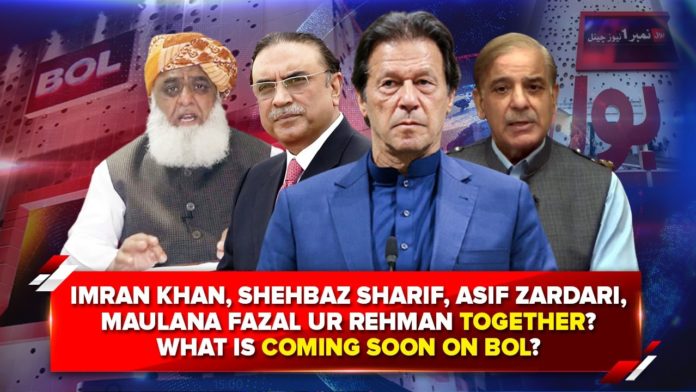 Rumors of Imran Khan, Shehbaz Sharif, Asif Zardari, Maulana Fazal Ur Rehman and Bilawal Bhutto Zardari's coming together on a news channel has grabbed people's attention as they are wondering how this can happen.
One of the most-liked channels in Pakistan, BOL News has announced that it is all geared up to bring something exceptional to the nation. Let's find out what is going to hit the TV screens soon.
The channel has always been pushing boundaries in bringing exceptional content for its viewers which makes BOL a standout among all, so you can expect anything from it.
In times when political war is at its peak in Pakistan and the country has been braving the political instability, BOL for the first time in history claims to have gathered the leaders of opposition parties together for the nation.
History is going to be marked as BOL News is all set to bring the leading political gurus including Pakistan Tehreek e Insaf (PTI) Chairman Imran Khan, Pakistan Muslim League-N (PML-N) President Shehbaz Sharif, PML-N Vice President Maryam Nawaz, Pakistan Peoples Party Co-Chairman Asif Zardari, PPP Chairman Bilawal Bhutto and Jamiat Ulema e Islam-F chief Maulana Fazal Ur Rehman on the screen at the same time.
پاکستان کی تاریخ میں پہلی بار
عمران خان، آصف علی زرداری، شہباز شریف، مریم نواز، مولانا فضل الرحمان اور بلاول بھٹو ایک ساتھ بول کی اسکرین پر #BOLNews @ImranKhanPTI @BBhuttoZardari @CMShehbaz @MaryamNSharif @MoulanaOfficial @AAliZardari pic.twitter.com/QmWTIE7uXb

— BOL Network (@BOLNETWORK) December 5, 2022
The politicians together on the screens will be stirring zest in the people and will mark history in Pakistan. There is no doubt that BOL has proved its mettle by broadcasting news, quality entertainment, and quirky shows for its audience.