[Update]: After being called out for jumping queue and taking the vaccine before the turn, Iffat Omar had tried to evade the blame by saying it was a trial vaccine. But she was schooled excessively on Twitter after which she had deleted the tweet.
And now, she has apologized to the public by taking it to Twitter acknowledging that she did wrong and that she will repent.
I am sorry.I am ashamed.I apologise from the bottom of my heart.I will repent.

— Iffat Omar Official (@OmarIffat) April 6, 2021
Iffat Omar:
"I am sorry. I am ashamed. I apologize from the bottom of my heart. I will repent."
It is commendable that she accepted her mistake and publicly asked for forgiveness when influential people do not really like to own their wrongdoings.
---
---
[March 30, 2021]: Covid has been a curse to almost everyone globally. So when the vaccine finally got introduced, everyone wanted to get their hands on it as soon as possible. But considering there are more than 7 billion people on earth, it will take time to reach the entire population. Hence, there are phases in terms of priorities according to which people would get the vaccine. Iffat Omar, it seems, has jumped the queue and gotten her vaccine
Process of getting the vaccine
When everyone should be getting the vaccine, what does 'jumping queue' means? Well, here is the thing. First and foremost, the healthcare workers were to get the dose because, in this war, they were the avant-garde, and the sixty-five years old and above would also get the vaccine. After that, the age 60 plus senior citizens were in line. The vaccination drive was to begin on March 10th. After that, it was the turn for 50 plus, but the registration for them was even to start today.
A video was published on Twitter where a Federal Minister and his family, along with Iffat Omar, were at the minister's house, and they were getting the covid vaccine. Here is a screengrab from it!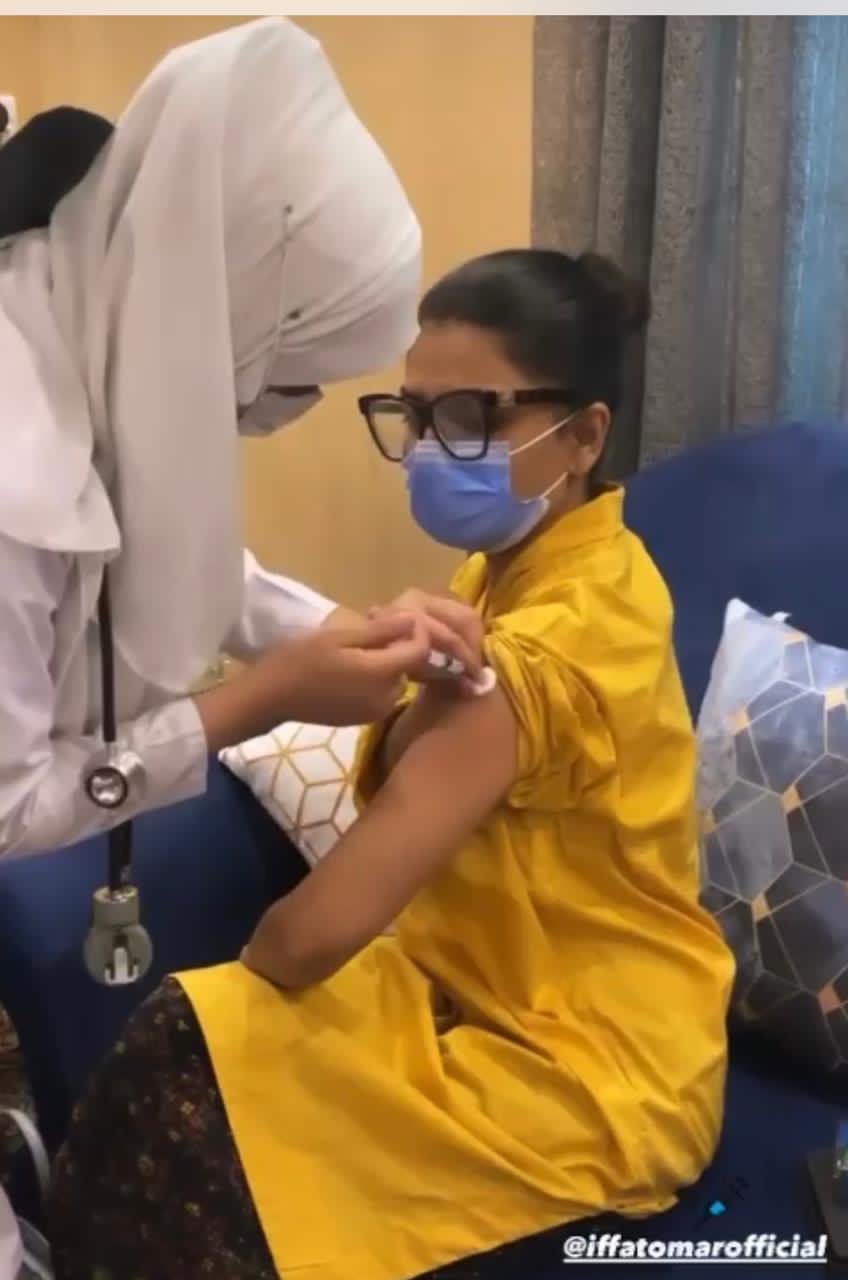 Netizens angry at Iffat Omar
Seeing this video, the netizens were super pissed. The entire group jumped the queue when there was a proper system for people to get the vaccine, but they were exercising even more privilege by getting the vaccine delivered at home.
Meet Iffat Omar. She talks about rule of law, honesty and what not and was the first one to jump queue and get herself vaccinated! pic.twitter.com/SSKFk4vvVe pic.twitter.com/xJqUhlrjDf

— Doctors voice (@DOCTORS274) March 30, 2021
A minister gets his entire family vaccinated in Punjab with actress Iffat Omar and doctors, frontline workers, people above 60 plus are still waiting for their turn.

Kya mulk hai ye? Koi qanoon he nahi hai.

— Zohaib (@ZohaibKal) March 29, 2021
Someone even made the Samina Peerzada meme on this:
Yaar yeh 60+ hai iffat Omar ?

— °~~ ملکہ عالیہ ~~° (@malka_says) March 29, 2021
The accused people tried defending themselves by saying that they were getting a trial vaccine.
– Federal Minister Tariq Basheer Cheema claims to be getting a trial vaccine.

– Is his entire family on this trial vaccine?

– Is Iffat Omar a part of his family?

– Iffat Omar runs a derogatory show against Imran Khan/PTI. Is she a family member of a PTI minister?#WrongNumber https://t.co/SUDT9BPw3T

— 👤 (@noirroadbluesky) March 29, 2021
Iffat Omar's tweet regarding this defense went somewhat like this:
"I would like to clarify this was a booster shot of a Cansino (trial) vaccine received from UHS, who also provided the previous shot. It's not illegal or privilege."
iffat Omar "mamu banana" recipe: UHS, trial, 2-Shot, = T.cheema😎 pic.twitter.com/EDREOIHpKH

— Maqsood Khan Khattak (@MaqsoodKhanKhtk) March 29, 2021
The original video was this:
Federal Minister for Housing and Works Tariq Bashir Cheema allegedly used his influence to get his family members including famed actor Iffat Omar vaccinated against the #Covid_19 pic.twitter.com/Q3Xd6DkDkV

— Tayyab Khan (@Tayipkhan93) March 29, 2021
Interestingly, Iffat Omar deleted that tweet.
Stay tuned to Brandsynario for the latest news and updates!