Iffat Omar, the famous award-winning Pakistani actress, has been in the spotlight for a couple of weeks now, unfortunately, for all the wrong reasons.
Iffat Omar's Saga of Tharak
Last week, a video clip from Iffat Omar's show, "Say It All With Iffat Omar," circulated on various social media platforms. In that video, the famous actress was seen advocating and celebrating Noman Ijaz's tales of infidelity as the veteran actor 'proudly' announced his extramarital affairs.
A few days later, another clip from the same show came to the forefront. Here, the host was seen narrating the shameful saga of her unethical on-set act to Ali Rehman and Hareem Farooq, who were invited to the show as guests.
Iffat Omar openly confessed that while shooting with her crush, Rahat Kazmi (who was by the way playing her father in that serial), she used to deliberately ask for retakes for a scene where they were hugging so that she could embrace the man multiple times. While discussing the incident, Iffat was seen laughing as she recounted her behavior.
Iffat Omar Faces Backlash
Soon after these videos went viral, people started calling out the famous actress and host. People expressed their disgust openly on various social media platforms, including Twitter.
Have a look at it yourself:
In a show hosted by Iffat Omer herself, she reveals how she repeatedly hugged Rahat Kazmi sb cos *ttharak poori karni thhi*. In yet another episode of the same show, she says she needs to learn from Nauman Ijaz on how to enjoy extra marital affairs while hiding it from spouse 1/2

— Kiran (@KiranW_) September 8, 2020
I lose an amount of brain cells every time an Iffat Omar talkshow clip surfaces.

— Roha Nadeem (@RohaNadym) September 8, 2020
Iffat Omar Justifies Her 'Tharak' & Calls It 'Innocent Jhaphi'
To justify her tharak, Iffat Omar posted a short video clip from her official Instagram account of that same scene (where she was hugging Rahat Kazmi) from the drama serial and wrote:
 "The innocent jhape"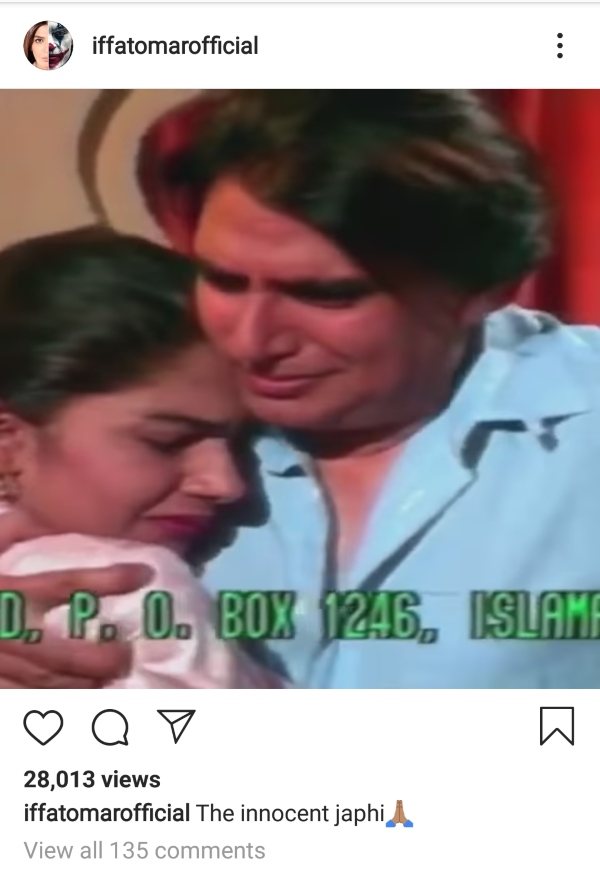 Umm? Excuse us? How can a supposedly 'woke,' self-proclaimed 'feminist' stoop so low? Our minds fail to comprehend. How can someone try to justify their 'tharak' in any way?
Iffat Omar – A Threat To Feminism 
Iffat Omar, a self-proclaimed feminist and passionate advocate of women empowerment, has, in the same show, stated how the #MeToo movement is close to her heart. We have seen her talking about women's rights and gender equality, time, and again.
However, the recent turn of events has left us skeptical about her notion of equality. People like Omar not only misrepresent such stances but also overshadow the efforts and dismiss any progress that's been made after long periods of suffering.
Such people are problematic for the entire society but also (specifically) for the likes of their gender. When a supposedly devoted and zealous 'feminist' goes on promoting 'tharak' openly and then justifying it, the stance of every single feminist comes into question. Feminism does not support harassment of any sort. People like Iffat Omar do not represent feminists.
Simply put, feminism does not support or justify 'tharak'!
Is There More To Come?
Is Iffat Omar's act of justifying her tharak by calling it an "innocent jhaphi" the last nail in the coffin of her already foundering reputation? Or there's more to come? What do you think? Let us know in the comment section below!
Stay tuned to Brandsynario for more news and updates.