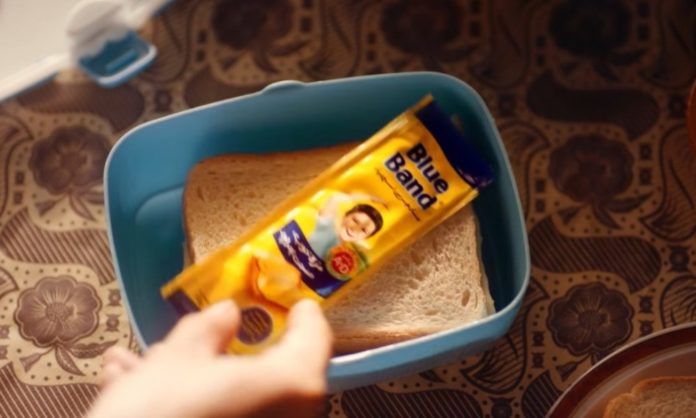 Pakistan's beloved margarine brand is under the social media radar for all the right reasons. The latest ad of Blue Band is going viral for poor production and comprehension. Needless to say, it's a massive failure.
Blue Band's Ad
The brand released its latest product with a release of the TV commercial. The small-sized margarine packets which are easy to carry and can be packed in school lunch boxes are the recent product offered by Blue Band. However, the very poor production of the TV ad has left people wondering.
One of the glaring issues in the TV commercial is the choice of copy. The ad features a mixture of English and Urdu words that not only fail to convey a coherent message but also make little sense to the audience. The ad copy, which includes phrases like "Fridge ki koi nae ha need, school lay ja kar kro eat!" leaves viewers puzzled and unimpressed.
In addition to the poor choice of copy, the mix of English and Urdu in the advertisement further adds to the confusion. This linguistic mishmash not only fails to effectively communicate the product's benefits but also detracts from the overall appeal of the ad.
Here's the ad:
Product lacks convenience
One of the major drawbacks using these packets for school lunches is that unlike traditional margarine tubs or spreads, these small packets can be cumbersome for school kids to handle. Spreading margarine on bread, a common school snack, becomes a challenge with these packets, as they lack the convenience of a proper spreading tool.
While Blue Band's attempt to introduce a new product is commendable, the issues with both the TV commercial and the practicality of the product have left consumers wondering whether this innovation truly meets the needs of its target audience—school children and their caregivers. It serves as a reminder that product innovation must align with user-friendliness and effective communication to resonate with consumers.
Read More: Gilgit-Baltistan Govt, Nestlé Pakistan Promote Nutritional Awareness, Sustainability Education
What are your views on the ad? Let us know your thoughts in the comments below.
Read More: Economic Hurdles: The Toll on Connectivity in Pakistan
Stay tuned to Brandsynario for the latest news and updates.