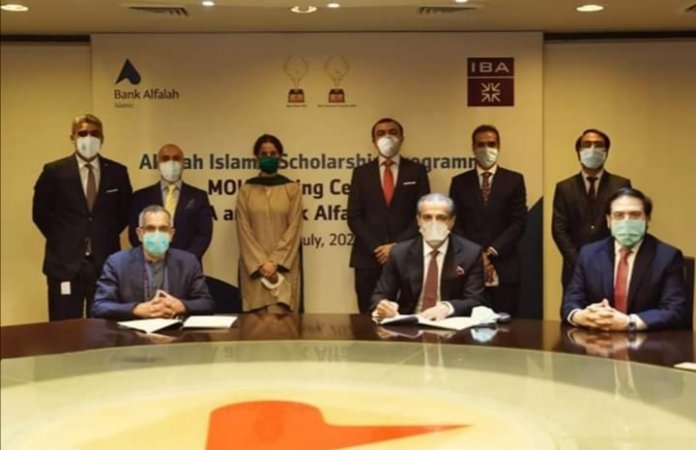 Do you know what's common between Darth Vader, Bane, Freddy, and almost every other villain ever? Face masks!
But ever since the novel coronavirus pandemic decided to change life as we know it, ordinary people are now also wearing face masks to protect themselves from the spread of the virus.
However, Pakistanis being Pakistanis; instead of wearing the masks on their face for protection, a majority are carrying them around as a fashion statement or accessory, which has been 'forced' upon a person.
One such ridiculous event recently took place at the Institute of Business Administration (IBA) Karachi.
Recently the educational institute announced a partnership with Bank Alfalah; it is introducing Alfalah Islamic Scholarships to provide aid for five fresh undergraduate students.
While the announcement comes as a financial relief to some students, others started to notice something strange.
In the official photographs, it was noticeable that one of the two involved parties had photoshopped masks on everyone's face.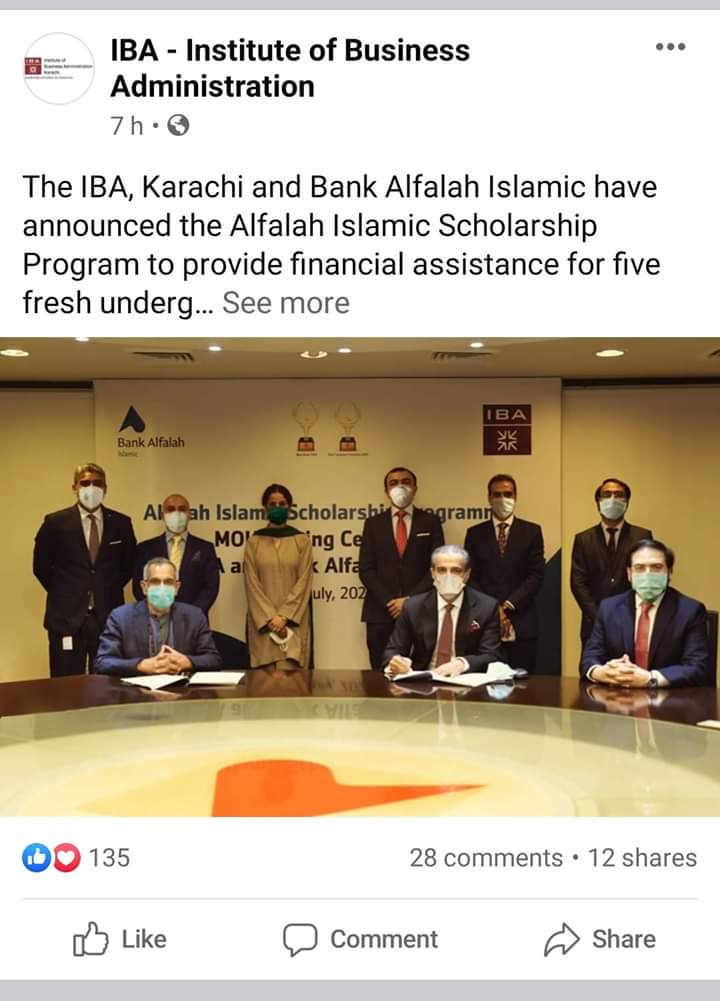 Notice how the lady in the middle is holding the real mask in her hands? So is the gentleman standing at the right corner?
Here's the original picture: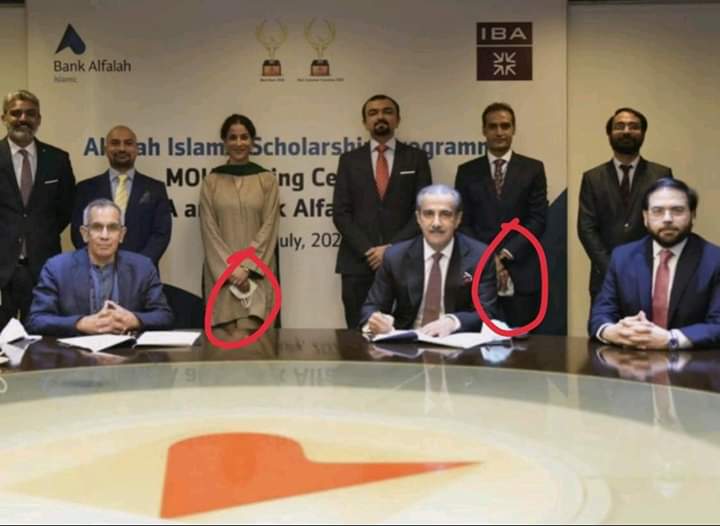 It goes to show that faking images and poor photoshop skills can only take one so far!
It is also very that individuals are still not taking coronavirus very seriously and are not following SOPs, which state that social distancing and wearing face masks are very important for one's safety and the safety of others.
Social Media In Fits
IBA Karachi has social media in fits!
Taking Photoshoped SOPs seriously #ibakarachi
🤣 pic.twitter.com/8lMpFvLz3L

— Amjad Alam Khan (@amjadalamk) July 14, 2020
IBA Karachi university cover their employees faces with photoshop…. hight of intellectual dishonest #IBAkarachi #IBA #Karachi @ibakarachi pic.twitter.com/59wxAr1qx7

— Hasan Shahzad (@hasanshahzad) July 13, 2020
IBA photoshoped SOPs pic.twitter.com/PxwHSqGQJV

— Huzaifa Mughal (@huzaifarafiq) July 13, 2020
On the one hand, where IBA has tried to coverup their employee's lack of following SOPs, Pakistani brands are trying to encourage the 'aam awam' to buy masks that match their outfits.
In Pakistan, brands like Khaadi and Alkaram are making masks. It is not just Pakistani brands, but international brands like Gucci are making masks as well.
While these masks are sustainable and environmentally friendly, they are expensive, promote capitalism, and feed into brand consciousness.
The local brands include:
Khaadi
Alkaram
Generation
Huma Adnan
Ali Xeeshan and
Shela Chatoor
https://www.brandsynario.com/6-local-brands-that-introduced-their-face-masks-amid-covid-19/
We hope that our educational institutes take the current pandemic more seriously and encourage its employees to treat facemasks more than a carry-on accessory.
What do you think about IBA Karachi's action?
Share your thoughts with us in the comments below.
Stay safe and stay tuned to Brandsynario for more news and updates.