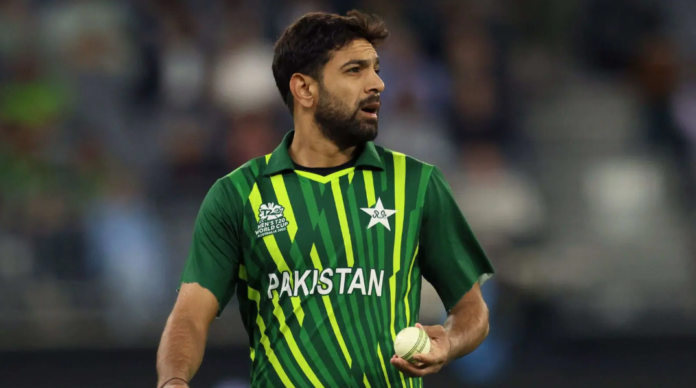 Pakistani fast bowler, Haris Rauf, recently took fans on an intimate tour of the neighbourhood where he grew up playing cricket and the struggles he endured on the way.
In ESPNcricinfo's documentary 'The Incredible Rise of Haris Rauf,' the pacer shared that he was fond of cricket ever since her was a pre-schooler but his father didn't allow him to play cricket.
"My father used to beat me about three times every day. I'd be quiet for a bit then go out to play again. My cricket gear, like my trousers, and shoes used to be at a friend's house because I couldn't let my family know that was I going to play, not to study. On the way back I used to change back into what I wore at home but my dad would get to know where I was and then I'd get beaten again," the 29-year-old speedster recalled his earlier years in Rawalpindi.
Being the eldest of 7 children and his father's profession as a welder, the father's expectations and their financial circumstances were enough to keep anyone grounded.
Education and cricket went hand in hand, Haris said, further adding  that he had to sell snacks (nimco) in the market after doing his matriculation to cover his education expenses.
"When I enrolled in university, my father was not earning enough to be able to pay my fees and I couldn't afford it too but by playing tape-ball cricket I would easily manage my fees," Rauf was quoted in the documentary.
Here's the interview
On top of that, no one was comfortable with us playing cricket in front of their houses.
The documentary chronicles about his journey way up as he polished his skills in the tape-ball cricket, something he made a living with.
With tape-ball cricket, players were easily making PKR 200,000 to 250,000 at that time. He remembers investing most of his earnings and giving the rest to mother as they were sharing living spaces for a long time and she always wished for a house of her own.
However, he never told his father that he was earning this much. The highlight of Rauf's remarkable journey came when he purchased a spacious, luxurious car for his family.
He also spoke of the need to feel aggression to be able to focus on the game.
Haris Rauf became a prominent name in international cricket and is poised to represent Pakistan in his maiden 50-over World Cup. With experience in two editions of the T20 World Cup, Rauf, now a seasoned player, is no stranger to cricket's grand stage. In 28 ODIs, he has showcased his bowling prowess, amassing 53 wickets at an economy rate of 5.68, including four four-wicket hauls and one five-wicket haul.
Stay tuned to Brandsynario for the latest news and updates.