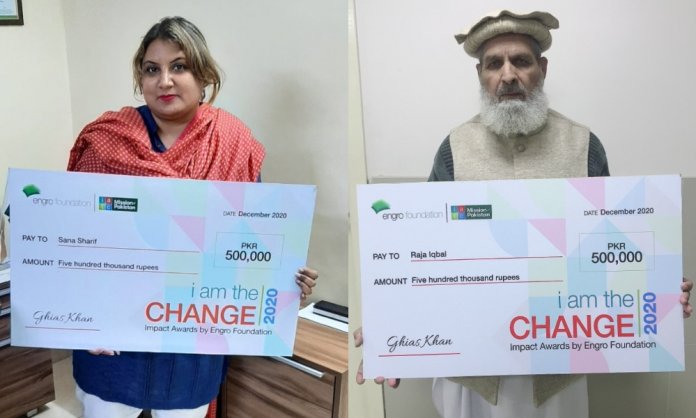 Every year, Engro Foundation – the social investment arm of Engro Corporation – recognizes local change agents and highlights projects that aim to improve lives across different spheres, through its flagship initiative of I Am The Change (IATC) awards. Amidst the global pandemic, the IATC 2020 invited frontline workers, who could be self-nominated or nominated by supervisors/head of organizations, to share their inspiring stories of creating community impact in the fight against COVID-19.
Following an extensive review of more than 100 applications in five categories, an external jury and IATC team at Engro Foundation chose eight recipients from public sector health professionals, doctors, healthcare workers and blue collar staff involved in NGOs or industries tackling COVID-19 relief efforts. Each recipient will be given a cash award of PKR 500,000 in recognition of their efforts.
Below are some inspiring stories of the IATC 2020 recipients, who created strong community impact in the fight against COVID-19:
Raja Muhammad Iqbal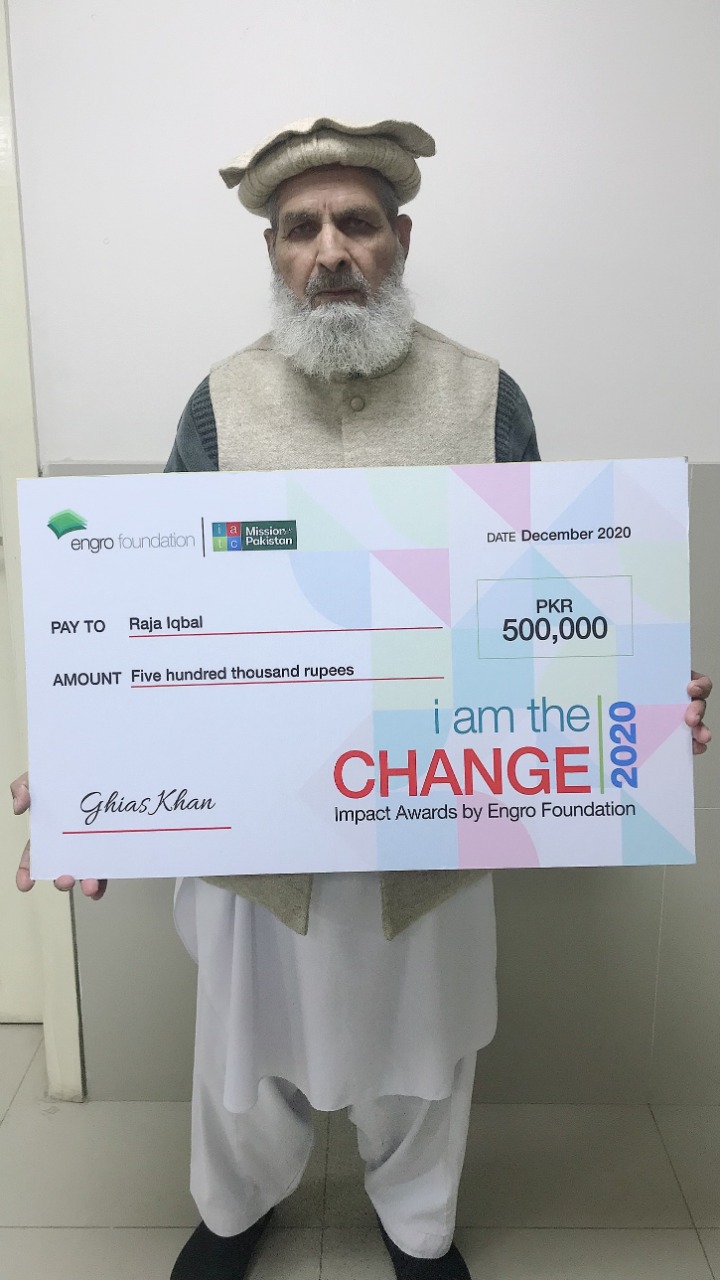 Raja Muhammad Iqbal is a retired subedar from Army Medical Corps, currently appointed as the Senior Nurse to Mian Muhammad Bukhsh Trust Hospital. During the pandemic, Mr. Raja has remained available for duty and had more interactions with the COVID-19 suspected and/or positive patients than any other nurse at the hospital. At the start of the pandemic, Mr. Raja stayed on the premises of the hospital 24/7 and volunteered his services for over-time work, recognizing the need to serve his country once again.
Speaking on behalf of healthcare professionals, Mr. Iqbal shares, "we will continue to remain steadfast and work towards decreasing the footprint of the disease. I have been deployed on the border and contributed in wars so it was my passion to help that propelled me to continue to serve in the line of duty. I am truly humbled to be presented with the IATC award and hope that such initiatives continue to reward and recognise frontline workers."
Bilqees Abdul Shakoor         
                                                
 Bilqees Abdul Shakoor, a Master of Philosophy and Economics graduate, volunteered as a camp manager under civil administration at the Chief Minister Delivery Unit Quetta, during the first wave of the COVID-19 pandemic. Her main duties as the camp manager were to ensure proper disposal of medical waste, which was used to treat COVID suspected and/or positive patients. While volunteering at the COVID camp, she contracted the virus herself but that did not weaken her resolve.
"Past my recovery, there was evidence to support that COVID-19 recovered patients were not at immediate risk and this only encouraged me to continue my work. I felt that this shared experience allowed me to connect with the patients even more", she said.
As one of the few women working at the RDA camp, Ms. Shakoor overcame the challenges her gender posed and continued to work in the quarantine camp. She also worked at Fatima Jinnah Hospital laboratory to take samples of the COVID-19 suspected patients and volunteered at Quetta's online team to reach out to families who cannot afford basic food and provide them with Rashaan by fundraising.
Naveed Parvez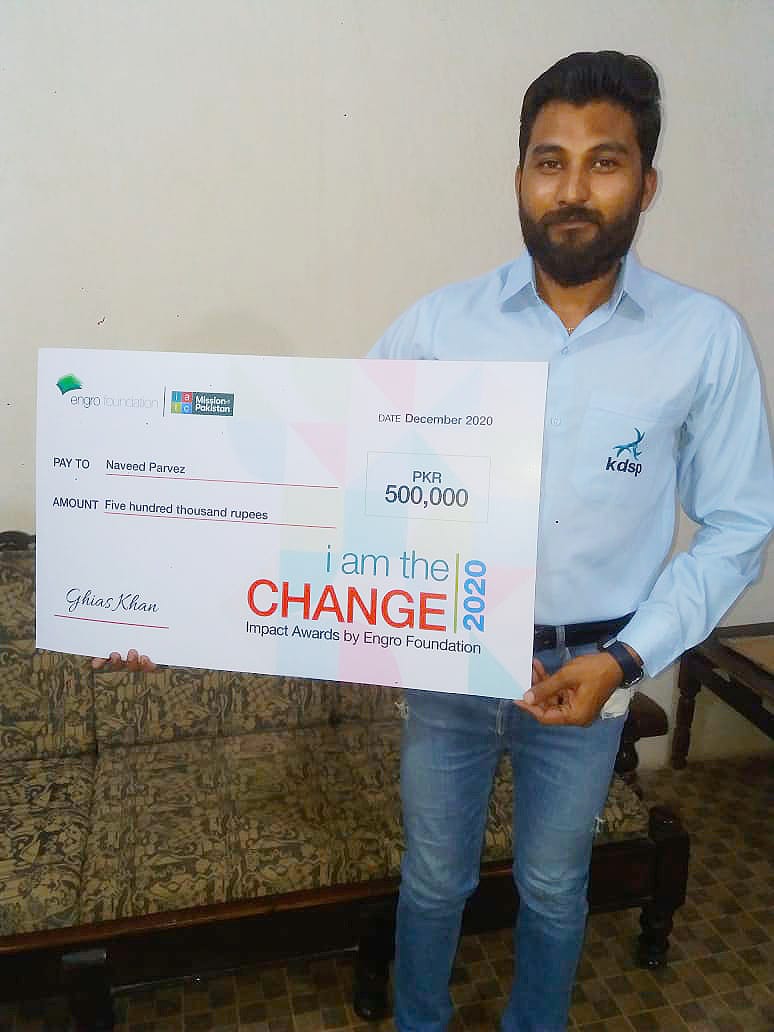 Naveed Parvez was nominated for his contributions in outdoor work at the Karachi Down Syndrome Program. As the main frontline worker, his efforts furthered KDSP's mission of assisting families of individuals with Down syndrome that were severely affected during the pandemic, including households where there was a serious risk of infection. Naveed led grocery drives to support various poverty-stricken families and provided 40 families with material kits including stationery, study tables, toys, arts and crafts material to assist virtual sessions for children with Down syndrome.
Speaking about his experience, Naveed shared that prioritizing his own and his family's safety was the hardest task considering he had to distribute rations to areas where SOPs were not being strictly followed.
"This serves as an immensely memorable experience and I feel fortunate to have been given an opportunity to serve in such dire circumstances", he added.
 Sana Sharif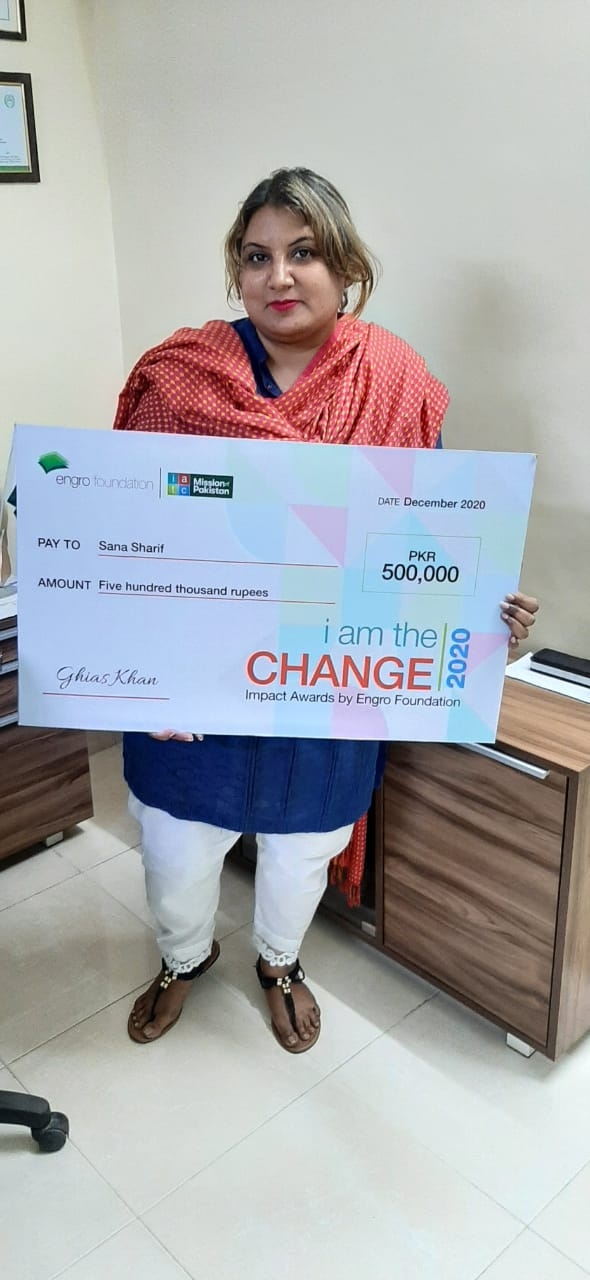 In the wake of the pandemic, there are many communities that were at the risk of being forgotten, one of them being the incarcerated. Through her association with Legal Aid Society (LAS), Program Manager Sana Sharif conducted a series of meetings with senior prison officials including the IG Prisons and DIG Prisons in order to understand the nature of demands from prisons in the context of combating the threat of COVID-19. She ensured timely achievement of legal aid clinics, free legal advice and interviews, and representation of the incarcerated in 8 Sindh-prisons. With a Master's degree and extensive experience in Development Sector Support programs to her credit, Sana supervised LAS staff across 15 districts in Sindh during their visits to Superintendents of all 24 prisons and led the distribution efforts of the required PPEs in the entire Karachi and Hyderabad division. These efforts are what led her nomination and recognition for the IATC award.
According to Ghias Khan – President & CEO of Engro Corporation and Trustee of Engro Foundation, "The IATC award recipients truly depict how heroes are born in times of crisis. As a Pakistani organization committed to solving some of the most pressing issues of our time, it is a very humbling experience for us to learn from and celebrate the achievements of these individuals and institutions who rose to the occasion. Together, InshAllah we will emerge stronger and united as a nation from this pandemic."