Diriliş: Ertuğrul has taken the entertainment industry by storm and has the masses hooked to their TV screens craving for more.
While a few celebrities such as Yasir Hussain, Shan Shahid, and Jibran Nasir called the series a 'threat to local culture' others extolled the series as an insightful peek into Islamic history.
One of the Pakistani starlets who recently tweeted in favor of Diriliş: Ertuğrul's airing on PTV, is Humaima Malick. She stated that the series is worth her 35 rupees.
Thank You @PTVHomeOfficial for bringing Diriliş: Ertuğru to Pakistan 🇵🇰 Its totally worth my 35 rupees which I paid till to date to our national television. Keep entertaining us with good content. #ErtugrulUrduPTV #TRTErtugrulByPTV #EnginAltanDuezyatan @DirilisDizisi pic.twitter.com/Mv3AtPZkDC

— HUMAIMA MALICK (@HumaimaMalick) May 21, 2020
After seeing her tweet journalist Omair Alvi corrected her and stated that PTV's prices have increased to Rs 100, Humaima said that even that is "totally worth it for such quality content."
Its 100 rupees now!

— Omair Alavi (@omair78) May 21, 2020
However, actor Vasay Chaudhry thought that PTV should stop charging "those 35 rupees from every Pakistani's electricity bill".
I dont mind PTV airing Ertugrul & making millions or billions out of it but Now can they please Stop charging those 35 Rupees from every Pakistanis electricity bill…..every month…since god knows when ??

Asking for a Turkish friend 🤷‍♂️

— vasay chaudhry (@vasaych) May 20, 2020
Popularly known as the Turkish Game of Thrones, Dirilis: Ertugrul sparked up a social media controversy, notably on Twitter, where many users were seen justifying Imran Khan's decision by Prime Minister to have the series aired during the lockdown as an effective tactic to keep people indoors.
Earlier in 2013, the love for Turkish soaps following the sensational success of Ishq-e-Memnun had created a much stronger uproar by local celebs and producers that eventually led to restrictions being placed on foreign television shows on local channels.
Around that time, the United Producers Association was pretty vocal, and it stays to be seen how they acknowledge the renewed support for Turkish material.
With all the publicity coming to the way the series is starting in the country, the opposition and the federal government (which was instrumental in getting it on the air) are, of course, at loggerheads.
However, Ertuğrul Ghazi has continued to win over new stars, the latest being celebrity pair Ali Safina and Khaas fame Hira Tareen to join the audience.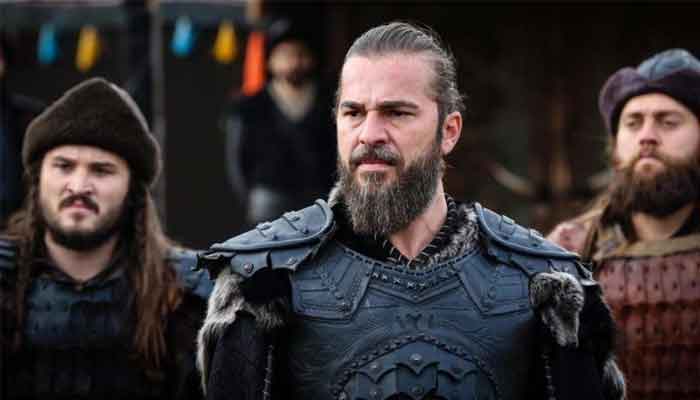 Set in 13th century Anatolia and based on the struggle of Ertuğrul Gazi, father of Osman I – the founder of the Ottoman dynasty, Diriliş: Ertuğrul has been trending in the country ever since its first episode aired on PTV Home.
Pakistanis love the drama series, and it has become a sensation in the country. 133.38 million viewers watched the drama series from April 25-May 14, according to PTV.
With 3.67 million subscribers and episodes gaining rage daily on the social media platform, PTV's YouTube channel has also enrolled an overall rise in its viewership.