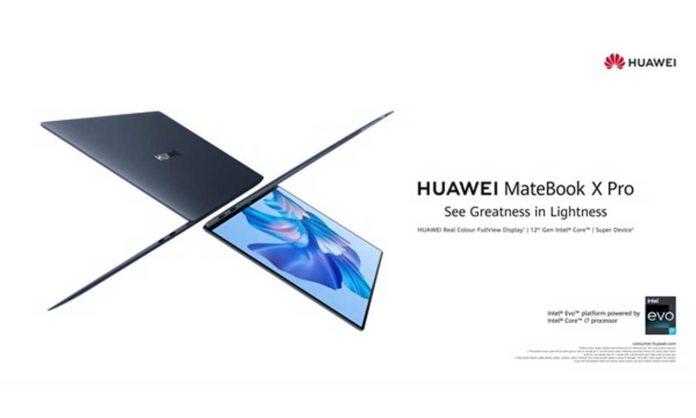 When the topic of flagship laptops is brought up, some of the things that might cross your mind are probable jaw-dropping design, outstanding performance, visionary capabilities, right? Essentially, a flagship laptop should stand out in every aspect with high-end specifications and features that enhance the overall user experience. This is what Huawei did with its newly released HUAWEI MateBook X Pro: It comes with a new, unique and minimalist design highlighted by a 3.1K Real Colour FullView Display and an ultra-slim magnesium alloy body. Its robust performance has been boosted thanks to the EvoTM certified 12th Gen Intel® Core™ processor in addition to the futuristic Super Device features which re-define the smart flagship laptop experience, allowing the HUAWEI MateBook X Pro to set itself as the new benchmark in that segment.
Without further ado, here's what we depicted of this stunning flagship laptop:
3.1K Real Colour FullView Display + Ultra-Slim Magnesium Alloy Body
The new HUAWEI MateBook X Pro features a 14.2-inch screen with 3.1K (3120 x 2080) high resolution and 264 PPI. The screen does not show graininess when viewed from a normal reading distance. The new HUAWEI MateBook X Pro features a 14.2-inch HUAWEI Real Colour FullView Display that supports precision 10-point high-sampling-rate touch control. It maintains Huawei's advantages in the display field in four dimensions, being clear, smooth, authentic and comfortable. Huawei has introduced more industry-leading breakthroughs including Universal Colour Consistency and professional anti-reflection, making Huawei's professional display a benchmark in the industry. In addition to a refresh rate of up-to 90 Hz browsing files, glancing pop-up comments in videos, playing games and more will all look and feel smooth. A laptop with excellent colour gamut performance will be important for professionals who need accurate colour reproduction during retouching and colour correction. The new HUAWEI MateBook X Pro supports the film-grade P3 wide colour gamut. P3 now exhibits a 20% larger colour gamut than sRGB for the commonly used red and green. The new HUAWEI MateBook X Pro has reached the colour accuracy of ΔE<1 in the P3 colour gamut and sRGB colour gamut. It has also passed the TÜV Rheinland Pro-level Colour Accuracy with Dual-Colour Gamut Certification, the most professional screen colour certification standard of TÜV Rheinland. HUAWEI MateBook X Pro managed to achieve a 92.5% screen-to-body ratio with the top bezel being just 6 mm wide, meaning Huawei lead the industry in this regard. The laptop weighs just 1.26 kg, making it highly portable. The surface of the cover has a unique matte finish that delivers a warm and comfortable touch. Together with the all-new Ink Blue colour (the Premium Edition), it offers a new sensory experience, and reveals the exceptional taste of its users. Huawei introduced the laptop with a Skin-soothing metallic body, delivering a unique matte surface. Such surface design has a skin-friendly feel and offers a comfortable grip. What's more, the innovative Micro-arc Oxidation Coating process is applied to the magnesium alloy airy body, which not only improves the hardness and wear resistance of the product body, but also makes the production process more environmentally friendly. Huawei also innovatively applied a Skin-soothing Metallic paint process on the surface of the cover, which gives the body a matte finish.
Mind-Blowing Performance with a 12th Intel i7 CPU, EVO certified!
HUAWEI MateBook X Pro features a powerful 12th Gen Intel® Core™ processor in a lightweight body, powered by the advanced Intel 7 process and Core™ i7-1260P. More importantly, a new performance hybrid architecture is adopted for the new processor. It consists of four Performance-cores and eight Efficient-cores, which add up to 12 cores and 16 threads. The multi-core performance is improved by 60% compared with previous generation products. By pressing the Fn + P key, users can enable the 30W Performance Mode, supporting them in working more efficiently and handling complex tasks simultaneously including video conferencing, file review and web page browsing, with great ease. The Intel® Iris® Xe graphics card is used to provide outstanding graphics processing performance, making complex graphics processing effortless and smooth. All versions of the HUAWEI MateBook X Pro have been certified by Intel® Evo™, delivering exceptional responsiveness and ensuring a great video conferencing experience. The new laptop comes with 16 GB LPDDR5 5200 MHz dual-channel high-speed memory and supports up to 1 TB NVMe PCIe SSD (512 GB is available for you to choose from) for more efficient read, storage, and compression of large files and smoother switchover across multiple tasks.
In addition, the upgraded Super Turbo technology facilitates in-depth optimisation at the system level for a quicker and smoother response. This contributes to a better experience, especially in video conferencing and heavy office scenarios.
Visionary Super Device Features
The HUAWEI MateBook X Pro take multi-device collaboration to a whole new level, thanks to Super Device, bringing super productivity with a cohesive multi-device experience. It lets you effortlessly connect to other Huawei devices nearby and collaborate between them all. Simply place your HUAWEI FreeBuds Pro 2, mice, keyboards, speakers and printers close to the HUAWEI MateBook X Pro, and the laptop will automatically discover them and provide a prompt for quick and easy pairing.
In addition, with smartphones like the newly launched HUAWEI Mate Xs 2 and tablets like the new HUAWEI MatePad Pro, it is even more useful. Once you have wirelessly connected your phone, you will see its UI (User Interface) appear on your laptop screen, so you can operate it as if your smartphone and laptop are one device. You can access and edit your files, use and manage up to three phone app windows simultaneously, take video or audio calls from your phone through your MateBook, and even use your mouse and keyboard to control your smartphone. In Mirror Mode, the laptop screen is projected onto the tablet, with both devices showing the same content: the tablet can benefit from the laptop's incredible performance; while the laptop can access the tablet's stylus, making drawing even easier. With Extend Mode, the laptop display is extended to the tablet, allowing the tablet to serve as an external monitor so you can scroll and browse easily between the two – perfect for making notes during a class or meeting. Finally, Collaborate Mode lets you share content between the devices via a simple drag and drop, so anything left on one can easily be transferred to the other.
The HUAWEI MateBook X Pro can also connect to a HUAWEI MateView monitor, so you can see your work on an even larger screen. The laptop also supports multi-device file management and AI search; the former enables users to easily search across their connected devices, bringing a collaborative experience between laptops and other connected devices, while the latter supports quick search of files and images on the PC, the Internet, and other interconnected devices for greater flexibility.
HUAWEI Free Touch Enhances the User-Friendly Experience
The new HUAWEI MateBook X Pro's is also equipped with a force sensor to detect pressure. The touchpad responds to your tap instantly – no matter where you tap. The unique touchpad design greatly enlarges the control area of the multi-gesture touchpad, bringing a wider touchpad area for free and unrestrained experience, improving accuracy, and avoiding accidental touch. Even without a mouse, users can unleash their inspiration freely with the laptop.
AI Camera Airtight privacy protection and immersive conferencing
As hybrid work has become our new normal, AI Camera helps users handle various video conferences and online classes with great ease and comfort. The HUAWEI MateBook X Pro comes with a HD camera on the top narrow bezel, which integrates the AI Camera features to support the video effects of Beauty, Virtual Background, FollowCam, and Eye Contact. It supports any video software. Users can select and apply the video effects by going to the Control Centre at any time.
HUAWEI SuperCharge and Multiple Ports
The HUAWEI MateBook X Pro features a 60Wh (rated capacity) super large battery and a compact 90W charger supporting SuperCharge. It can be used to charge computers, phones, and tablets, making it a perfect companion during a trip. The laptop is equipped with a 3.5 mm earphone jack and two Thunderbolt™ 4 ports on the left side.
Four Mics for powerful sound pickup capabilities
The HUAWEI MateBook X Pro features a quad-mic setup that is placed along the edges of the laptop. Together, they support voice pick-up from sources up to five meters away from the device. In addition, during a call, even if the device of the other party does not support noise reduction, the Receive signal AI noise reduction algorithm can also perform noise reduction on the voice of the other party.
HUAWEI SOUND® 6 speakers for an outstanding playback sound quality
The HUAWEI MateBook X Pro is equipped with six speakers. The four woofers feature a back-to-back design to create stunning bass and clear trebles without increasing thickness. The sound system, in combination with Huawei's Targeted Sound Field technology, brings impressive stereo sound with clear sound layers and sense of direction.