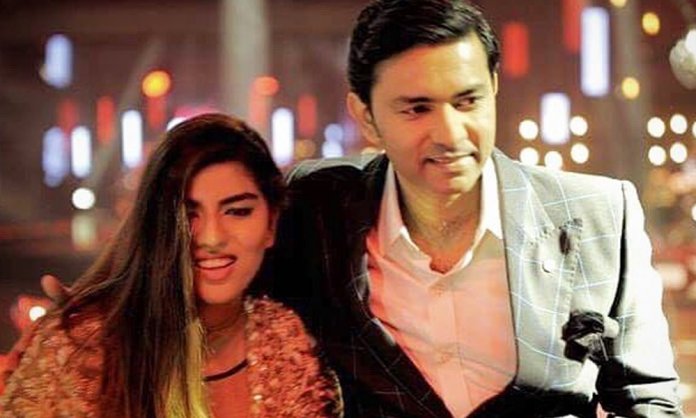 Remember the bubbly debutante of Coke Studios season 10, Zaw Ali?
The songstress is a powerhouse in the making!
Her duet of a romantic ballad 'Ronay Na Day' with his father Sajjad Ali was an ultimate hit of the show's last season.
The star kid wowed us with her ethereal voice, being a splitting image of her dear daddy in both talent and humble conduct.
Pakistan's musical aficionado could not help lauding the songstress with her strong Coke Studio Debut!
Apparently, the multi-talented artist is a big fan of the Bollywood biggie, Hrithik Roshan.
And they both are even born on the same day! Talk About BIRTHDAY GOALS!

So both the Capricorns celebrated their birthday yesterday & Zaw couldn't help tweeting an endearing note to her idol.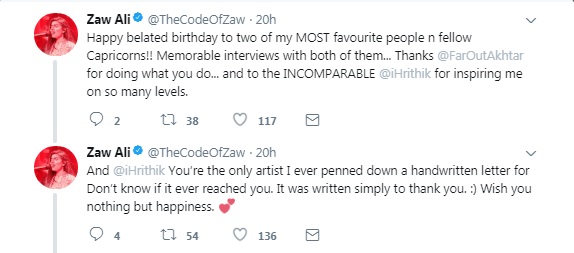 And she is also super crazy about Farhan Akhtar who also shares her birthday month!

And Zaw Ali got the perfect birthday gift in the form of Hrithik's equally lovable reply!
Thank you my dear. Sending you love 🙏🏻 https://t.co/M2HbnYBBcp

— Hrithik Roshan (@iHrithik) January 11, 2018
And giddy with happiness, the vocalist dedicated the superstar her debut track from Coke Studio!
You made my day in more ways than one @iHrithik 🙂 As a throwback, dedicating my very first song Ronay Na Diya from @cokestudio to you, hope you enjoy this as much as @chintskap the great Rishi uncle did #FromOneArtistToAnother 🙌🏽https://t.co/4yqU9Jiran

— Zaw Ali (@TheCodeOfZaw) January 11, 2018
It was really sweet of Roshan to respond to Zaw's pure-hearted greeting! The Coke Studio's starlet's complete fangirl moment made us all go aww!
Good to see that despite the ban of Pakistani celebrities in India, stars of both the lands do not hesitate to share words of goodness! Truly, love trumps hate!
Stay tuned to Brandsynario for more updates.