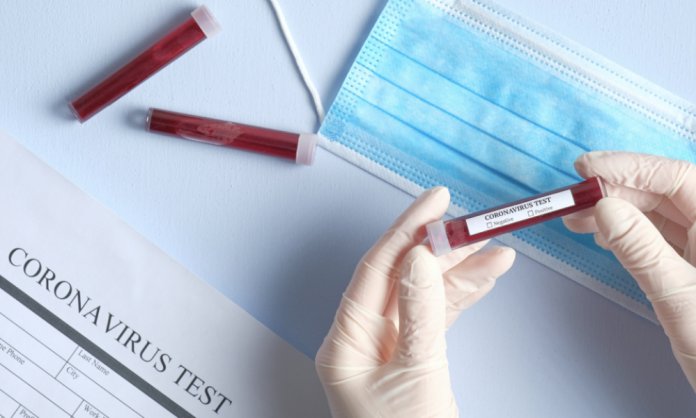 As the coronavirus pandemic has shaken the world, Pakistan, too, has been affected by this deadly virus.  Among the four provinces, Sindh has been affected the most. On Thursday, after Sindh chief minister's law adviser, Murtaza Wahab said that two of the coronavirus patients have recovered.
(Update: 18th March 2020)
According to the ISPR, military hospitals will now offer tests for coronavirus. Having said that the main testing facility will be set up at the Armed Forces Institute of Pathology.
On March 13th, during the National Security Committee meeting, Chief of Army Staff General Qamar Javed Bajwa ordered the commanders of all hospitals to take necessary actions and to fully cooperate with the civil administration.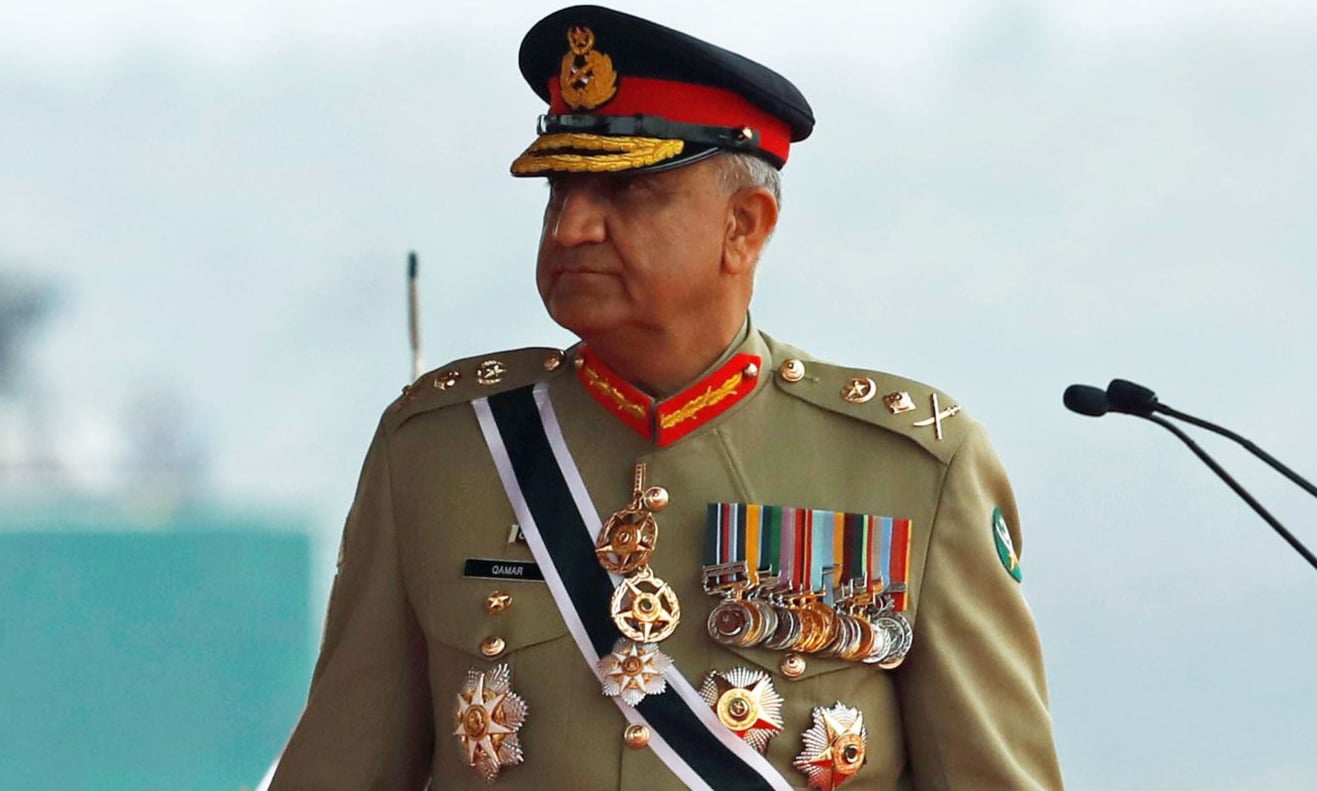 In Karachi, only a few hospitals are providing tests and treatment services to the ones who show symptoms or suspected of this virus. However, Agha Khan and Dow Medical Hospital are conducting these tests and the other mentioned hospitals send the received samples to Agha Khan and Dow.
1. Agha Khan University Hospital (Stadium Road Karachi)
The Agha Khan University Hospital is offering tests and treatment services at the cost of Rs7,900. The screening test costs around Rs2,200 whereas the PCR test costs Rs6,000.
However, not everyone would need to pay the total cost
Reportedly, the test takes 24 hours for the results. In a statement, AKUH Senior Manager Patient Business Services Hassan Somani said, "If a patient comes through the government screening process, most expenses are taken care of by the government."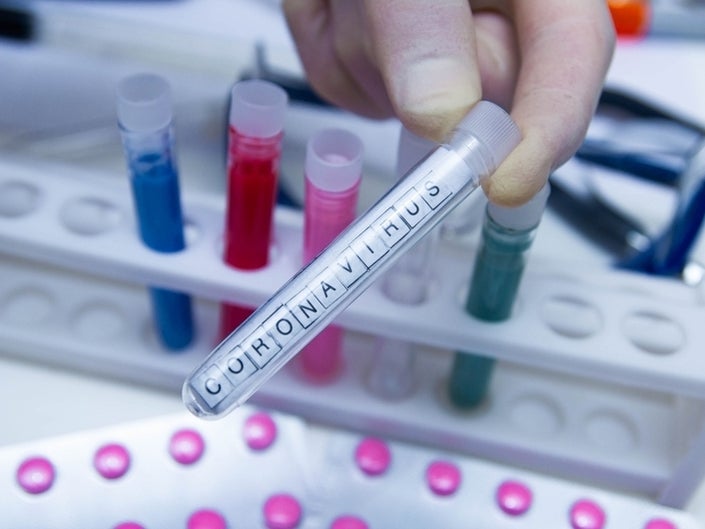 He further said, "If someone comes for the test without a referral, then they must cover the charges themselves. Still, The Aga Khan University Hospital offers welfare to deserving individuals," Somani added.
2. Chughtai Lab (Shaheed-e-Millat Road)
Chughtai Lab on Shaheed-e-Millat road is also offering a test that will be conducted by taking a nasopharyngeal swab.
3. Advanced Laboratories (Gulshan-e-Iqbal, Block 15)
Advanced Laboratories is offering a testing facility where it carries out Molecular RNA-based and antibody-based tests on IgM and IgG. The test is taken as taking a sample from a throat swab. The cost of this test is Rs. 6000.
4. Dow Medical Hospital (Ojha campus)
Dow Medical Hospital will proceed for test only if there's a suspected case. If the hospital receives a suspected case, they to await a green signal after contacting the health department.
The test is said to cost around Rs7,900 and the kits used will be molecular RNA-based. The sample will be taken by a nasopharyngeal swab.
5. Hashmanis (Saddar Branch)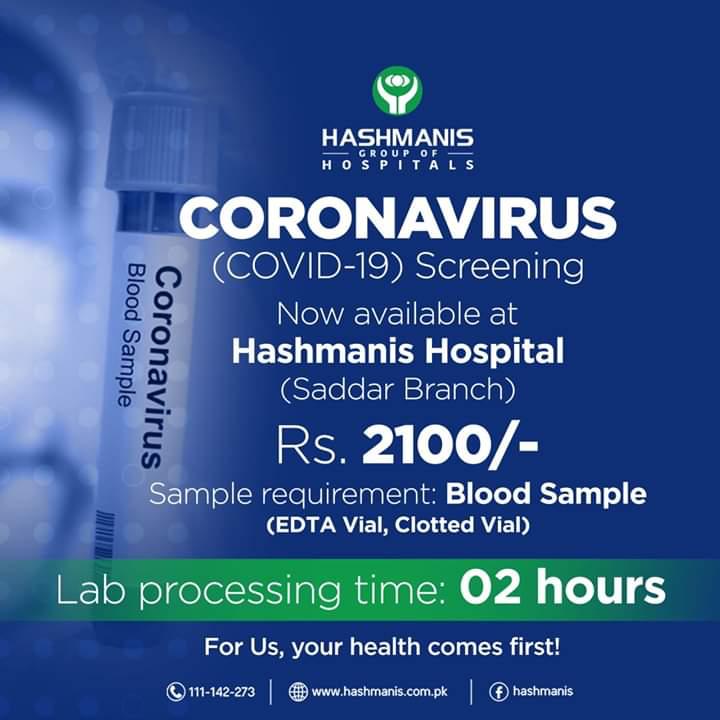 Hashmanis (Saddar branch) is also offering to screen for Coronavirus in Rs. 2100. For screening, they require EDTA Vial and Clotted Vial blood samples of individuals.
6. National Institute of Health (NIH) Islamabad
7. Armed Forces Institute of Pathology (AFIP)
8. Punjab AIDS Lab Lahore
9. Shaukat Khanum Memorial Hospital Lahore
10. Nishtar Hospital Multan
11.Ojha Institute Karachi
12. Indus Hospital
13. Punjab Health Laboratory Peshawar
14. Fatima Jinnah Hospital Quetta
15. Mobile Diagnostic Unit Taftan
16. Muzaffarabad Medical Science Institute
17. DHQ Hospital Gilgit
18. Civil Hospital Karachi
Moreover, if any confirmed coronavirus patient wants to get treatment, they can go to Civil Hospital Karachi located in Saddar.
Let's pray and hope that everyone stays safe and for those affected, hope they recover soon. 
For more news and updates, stay tuned to Brandsynario.