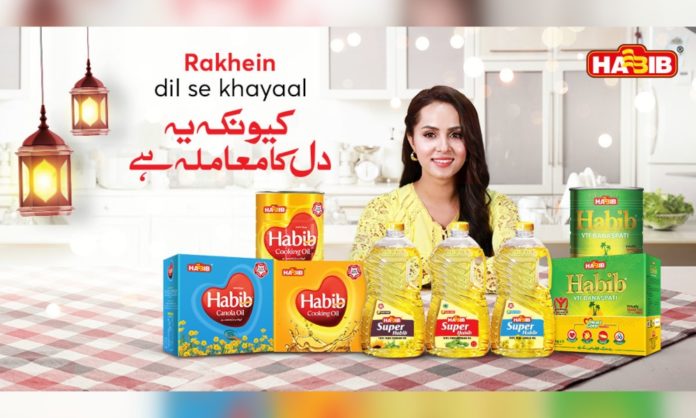 Home is where the heart is and Habib Oil Mills (HOM) truly believes in it. The business came into being in the 1900 and since then it has been spreading its wings to give health, taste, and quality to its users. It is a name that people trust, and HOM has made sure that it stands true to the expectations that people have from it.
We all enjoy eating and serving our traditional dishes in Ramadan which means more frying and cooking in oil. For this we should make sure that we are using healthy cooking oil. HOM is the best option available as it is a premium range of pure oils which are double refined and made up of natural ingredients. It contains Vitamin A, D, and E which are beneficial for the young and old alike and help in the formation of stronger bones and teeth. What is more this oil keeps skin wrinkle-free. It also contains natural anti-oxidants which aid in the growth of healthy cells and protects our bodies against illnesses.
HOM delivers you the best oil for yourself and for the people who live in our hearts. This oil comes in three variants; Pure Soyabean Oil, Pure Canola Oil, and Pure Cooking Oil. You can buy the oil that suits your taste and needs the best. This oil is available in a bottle with a handle for easy pouring and easy storage.
HOM believes that whatever you give comes back to you tenfold; which is also the spirit of Ramadan. All philanthropists of the world agree on this one point no feeling matches the feeling of giving away something that you value in your life to somebody else who needs it. So, this Ramadan let us make a conscientious effort of giving more to the people around us and slowly let us widen this circle so that eventually every living being is a part of it. You can start by giving out positive vibes, smiles, hope, courage, and of course, food made by using oil from HOM because after all…..Yeah dil ka mamla haey! You can shop online from: www.homstore.pk